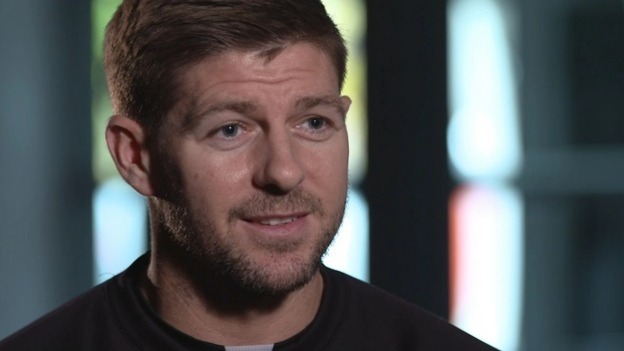 Speaking exclusively to ITV's Matt Smith ahead of Wayne Rooney's 100th England appearance, former skipper Steven Gerrard explains how he knew the forward would be "world class" the day they met.
Rooney had been called into the England squad aged 17 for the Euro 2004 qualifier against Turkey in April 2003.
The teenager blew his senior international team-mates away with his performance in training, which included a perfectly executed chip over David Seaman.
More than 11 years later, Rooney is now captaining his country and will become England's ninth centurion when he leads the team out against Slovenia in Saturday's Euro 2016 qualifier.
Liverpool captain Steven Gerrard will finally leave the club he joined as a seven year-old next summer if the Reds fail to offer him a new deal.
The 34 year-old made his senior debut in November 1998, and has turned down offers from the likes of Chelsea, Real Madrid and AC Milan to stay with Liverpool in the past.
Gerrard has played 678 matches for his boyhood team, but admits he will search for another club next year rather than retire if Liverpool don't offer him a contract extension.
"I'm only contracted until May, as it stands," he said.
"I'm here until the end of the season and want to make the most of it. I certainly won't be retiring this summer. I will play beyond this season.
"We'll have to wait and see if that's at Liverpool or somewhere else."
Advertisement
The chairman of the FA has joined the tributes to Steven Gerrard after he announced his retirement from international football.
In a statement on the FA website Greg Dyke said: "It is sad news but also gives us the opportunity to celebrate a wonderful career; Steven gave everything for England and he will be missed.
"I saw at first hand his close relationship with Roy [Hodgson], and as a captain he could not have done more for the cause."
The England football team's official Twitter account has been tweeting images of some of the highlights of Steven Gerrard's international career, along with the hashtag #ThankYouSteven.
Gerrard was one of England's most capped players ever, with his 114 caps only surpassed by David Beckham and goalkeeper Peter Shilton.
Roy Hodgson has expressed disappointment at Steven Gerrard's retirement from international football, but said he could have "no complaints" about the Liverpool player's record.
The England manager said Gerrard had taken his time to make the decision, saying: "I must respect his wishes due to the discussions we have had and the amount of thought and consideration he himself has given it."
He was full of praise for his skipper, calling him "an incredible man and a fantastic footballer" whose leadership would be missed.
Steven Gerrard has described his decision to retire from international football as a "sad day" and said it was "one of the toughest" calls he has made in his career.
"I have enjoyed every minute of representing my country and it is a sad day for me knowing that I won't pull on the England shirt again," Gerrard said in a statement published on the FA's website.
He paid tribute to England's "amazing" fans, who he said "got behind the team despite the disappointing results" at the World Cup in Brazil.
Gerrard also heaped praise on England boss Roy Hodgson, saying: "I'd especially like to thank Roy [Hodgson], firstly for giving me the captaincy permanently when he took the job, making me the proudest man in the country and allowing me to fulfil my childhood dream.
"He has been very understanding over the past few weeks and is a man I will always hold in the highest regard," he added.
Advertisement
England captain Steven Gerrard has retired from international duty, the FA has announced.
The Liverpool player captained the team 38 times and was the third most capped England player of all time, with 114 appearances in total.
The FA said he would continue to work in a "high profile ambassadorial role" with the governing body.
Liverpool captain Steven Gerrard has issued a heartfelt message praising Luis Suarez as an "amazing talent" and a "legend" at the club.
The England international wrote the message on his Instagram account following the news of Suarez's move to Spanish side Barcelona.
A plane has flown over Liverpool with a banner mocking reds captain Steven Gerrard's likely failure to win a Premier League championships.
Making reference to Manchester United's 20 title wins, the banner read: 'United 20 - Gerrard 0'.
Steven Gerrard has admitted Liverpool's 3-2 victory over bitter rivals Manchester City on the day marking the 25th anniversary of the Hillsborough disaster was "the longest 90 minutes" of his life.
Today's win is a giant step towards Liverpool's first league title since 1990, with the Reds to now face Norwich City.
Load more updates