Departing Liverpool captain Steven Gerrard admitted he is devastated he will not play at Anfield again.
Read the full story ›
And you wouldn't get very good odds on Gerrard not being substituted near the end so the crowd has the chance to get to its feet.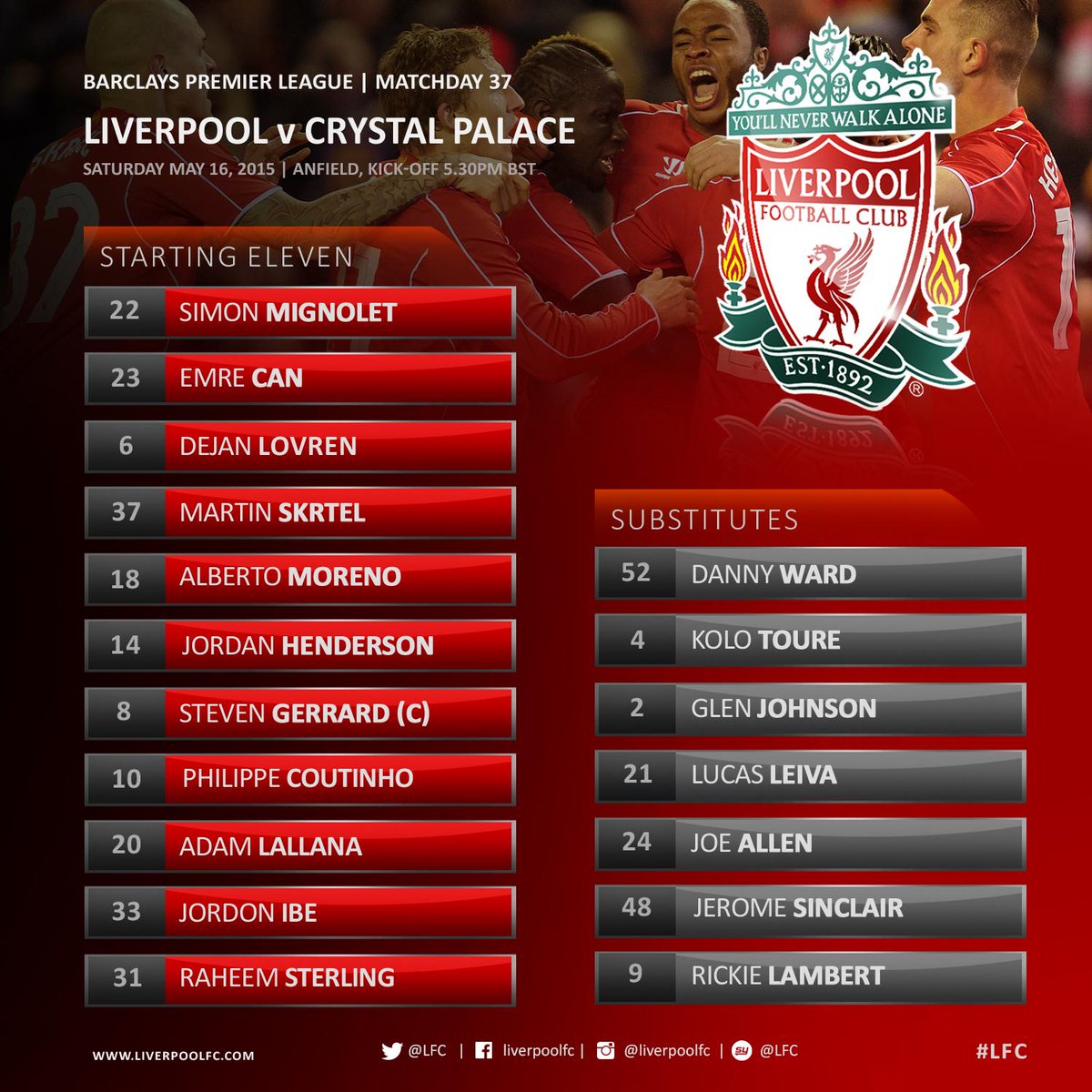 Advertisement
Kop hero emerges from the Anfield tunnel for one last time and greeted by a guard of honour as Liverpool take on Crystal Palace
Read the full story ›
Steven Gerrard says he will only return to Liverpool as a coach if he believes he's good enough to work there.
Read the full story ›
Arsenal boss Arsene Wenger has praised Liverpool captain Steven Gerrard ahead of his move to LA Galaxy.
Liverpool boss Brendan Rodgers has left the door open for Steven Gerrard to return to Anfield once his playing career finishes.
Read the full story ›
Advertisement
Steven Gerrard admits he used to dream of playing for Liverpool 'just once' as he prepares for his 709th and final Anfield game
Read the full story ›
Departing Liverpool captain Steven Gerrard has urged Raheem Sterling not to follow him out of the Anfield exit.
The 34-year-old has two matches remaining of a 17-year career with the Reds before he leaves for a new challenge at the Los Angeles Galaxy, and is set to play his final match at Anfield against Crystal Palace on Saturday evening.
His departure is certain but there is far less clarity around the future of 20-year-old England forward Sterling, who is set to consider his options in the summer after rejecting a £100,000-a-week deal earlier this season.
Gerrard believes the decision should be a simple one, telling reporters today:
For me, I am always going to be biased towards this club. My advice to Raheem is he needs a manager who is going to play him, to coach him, to believe in him. I think there is no one better for him than Brendan Rodgers.

I think he should sign a new deal. Brendan is a fantastic man manager, he puts a lot of time and effort into every player in the squad. The danger for younger players is they want it all too soon and go to another club and just become a number.
– Liverpool captain Steven Gerrard
Steven Gerrard has apologised to his Liverpool team-mates about stealing the limelight ahead of his final match at Anfield
Read the full story ›
Liverpool captain Steven Gerrard is trying not to let emotions get the better of him as he prepares for his Anfield farewell.
The Reds' inspirational leader will make his final competitive appearance at his home ground as Crystal Palace visit Merseyside on Saturday, ahead of his summer move to LA Galaxy.
The Champions League-winner told the club's website, www.liverpoolfc.com: "I think at the moment where I am, with a couple of games left to go, I don't really want to think about it too much.
"Everyone's talking about it but for me I just want to stay focused on the remaining games and the training and sessions ahead.
"There's plenty of time to be sentimental and emotional after the games are done but I don't really want to listen to supporters being emotional face to face because I'm a little bit afraid of breaking down and showing too much."
Load more updates