The storms that hit the UK this winter caused the greatest loss of trees since 1987 but the damage could have been worse, the National Trust said.
Over 50 National Trust sites have been surveyed with, with many gardeners, rangers and foresters saying that the losses have been the greatest in two decades although other sites had little damage.
Extreme weather is likely to become more frequent as the climate changes and there is a need to plan what trees to grow and where to make woodlands more resilient to the changes, National Trust nature and wildlife specialist Matthew Oates said.
The trust said nowhere had been as devastated as it was in 1987 or 1990 but some sites had lost hundreds of trees including valued ancient specimens.
Many trees were uprooted and blown over rather than snapped off, due to the saturated ground conditions.
The storms that the UK endured this winter caused the greatest loss of trees since the "Great Storm" of 1987, the National Trust has said.
Old oak, ash and beech trees have been lost in woods, while specimen trees in parks and gardens have also been damaged as at least a dozen storms swept through the UK from December to February.
Given the extent of the wild weather, which hit the western half of England, Wales and Northern Ireland particularly badly, losses could have been worse, National Trust nature and wildlife specialist Matthew Oates said.
Advertisement
Communities in Dorset, South Wiltshire, Somerset and the Thames Valley have been urged to remain vigilant for continued flooding from groundwater and rivers.
The Environment Agency said flooding will continue along the River Thames over the coming days, with a potential flooding around the Chertsey Lakes.
It said groundwater levels remain very high in many places, including West Dorset, Cranborne Chase and Salisbury Plain.
River levels also remain high in parts of Hampshire, West Berkshire, Surrey, West Sussex, Wiltshire and along the River Severn in Worcester and Gloucestershire.
Environment Agency flood risk manager, Katharine Evans, said: "Teams continue to work to work around the clock, maintaining flood defences, clearing watercourses and deploying pumps and temporary defences to protect communities at risk.
Communities along the River Thames in Surrey should remain prepared for further flooding, the head of flood incident management for the Environment Agency has warned, as more rain is expected to fall over the next few days.
Craig Woolhouse said: "The River Thames is continuing to respond to the recent rainfall.
"River levels will remain high for the next few days and we urge people keep up to date with the latest flood warnings and take action.
"With so much standing water around, we would also remind people to stay out of flood water and not attempt to walk or drive through it."
The Environment Agency has said residents living along the lower reaches of the River Thames in Surrey should remain prepared for further flooding as water levels continue to rise.
The Thames is expected to stop rising today, but it may be some days before the levels are back to normal, it said.
There is also an ongoing risk of flooding from the Rivers Parret in Somerset and the Severn in the Midlands. High groundwater levels mean we are likely to see continued flooding in areas such as the Somerset levels and moors, Dorset and Wiltshire.
– Environment Agency
Advertisement
Parts of Britain is set to be battered by flooding misery, as a band of rain is expected to arrive from the West this afternoon, the Met Office has said.
Helen Roberts, a forecaster from the agency added:
It'll be over south west England from midday and spread slowly eastwards across the rest of the country.

Monday night will see scattered showers in the West and into Tuesday morning but it will then be turning wet and windy on Wednesday and will be remaining unsettled.

There is a lot of saturated land and high river levels so any amount of rain is not good for those areas.
Further heavy rain today is expected to bring more misery to areas that have already seen widespread flooding.
Nearly 80 flood warnings remain in place throughout the country while there are more than 115 flood alerts, although none deemed severe - which would carry a danger to life.
River levels have been rising steadily in counties including Wiltshire, Hampshire, Dorset, Somerset and across the Midlands following days of downpours, the Environment Agency (EA) said.
Rivers including the Hampshire Avon through Wiltshire, Hampshire and Dorset, the Stour in Dorset, the Parrett in Somerset and the Severn through the Midlands showed little signs of receding.
Seventy-nine Flood warnings are still in place across England, mainly in the southeast and southwest.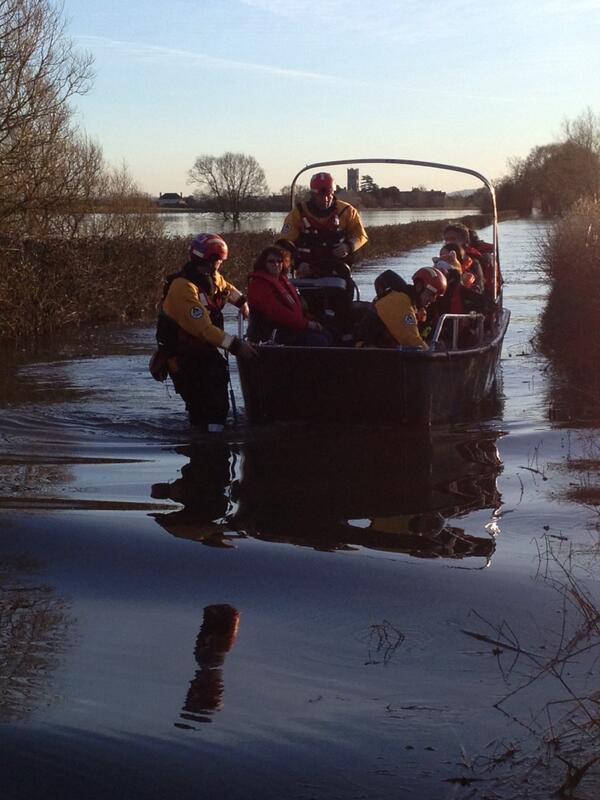 Load more updates