A young boy and his mother have died after five people were pulled from the water off Aberdeen beach.
Read the full story ›
Advertisement
Stormy weather has been blamed for at least three deaths and has left thousands of homes without power in the US Pacific Northwest and California, causing flash-flooding, mudslides and evacuations.
In the video below, tornado-like winds rip through a housing complex in Los Angeles.
Video credit: Reuters/Jamie Mena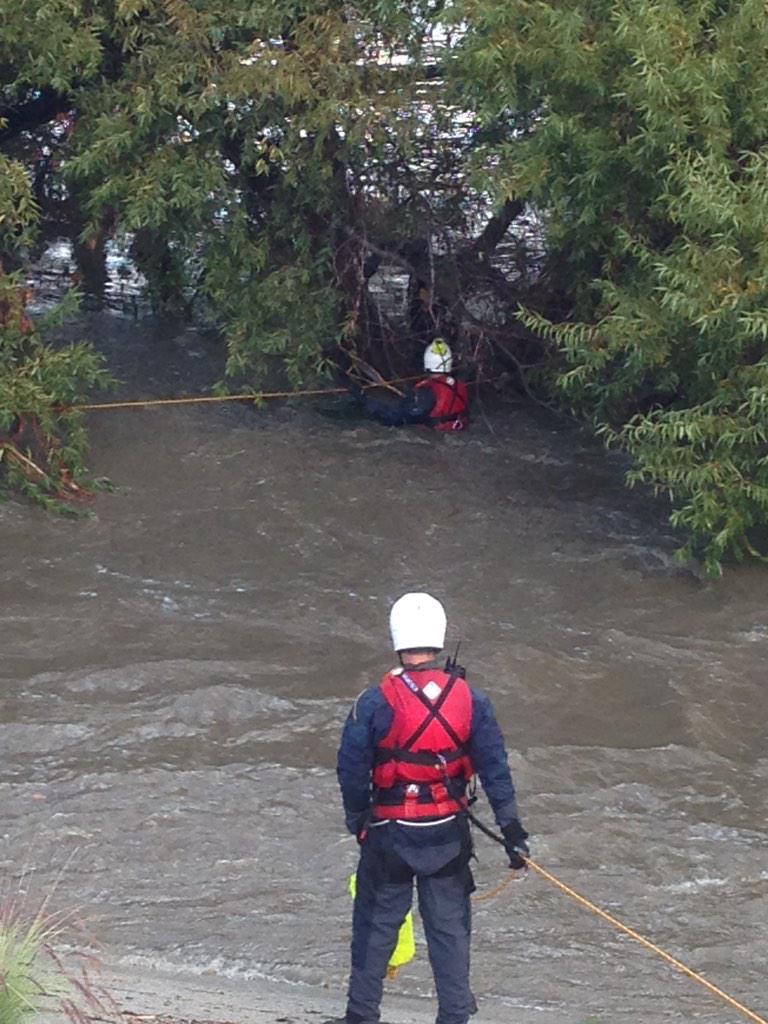 One person was found dead on Friday in a rain-swollen flood-control channel in the Orange County town of Garden Grove, which could mark the third storm-related fatality on the West Coast since the weather hit on Thursday.
The weather system causing the mayhem is fuelled by the 'Pineapple Express' - a powerful conveyor belt carrying relatively warm air and copious amounts of rain stretching all the way from Hawaii in the central Pacific to the western side of mainland America.
A barrage of steady, torrential rain and strong winds has set in across drought-stricken California.
Read the full story ›
Because people unconsciously think a storm with a female name is less dangerous, they are less likely to flee, making them more vulnerable.
Read the full story ›
Advertisement
The government has responded to local council demands for emergency cash to deal with a "daunting trail of destruction" on England's roads after England's record wettest winter by promising an extra £140 million to deal with the problem.
Most councils are expected to receive the extra money by the end of this week in a bid to ensure works are completed before the summer holidays.
In return they will be required to publish on websites by the end of August details of how it was used.
Councils are to get an additional £140 million to fix roads damaged by England's record wettest winter, the Government announced.
Transport Secretary Patrick McLoughlin said a fund specifically targeting the worst-hit areas would be raised by £36.5 million to £80 million.
The family of a man who died in Wiltshire during yesterday's storm said they are "shocked and deeply saddened" by his death.
The 71 year old from Bremhill near Calne was electrocuted while trying to remove a fallen tree from power lines.
In a statement released by the police, Mr Hayward's family said: "We are all shocked and deeply saddened with the passing of our dearest dad, husband, granddad and friend to many, Roger Hayward.
"To those that knew him, Roger was a larger-than-life character, a friend and helping hand to many and any that needed help."
A man who died after trying to move a tree caught in power lines has been named.
Roger Winston Hayward, who was 71-years-old and from Wiltshire, is believed to have been electrocuted.
Mr Hayward is believed to have tried to move a fallen tree, brought down by the high winds yesterday afternoon, which had also brought down power cables.
Police and ambulance services attended the scene and sadly pronounced the man dead at the scene.
Local Inspector Nick Mawson said, "I would like to remind the public to be extremely careful with any fallen trees, particularly if power lines are involved.
"Please call 999 so that we can come and secure the area."
Load more updates