New Swansea boss Paul Clement will work alongside 'Moneyball' expert Dan Altman to target recruits in the January transfer window.
The Swans were taken over last summer by an American consortium fronted by Steve Kaplan and Jason Levien, and have hired former economics journalist Altman, of North Yard Analytics, as the club's 'Moneyball' expert.
'Moneyball' is the use of statistical analysis to buy what is undervalued and sell what is overvalued.
And Clement is comfortable with the input of New York-based Altman using data to analyse the current squad and help identify transfer targets as part of the 'due diligence process'.
Clement said:
I'm a believer statistical analysis should be part of the jigsaw puzzle that goes together to help recruit players and assess your own team,"I have experience of this, I've travelled in the United States and visited a number of sports teams that use data.

It is my belief it should be used as part of the due diligence process in deciding who should come to the club.

But it's just one part, because you can't take away the expertise of the scouting, calls to get information about a player's character and their professionalism.

We we will be using data as part of the whole picture. Dan is someone hired by Steve and Jason, but he's sent me through some information. He's an intelligent man and an expert in the field.
– Swansea manager Paul Clement
Former Swansea City manager Bob Bradley dismissed reports he was known as Ronald Reagan at the Liberty Stadium.
Read the full story ›
Advertisement
Swansea marked Paul Clement's appointment as their new head coach with a dramatic 2-1 victory at relegation rivals Crystal Palace
Read the full story ›
New Swansea boss Paul Clement has his sights fixed on Premier League survival after revealing his desire to become a head coach again.
Clement gave up trophy-chasing ambitions as Bayern Munich assistant manager to sign a two-and-a-half-year deal at the Premier League's bottom club.
But Clement - who missed out on the Swansea job when Bob Bradley was appointed in October - says he is determined to restore the club's traditional football values and keep them in the top flight.
Clement told the official club website:
I'm delighted to be here. I had a brief spell as head coach not too long ago at Derby. It was a role I enjoyed thoroughly before I went to Bayern Munich as assistant manager.

But my real desire and ambition was to become a head coach again as quickly as possible, so I am absolutely delighted to be here at Swansea and a Premier League manager.

I would like to think my footballing philosophy goes hand in hand with the club's. That's part of the reason the club chose me and a big part of the reason why I wanted to come to the club.

Over recent years there has been a certain style Swansea fans have been used to seeing. Maybe that hasn't been there so much over recent times, but hopefully I will be able to put my imprint on the team very quickly and the fans will be able to see some good football - most importantly some winning football.
– Swansea manager Paul Clement
Swansea have appointed Paul Clement as their new head coach, the Premier League club have announced
Read the full story ›
The former Derby boss is flying into London to finalise a verbally agreed deal before watching his new side face Crystal Palace on Tuesday.
Read the full story ›
Advertisement
Bayern Munich have announced their assistant manager Paul Clement will hold talks to become Swansea's new manager.
The Bundesliga champions confirmed the news in a statement on the club's website.
Co-coach Paul Clement has asked FC Bayern Munich to hold talks with Premier League club Swansea City about a commitment as head coach.

Bayern's head coach Carlo Ancelotti and the management board of FC Bayern Munich have fulfilled this wish.
– Bayern Munich
Premier League bottom club Swansea hope to confirm the appointment of Clement before their Premier League game at Crystal Palace on Tuesday night.
The former Derby boss emerged as the Welsh club's number one target after Wales boss Chris Coleman turned down the opportunity to take over at his home town club.
Bournemouth completed a comfortable 3-0 victory at the Liberty Stadium against Swansea City.
Read the full story ›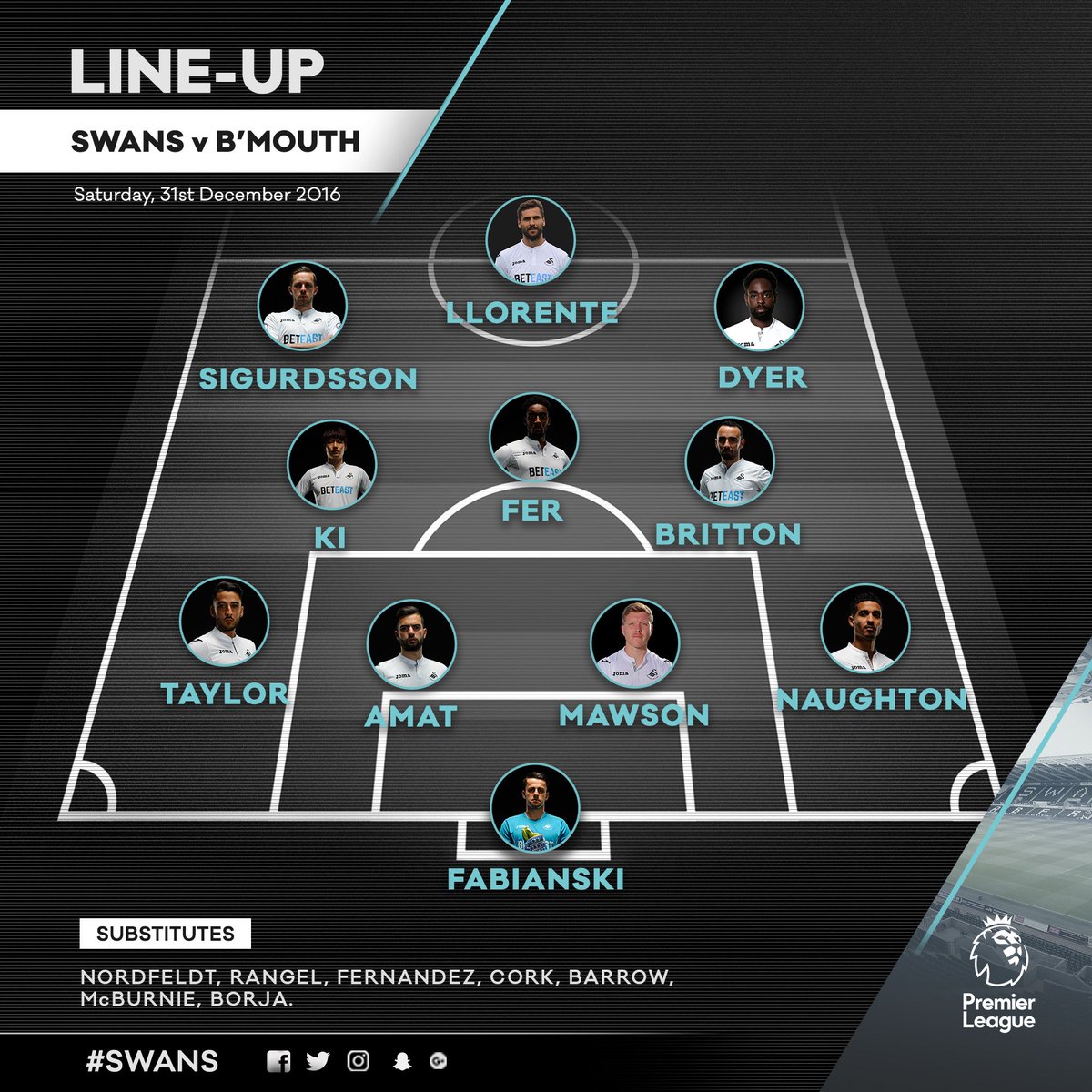 Sacked Swansea boss Bob Bradley claims the club's owners "lost their nerve" and "didn't have the strength" to stick with him.
Bradley was dismissed after a paltry 11 matches in charge of the relegation-threatened Swans, during which the side were beaten seven times and conceded 29 goals.
The former United States manager's initial reaction to the decision was one of dignified calm but a clear frustration at the lack of patience he was afforded by American co-owners Jason Levien and Steve Kaplan emerged in an interview with ESPN FC.
In it, the 58-year-old said:
They lost their nerve. They reacted to the fans and didn't have the strength to see it through.

That part I'm not happy about. I spoke very quickly to Jason Levien (after losing to West Ham on Boxing Day), I received a message from Steve Kaplan and both referenced something about 'unfair'.

But you always tell your players that the game will challenge you in all sorts of ways. The game can be cruel. In order to have any chance you have to be strong. You have to believe in your work, you have to believe in how you do things as a group. It can't be thrown off track every time something goes against you.
– Former Swansea manager Bob Bradley
Load more updates