Sweden has introduced ID checks for people travelling from Denmark in a bid to curbing the number of migrants entering the country.
Anyone wanting to cross between the two countries by train, bus or ferry will be refused entry without the necessary documents.
Travellers have been able to cross borders between the two Nordic countries without passports since the late 1950s but starting today all Sweden-bound trains will be stopped for mandatory border controls.
The new border checks were instigated by Sweden to try to slow an influx of migrants that is expected to reach 190,000 this year.
The country says its asylum system cannot cope and that other European Union states must take in more refugees.
In Denmark, train operator DSB said it will start emptying all trains at Copenhagen Airport, the last stop before the Oresund Bridge to Sweden.
Passengers will have to enter the terminal and show identification before re-boarding the train.
It has set up 34 staffed slots at the airport station to check papers. DSB said the checks will extend travel time by up to 45 minutes - longer than the 34-minute train journey between Sweden and Denmark.
Around 16,000 people make the trip every day.
A man has died after the shopping trolley he was joyriding in crashed into a car at high speed, catapulting him through the air.
Read the full story ›
Advertisement
A masked swordsman who killed a teacher and a student at a school in Sweden "selected his victims" based on their colour, according to official reports.
Thord Haraldsson, the lead investigator in the case, told a news conference that having reviewed security footage from the school "everything points to this being a hate crime" with colour appearing to have played a key role in how victims were chosen.
He said: "He selected his victims and attacked the dark-skinned ones and left the light-skinned ones alone."
The 21-year-old attacker was shot dead by police after carrying out an attack on Kronan school in the Swedish town of Trollhättan, killing two and wounding others.
The two surviving victims of a deadly sword attack at a school in Trollhattan, Sweden "hover between life and death", a doctor has said.
In a statement to reporters at Norra Alvsborgs Lanssjukhus hospital, Dr. Lars Spetz said the two, a student and a teacher, were stabbed in the abdomen, liver and chest.
"They hover between life and death," Dr Spetz said.
Two of the victims from a deadly sword attack in Sweden are in a "serious but stable" condition in hospital, according to local media.
Radio Sweden have tweeted: "Hospital statement: two victims still being treated in hospital are in a "serious but stable" condition."
Hospital statement: two victims still being treated in hospital are in a "serious but stable" condition. #Trollhättan
One teacher and a student were killed in the attack. The masked assailant, thought to be a 21-year-old local man, was shot by police and later died in hospital.
A chilling photo of man who launched a deadly sword and knife-attack on a Swedish school has emerged online, showing him posing with two students in a hallway minutes before he started his rampage.
The 21-year-old man is seen dressed in black with a military helmet and sword and had his arm round one of the children.
Swedish newspaper Dagens Nyheter say the two children - said to be 13 and 14 - thought the man's outfit was part of a Halloween prank.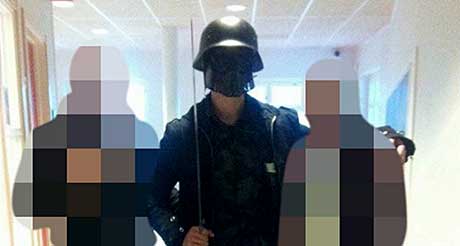 Advertisement
The King of Sweden, Karl XVI Gustaf, has offered his condolences to those affected by a sword-attack on a school.
"Sweden is in shock. Our thoughts are with those affected and their families," King Gustaf said in a statement.
Swedish king, Karl XVI Gustaf statement: "Sweden is in shock. Our thoughts are with those affected and their families." #Trollhättan
Swedish prime minister Stefan Löfven is to visit the town of Trollhättan today to offer his sympathy to the those affected in a deadly knife attack on a school in the town.
In an official statement, Mr Löfven called the incident a "dark day for Sweden" and said he will ensure victims are given all the support they need.
This is a dark day for Sweden. My thoughts go out to the victims and their families, pupils and staff, and the entire community that has been affected.

There are no words to describe what they are going through right now.

We share in their grief and we will ensure that they are given all the support they need.
– Stefan Löfven
Load more updates