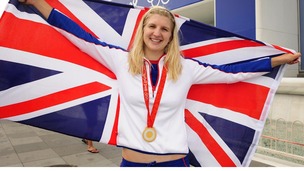 Britain's double Olympic champion swimmer Rebecca Adlington has retired from competition to concentrate on grassroots coaching,.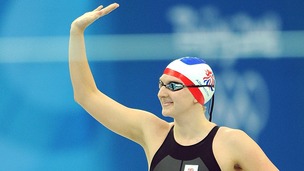 Team GB swimmer Rebecca Adlington is due to make a "major announcement" next week with many speculating the 23-year-old is set to retire.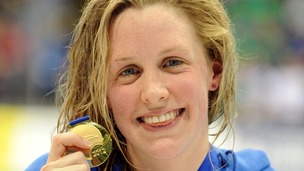 ITV News at Ten is profiling individual British athletes competing at London 2012. Hannah Miley will be competing on day one of the Games.
Live updates
Armstrong quits swim event
Armstrong withdraws from swimming event
US Masters Swimming Executive Director Rob Butcher confirmed that disgraced cyclist Lance Armstrong has pulled out three events he was scheduled to appear in this weekend.
Butcher told the Associated Press that the change of heart was likely caused by objections raised by FINA, the international governing body for swimming.
He doesn't want to cause any more harm to any more organisations. His interest was around fitness and training. In light of FINA and the other political stuff, he will not be swimming.
Armstrong quits swim event
Report: Armstrong pulls out of swimming competition
Lance Armstrong has pulled out of the swimming competition he was due to take part in this weekend in Austin, Texas, Sky News report.
Advertisement
Armstrong quits swim event
Swimming body slams Armstrong competition bid
FINA, the international governing body for swimming, has written to the US Masters Swimming to advise them to reject Lance Armstrong's entry to take part in a competition scheduled this weekend.
The disgraced cyclist was planning to use the small low-profile event in Austin, Texas, to make a return to competitive sport.
Read: Lance Armstrong set to return to sport as a swimmer
The competition falls under the jurisdiction of the US Masters Swimming. In a statement, the governing body said:
FINA wrote a letter to the US Masters Swimming (with copy to US Aquatic Sports and USA Swimming) requesting not to accept the entry of Mr. Lance Armstrong in the [...] competition.
Armstrong quits swim event
Armstrong to race against middle-aged swimmers
Lance Armstrong's return to competitive sport this weekend will be against veteran swimmers, a Texas newspaper reported.
Most competitors in the US Masters Swimming event entered by Armstrong will be older than the 41-year-old cyclist, the Austin American-Statesman said.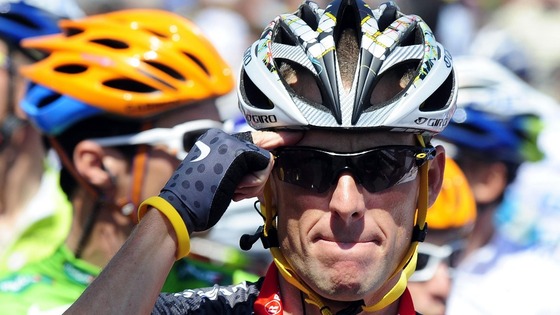 Armstrong is banned for life from all competitions that adhere to world anti-doping codes, but is allowed to take part in the low-profile Austin swimming event.
US Masters Swimming executive director Rob Butcher said nobody had raised formal objections to Armstrong competing.
Butcher added: "The purpose of our organisation is to encourage adults to swim."
Armstrong quits swim event
Lance Armstrong set for return to sport as a swimmer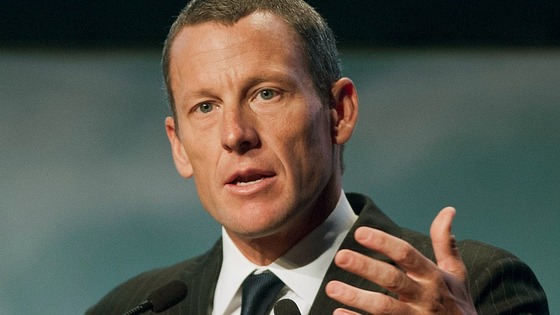 Lance Armstrong is planning to make a return to competitive sport as a swimmer this weekend.
The disgraced American cyclist is entered for the Masters South Central Zone Swimming Championships, which takes place at the University of Texas.
Armstrong is set to compete in freestyle races over 500 yards, 1,000 yards and 1,650 yards at the event in his home city of Austin.
Armstrong was stripped of his seven Tour de France titles last year for being part of a doping scandal.
MORE: Armstrong confesses to doping in Oprah Winfrey interview
Teenage swimming star dies
'No suspicious circumstances' over swimmer death
I want to make it clear that we are working very closely with HM Coroner and the family to keep them fully informed as the investigation progresses.

However, I also want to stress that there are no suspicious circumstances.
– Detective Inspector Debbie Oakes, Greater Manchester Police
Advertisement
Teenage swimming star dies
Chloe's parent's remember 'smiling' daughter
We are devastated. Chloe was exceptionally outgoing, extremely popular and had a wonderful smile - she was always smiling at all times and she had a kind word for everybody at all times.

There was never adark day for Chloe, everywhere she went she had lots of friends. She was charming and polite, accepting and encouraging.

She worked incredibly hard. She loved swimming, she was very focused on it and she wanted to go as far as she could. She was also bright academically, everything she did she gave 100 percent. We are very proud of her.
– Chloe Waddell Family statement
Teenage swimming star dies
Thoughts of Olympic silver medallist with her family
Double world open-water champion Keri-anne Payne tweeted:
Such sad news about Swim Trafford swimmer Chloe Waddell. http://t.co/TPNxambJ who passed away on Sunday.Thoughts are with her family&friends
From
@KeriannePayne
on Twitter:
Teenage swimming star dies
Parents of Chloe Waddell 'tried to revive her'
The parents of Chloe Waddell reportedly tried to revive her after finding the swimmer unconscious at their home in Timperley.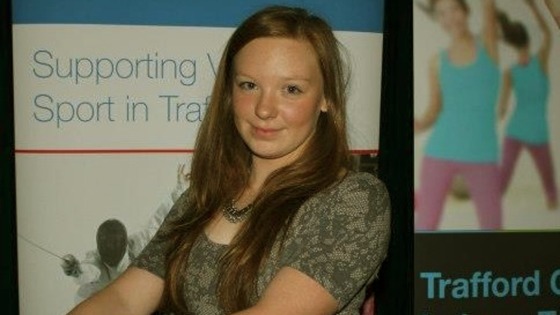 Teenage swimming star dies
Chloe Waddell 'so talented' with bright future
Speaking to the Manchester Evening News Chloe Waddell's coach James Stannard said:
Chloe was so talented. She had qualified for the Olympic trials last year and this year she hoped to compete in the European Junior Championships.

She was so talented, but also in terms of school. She was someone who got straight As and she could have picked and chosen what she wanted to do with the next stage of her life.
Load more updates
Back to top