Sam Branson, son of the Virgin founder, has been rescued from the top of the Matterhorn in the Swiss Alps after getting altitude sickness.
Read the full story ›
A man has died after a shooting at a mosque in the Swiss town of St Gallen, according to local police.
One individual with a handgun was apprehended at the scene but the motive is not yet clear.
Advertisement
Dozens of passengers on the Swiss train which derailed in the Alps have been forced to walk on the tracks to reach safety.
The rescue operation is still continuing after three carriages came off the tracks following heavy rain.
Swiss police said 11 people were hurt, five seriously, in the crash.
Eleven people have been injured after three carriages derailed when a Swiss mountain train ran into a landslide in the Alps.
A Swiss Police spokeswoman said five people were seriously hurt and another six sustained slight injuries.
Some 200 people were on board at the time of the accident, which happened after heavy rain in a deep wooded valley between Tiefencastel and Solis, south-east of Zurich in the canton, or state, of Graubuenden.
The train is operated by Rhaetische Bahn, which runs narrow-gauge routes in Switzerland's mountainous south-eastern corner that are popular with tourists.
The line where the accident happened connects Chur, Graubuenden's administrative capital, with the ski resort of St Moritz.
The train that derailed in Switzerland was carrying around 200 people between Tiefencastel and Solis, according to a statement from the cantonal police department.
The statement said that a rescue and evacuation operation is in process involving the air-rescue and ambulance services, firefighters, Alpine Rescue and police.
Several people have been injured after a train came off the tracks near the Swiss village of Tiefencastel, around 30 miles from the ski resort of St Moritz.
The Swiss air rescue service Rega said it had two helicopters at the scene.
Advertisement
Swiss train operator Rhätische Bahn has confirmed that one if its trains had derailed.
The company tweeted that some carriages have left the track. The derailment has happened near Tiefencastel in the east of the country.
At the moment there is no information about casualties. Rescue organisations local police and representatives from the rail company are at the scene.
Bei Tiefencastel sid wegen einer Rüfe einige RhB-Wagen entgleist, keine Infos zu Verletzten. Rettungsorganisationen vor Ort. Infos folgen.
Images being widely shared on social media appear to show the train that has derailed in a mountainous area of Switzerland.
At least two carriages appear to have left the tracks and are hanging over a ravine.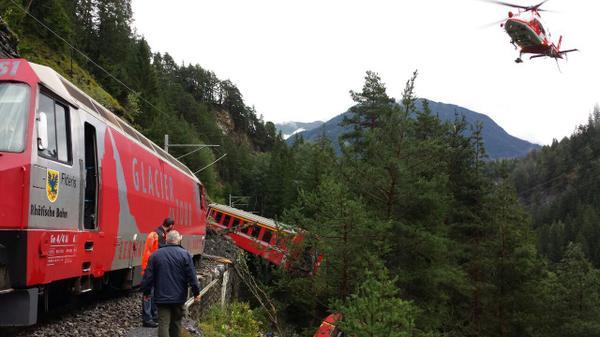 A passenger train has derailed in a mountainous part of Switzerland following a landslide, according to local media reports.
The accident reportedly occurred in the Graubünden canton in the east of the country.
The US Ambassador to Switzerland has become the first US Ambassador to take the oath over an electronic device.
The US Embassy in London tweeted: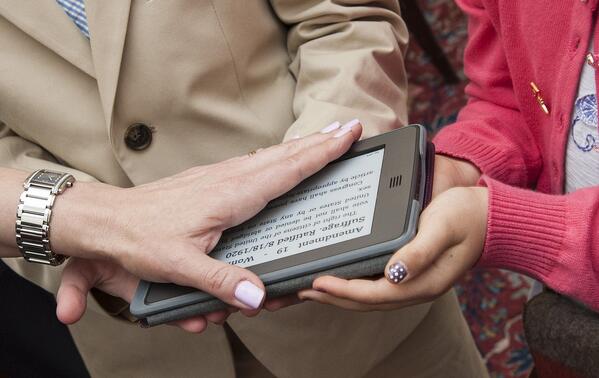 Load more updates