Shadow Home Secretary Yvette Cooper has questioned the government's ability to stop people travelling to Iraq and Syria to fight for Islamic State (IS).
Speaking during an urgent question in the House of Commons Ms Cooper brought up the case of three teenage schoolgirls from east London who recently travelled to Syria via Istanbul in Turkey.
She asked the Home Secretary if the government had an agreement in place with airlines to raise alerts about unaccompanied minors travelling on known Syria routes. She also asked when were the authorities in Istanbul alerted and checks made at the main transport hubs in the city.
Ms Cooper also queried what training and support is currently being given to "prevent recruitment, grooming and radicalisation" at institutions in Bethnal Green.
Ms Cooper said counter terrorism policy must be strengthened along with measures in the community to stop people leaving the country to join terror groups.
Home Secretary Theresa May insisted the government is taking robust action to fight terror and consistently looks at enhancing police powers.
However she added that communities, families, religious leaders and society must all work together to confront "poisonous ideology."
Islamic State (IS) has released 19 Christians who were among the more than 220 people the militants took captive in north-eastern Syria last week.
Bashir Saedi, a senior official in the Assyrian Democratic Organisation, says the 16 men and three women were freed today and are now at a church in the city of Hassakeh. He said they are all around 50 years of age or older.
The Britain-based Syrian Observatory for Human Rights activist group also reported that 19 Christians had been freed.
It was not immediately clear why the Islamic State group released them.
The fate of the remaining Christian captives is unclear.
Advertisement
A US-led coalition has launched seven air strikes in Iraq and two in Syria against Islamic State militants since yesterday morning, the Combined Joint Task Force announced.
Two air strikes involving US drones in Syria near Al Hasakah struck an Islamic State tactical unit and destroyed two vehicles.
In Iraq, the US-led coalition used warplanes and drones to strike near Al Asad, Al Qaim, Kirkuk and Mosul, destroying Islamic State tactical units, boats, a storage facility, buildings and other targets, according to the statement.
CCTV footage has been released which appears to show three British schoolgirls, who it is feared have entered Syria to join Islamic State.
The images were released by Turkish news channel A Haber.
The three girls, believed to be Shamima Begum, 15, Kadiza Sultana, 16, and 15-year-old Amira Abase, are seen at a bus station in Istanbul in the video.
They can be seen leaving a part of the station in the early hours of the next morning along with other passengers and walking along snow-covered pavements into a busy departure lounge.
In the footage, the girls are shown wrapped up in heavy winter jackets, two with furry hoods pulled up, and carrying packed sports bags and holdalls.
CCTV footage apparently showing three British schoolgirls feared to have entered Syria to join Islamic State has been released by Turkish news channel A Haber.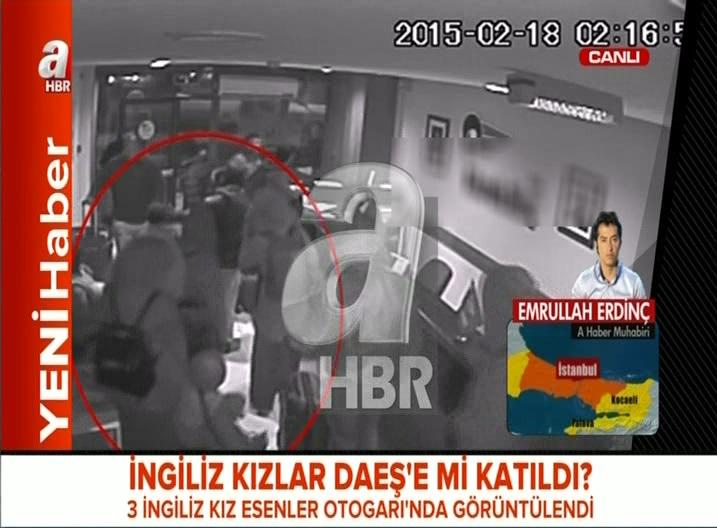 The three girls, believed to be Shamima Begum, 15, Kadiza Sultana, 16, and 15-year-old Amira Abase, are seen at a bus station in Istanbul in the video.
It was reportedly recorded in the early hours of February 18 - the day after the teenagers disappeared from their London homes.
Turkish Airlines says it is assisting an investigation into three British schoolgirls who are feared to have crossed into Syria to join Islamic State.
Amira Abase and Shamima Begum, both 15, and 16-year-old Kadiza Sultana boarded a Turkish Airlines flight from Gatwick to Istanbul on February 17 and police believe the London trio have now crossed the Turkish border into Syria.
A statement from the airline said: "Turkish Airlines is assisting the relevant government bodies in their inquiries but is unable to respond to or comment specifically in relation to the subject matter of ongoing investigations."
Earlier this week, Labour's shadow home secretary Yvette Cooper said Turkish Airlines had "serious questions" to answer over why it allowed the girls unaccompanied on to a flight.
Advertisement
Syrian Kurdish militia can be seen exchanging fire with Isis on the streets of Christian villages in rare footage obtained by ITV News.
Read the full story ›
Islamic State militants have abducted 220 Assyrian Christians from villages in north-east Syria during a three-day offensive, a monitoring group says.
The Syrian Observatory for Human Rights, which is based in Britain, said the abductions took place when the group seized 10 villages lived in by the minority near the city of Hasaka.
A 22-year-old man has been arrested in north London by counter terrorism officers on suspicion of funding individuals fighting in Syria, Scotland Yard said.
David Cameron says "lessons need to be learned" from the case of three British schoolgirls feared to have entered Syria to join Islamic State.
Responding to a question from the Labour MP for Bethnal Green and Bow, where the three teenagers came from, Mr Cameron said the UK needed to "tighten arrangements" at airports and borders.
He also called on schools, parents, universities to help fight the "poisonous ideology" of extremist groups such as Islamic State.
The Prime Minister also dismissed claims by the Turkish deputy prime minister that British authorities took three days to notify Turkey of the girls' movements as "not accurate".
Load more updates