Isaam Abuanza is the first practising NHS doctor known to have joined the so-called Islamic State in Syria.
Read the full story ›
More than 100 have died in bomb blasts on two Syrian coastal towns, the Syrian Observatory for Human Rights said.
The towns that were hit by blasts were Jableh and Tartus which are regime strongholds and have largely escaped the conflict so far.
State media said one blast had hit a hospital.
So-called Islamic State have claimed responsibility for the attacks, according to the jihadist group's Amaq news agency.
At least two of the blasts were suicide bombs, the British-based Syrian Observatory for Human Rights said.
The organisation put the total number of explosions at seven - four in Jableh, in Latakia province, and three in Tartus province's capital farther south.
Advertisement
Syrian rebel groups have said they will ignore the ceasefire deal unless the army stops its major assault on the suburbs of Damascus.
Read the full story ›
A taxi driver who planned to desert his pregnant wife and young son to join Islamic State in Syria and marry a jihadi bride has been jailed
Read the full story ›
Children caught up in the brutal Syrian civil war share what it is like living in constant fear of an attack.
Read the full story ›
Lebanon's militant Hezbollah group says its top military commander Mustafa Badreddine has been killed in Syria.
Hezbollah confirmed the death in a statement but did not give any further details.
Badreddine, who became the group's top commander in 2008 after his predecessor Imad Mughniyeh was assassinated, was killed by an Israeli air strike.
Badreddine was one of four people being tried in absentia for the murder of former Lebanese prime minister Rafik Hariri.
The 2005 suicide bombing that killed Hariri and 22 others was one of the Middle East's most dramatic political assassinations.
The trial began last year near The Hague and is ongoing.
A billionaire businessman, Hariri was Lebanon's most prominent politician after the 15-year civil war ended in 1990.
Advertisement
Foreign Secretary Philip Hammond has described the bombing of a refugee camp in north-west Syria as "horrifying."
Joining the international outcry, Mr Hammond said: "Reports of the bombing of a refugee camp in Samarda... are horrifying. The Assad regime's contempt for efforts to restore the cessation of hostilities in Syria is clear for all to see."
Earlier on Thursday, the Mariinsky orchestra from St Petersburg performed at the ancient city of Palmyra - an act Hammond called "tasteless."
"This attack [in Samarda] took place against the backdrop of a concert in Palmyra, a tasteless attempt to distract attention from the continued suffering of millions of Syrians. It shows that there are no depths to which the regime will not sink. It is time for those with influence over Assad to say enough is enough."
Washington has denounced the bombing of a refugee camp in Syria.
28 people were killed when air strikes hit a refugee camp in Idlib on Thursday. Authorities fear the toll could rise given the number of seriously wounded.
White House spokesman Josh Earnest said: "There is no justifiable excuse for carrying out an air strike against innocent civilians who have already once fled their homes to escape violence."
He added: "These individuals are in the most desperate situation imaginable, and there is no justification for carrying out military action that's targeting them."
The United Nations have led international condemnation of Wednesday's bombing of a Syrian refugee camp in Sarmada.
28 people, including women and children, were killed when air strikes hit a refugee camp near in the Idlib province.
UN aid chief, Stephen O'Brien, condemned the airstrike: "Continued fighting and airstrikes mean that vulnerable, frightened children, women and men have nowhere safe to go."
"If this obscene attack is found to be a deliberate targeting of a civilian structure, it could amount to a war crime," he added.
The Syria Civil Defence, a volunteer search and rescue team, appeared to be the first to tweet from the scene: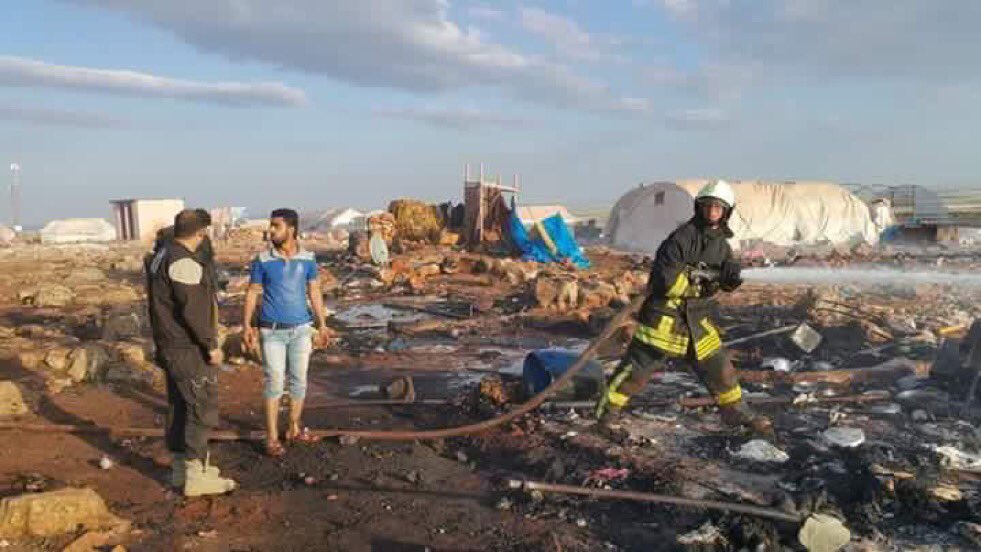 At least 28 are dead after an airstrike hit a refugee camp in Syria, according to the Syrian Observatory for Human Rights.
The number of dead at the camp near the Turkish border included women and children and is expected to rise because of the number of seriously injured people, the Observatory said.
The camp, near the rebel-held town of Sarmada in Idlib Province, was sheltering Syrians displaced by the civil war.
Fighting continues to rage in Sarmada, which is just 20 miles west of the city of Aleppo, despite a temporary deal to cease hostilities in the city being agreed yesterday.
Load more updates