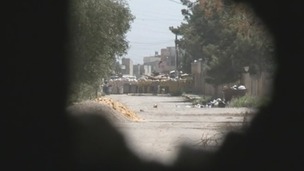 The battle for a key town in Syria has reached a new intensity and has an alarming new dimension.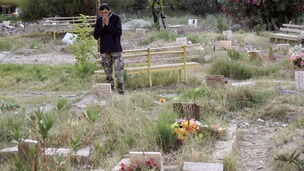 Syria's is an unwinnable war, deadlocked and deadly. Neither side can break through and neither side will give up.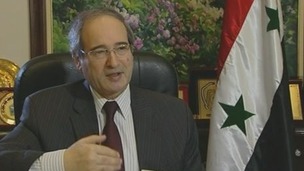 The Syrian deputy foreign minister told ITV News they were using 'new tactics' to fight rebel soldiers trying to overcome the Assad regime.
Live updates
Syrian army using 'new tactics'
Obama: Evidence of chemical weapon use in Syria
President Obama said he has seen evidence of chemical weapon use in Syria, but he said it was important to get more specific information about what exactly happened, Reuters reports.
Syrian army using 'new tactics'
Syria video 'shows executions by al-Qaeda linked rebels'
Fighters linked to al-Qaeda executed 11 men they accused of taking part in massacres orchestrated by Syrian President Bashar al-Assad's forces, a video published online apparently showed.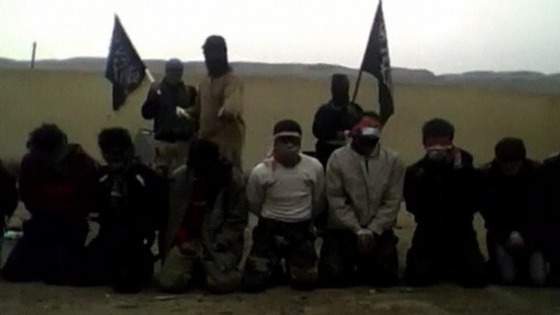 A man whose face was covered in a black balaclava shot each man in the back of the head as they kneeled, blindfolded and lined up in a row.
The executioner said in the video: "The sharia court for the eastern region in Deir al-Zor (east Syria) has sentenced to death these apostate soldiers that committed massacres against our brothers and families in Syria."
The fighters shouted "God is great" as each man was shot.
ITV News cannot independently verify the authenticity of these video clips which were posted on a social media website and distributed by Reuters.
Advertisement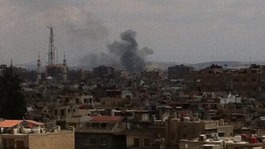 Although this week has been calmer than most, the relative silence was smashed by multiple artillery strikes across the city today.
Read the full story
Syrian army using 'new tactics'
Smoke on the Damascus skyline after airstrikes
by Bill Neely - International Editor
A MiG warplane attacked two targets at the edge of Damascus. There were two loud passes over the Syrian capital, bombed once and then returned, five minutes later there were plumes of white smoke over the skyline.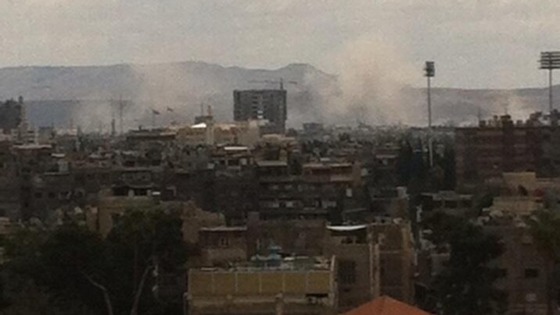 Watch International Editor Bill Neely's latest report from Syria here.
Cameron clarifies position on arming Syrian rebels
The Prime Minister confirmed that he was working to amend the EU embargo on arming Syrian rebels "so that we can give the opposition forces technical assistance" and "engage" with them.
"We haven't made a decision to arm the rebels," he added.
He also said that he supports a political peace process in Syria and that it was important for participants to "bring forward the necessary names for a transitional government".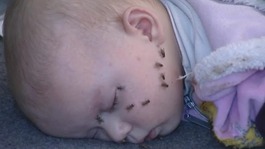 Aid agencies in Damascus tell ITV News International Editor Bill Neely that they are struggling to cope with the growing humanitarian crisis
Read the full story
Advertisement
Video of Syrian rebel commander 'biting into soldier's heart'
A video showing a Syrian rebel commander cutting the heart out of a soldier and biting into is, "emblematic of a civil war that has rapidly descended into sectarian hatred and revenge killings," Human Rights Watch has said.
The New York-based group said an amateur video posted on the Internet on Sunday shows Abu Sakkar, a founder of the rebel Farouq Brigade, cutting into the torso of a dead soldier.
The video has caused outrage among both supporters of President Bashar al-Assad and opposition figures.
Peter Bouckaert of Human Rights Watch said that he had seen an original, unedited copy of the video and that Abu Sakkar's identity had been confirmed by rebel sources in Homs and by images of him in other videos.
"The mutilation of the bodies of enemies is a war crime. But the even more serious issue is the very rapid descent into sectarian rhetoric and violence," said Bouckaert.
He said that in the unedited version of the film, Abu Sakkar instructs his men to "slaughter the Alawites and take their hearts out to eat them", before biting into the unidentified soldier's heart.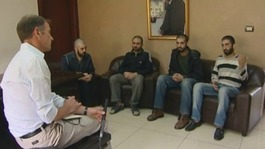 We were taken through one of the most feared compounds in Damascus to meet four men we had chosen from a file of two dozen prisoners.
Read the full story
PM visits Boston bomb site
PM: Evidence Syria used chemical weapons 'serious'
David Cameron said evidence the Syrian government has used chemical weapons is "extremely serious" and he will discuss the issue with US President Barack Obama today, according to Reuters.
Contact lost with fighter jet close to Syria's border
The Turkish military says it has lost contact with one of its F16 fighter jets in a city close to the border with Syria. A search and rescue operation is underway in Osmaniye.
Load more updates
Back to top