Live updates
'Car explosion' in Tel Aviv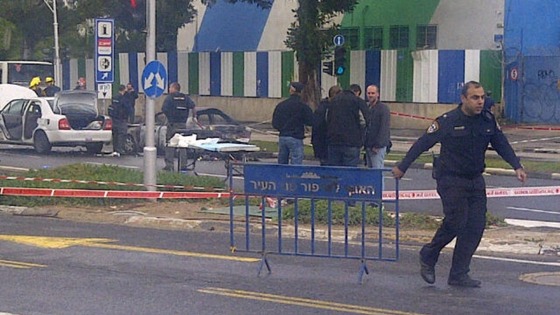 'Car explosion' in Tel Aviv
Israeli media are reporting that the apparent target of the Tel Aviv explosion, the head of a leading crime family who is being named locally as Nissim Alperon, escaped after spotting the bomber approaching.
Advertisement
'Car explosion' in Tel Aviv
Up to 10 people have been injured in a car explosion in Tel Aviv.
'Car explosion' in Tel Aviv
Israeli police spokesman Micky Rosenfeld says that he believes the explosion is criminal but can not definitively rule out a political motive. Local media is quoting an eyewitness who says he saw a motorcyclist throw a package towards the car that exploded.
Assassination by bomb has become a favourite method for Israeli criminal gangs to settle disputes in recent years.
'Car explosion' in Tel Aviv
There has been an explosion in central Tel Aviv. According to Israeli media, a car blew up next to a bus after a motorcyclist placed a bomb near the car.
Early reports say there are seven people injured but no-one killed. It is thought the attack was a criminal assassination attempt and not terrorist-related.
'Car explosion' in Tel Aviv
Israeli police have said that an explosion has gone off in a car in Tel Aviv but that there is a "strong possibility" it is a criminal act.
Associated Press report that police spokesman Micky Rosenfeld said he believed the explosion near a bus was criminally motivated, though he could not definitively rule out that it was political violence.
Rescue services spokesman Zaki Heller says preliminary reports from the scene indicated seven to 10 people were wounded in the explosion.
Advertisement
'Car explosion' in Tel Aviv
Several people have been hurt after a car exploded in Tel Aviv according to initial reports from Reuters.
Police say the incident appears to be criminal related and not a Palestinian bombing.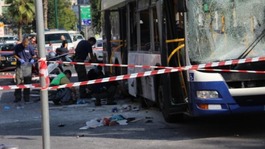 Today's bombing in Tel Aviv is reminiscent of six years ago and could mark a serious escalation in the conflict.
Read the full story
Israel-Hamas ceasefire deal
The United States condemns today's terrorist attack on a bus in Tel Aviv.

Our thoughts and prayers are with the families of those injured, and with the people of Israel.

These attacks against innocent Israeli civilians are outrageous.

The United States will stand with our Israeli allies, and provide whatever assistance is necessary to identify and bring to justice the perpetrators of this attack.

The United States reaffirms our unshakeable commitment to Israel's security and our deep friendship and solidarity with the Israeli people.
– White House Press Secreatry
Israel-Hamas ceasefire deal
Police blamed terrorists for the attack in Tel Aviv, which happened as the bus drove along a street near the Israeli Defence Ministry. The explosion could jeopardise international efforts to agree a ceasefire between Israel and Gaza, as Nina Nannar explains.
Load more updates
Back to top