Wimbledon's bosses insist they have no plans for any of the famous championships' matches to be screened on pay TV channels
Read the full story ›
Less than 24 hours after Andy Murray's thrashing at the magical hands of Rodger Federer, it was Novak Dokovic's turn to administer his very own London mauling.
Djokovic ensured he finishes 2014 as world number one by dispatching Tomas Berdych 6-2 6-2 to set up a semi-final meeting with Japan's Kei Nishikori at London's ATP World Tour Finals.
Advertisement
Roger Federer made it two wins from two group matches at the ATP World Tour Finals in London with a comfortable victory over Andy Murray's conqueror Kei Nishikori.
The Japanese player was the only debutant to win his opening match and was looking to maintain his good record against Federer.
However, this was a real contest only in the early stages as Federer breezed to a 6-3 6-2 win to add to his straight-sets victory over Milos Raonic on Sunday.
Federer will qualify for the semi-finals if Raonic defeats Murray later on Tuesday or Murray wins in three sets, with victory for the Scot now imperative to keep his chances alive.
British No.1 Andy Murray has been named the ATP's Arthur Ashe Humanitarian Award in recognition of his charity work.
Read the full story ›
Andy Murray will go head-to-head with six-time champion Roger Federer at the ATP World Tour Finals in London.
Despite that, the British number one looks to have been given a kind draw as he was matched with Federer, Kei Nishikori and Milos Raonic in Group B, with the latter two competitors playing in the season-ending tournament for the first time.
Murray avoided world number one Djokovic, who has beaten Murray on the four occasions they have played each other this year.
Djokovic will face Stan Wawrinka, Tomas Berdych and Marin Cilic in Group A.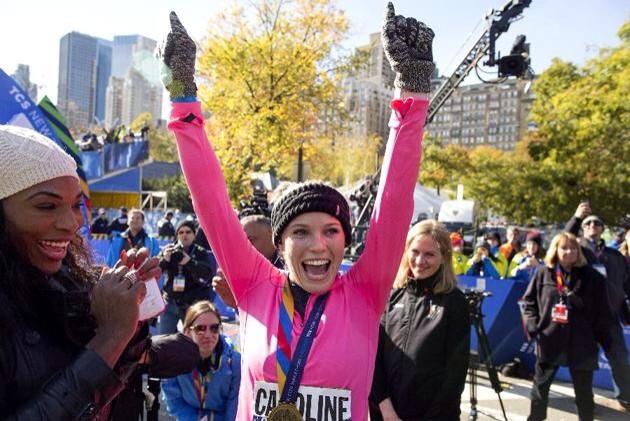 Tennis star Caroline Wozniacki broke three and a half hours as she completed her first ever marathon in New York.
The 24-year-old Dane, who was running for the charity Team For Kids a week after her tennis season drew to a close, came home in three hours, 26 minutes and 33 seconds.
The former world number one was greeted at the finishing line by friend Serena Williams, who beat her in the WTA Championships semi-finals in Singapore last week.
Advertisement
Fans at the Paris Masters booed Milos Raonic back onto the court after the Canadian took eight minutes to return from a comfort break.
Raonic left the match for a comfort break after the second set but refused to use a toilet without a seat - causing the eight-minute delay and an irate crowd.
"Whoever the escort who took me was, took me into a bathroom that had no seats on the toilet," said Raonic after the match.
"So I didn't want to squat, so I kept saying, 'let's go to another one', and we ended up going to the locker room."
Raonic came back to beat Jack Sock 6-3 5-7 7-6(4).
Rafael Nadal will miss the ATP World Tour finals in London because of appendicitis, Reuters reports.
Tennis great Martina Navratilova is set to marry her long-term partner after she proposed on the big screen during the US Open semi-final.
Read the full story ›
Caroline Wozniacki has congratulated Serena Williams on her 18th Grand Slam title, saying, "Unfortunately I lost to a better player".
The Danish tennis star wrote on Twitter.
Thank you everybody for the incredible support these weeks! It was a good run, unfortunately lost to a… http://t.co/Cji5BQLXw8
Load more updates