Tony Benn was to some, a divisive figure, to others, a working class hero; but to his family simply a loving father and husband.And the many sides of a complex character have been fondly remembered.
There were warm words across the political spectrum today for veteran Labour politician Tony Benn, who died this morning aged 88.
Ed Miliband described the former cabinet minister as a "champion of the powerless" and said Mr Benn's "unshakeable beliefs" had been an inspiration.
David Cameron said his death was a "sad day for British politics," describing Benn as "an extraordinary man, a great writer and a brilliant speaker".
Advertisement
Civil rights campaigner Paul Stephenson, who led the Bristol bus boycott in 1963 has paid tribute to Tony Benn.
The MP had supported the boycott which was a protest at the Bristol Omnibus company's refusal to employ a black driver.
The event was instrumental in creating the Race Relations Act two years later, today Tony Benn's help was said to be crucial.
Education Secretary Michael Gove has paid tribute to former Chesterfield MP Tony Benn, describing him as a "spellbinding" speaker with a "luminously generous" personality.
During a visit to schools in the East Midlands, Mr Gove told ITV News Central that Benn had made politics a "noble calling".
Alison Mackenzie Political Correspondent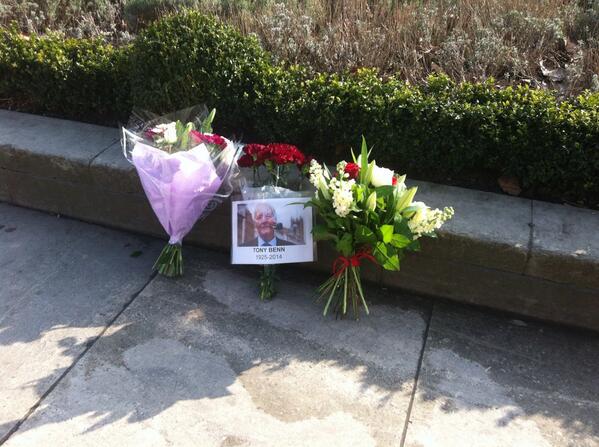 In one his final interviews on British television, Tony Benn told Calendar of his sadness at the passing of Nelson Mandela, explaining how he felt a kindred spirit had passed and how he too had been inspired by the plight of black Africans:
Advertisement
Speaking to Channel 4 News in April 202, Tony Benn thanked his family and friends for their support during his political career.
A spokesman for the Benn family has said: "In response to a number of queries about where floral tributes to Tony Benn might be laid, they can be placed on the north side of Parliament Square."
David Cameron has said Tony Benn's death is a "sad day for British politics" and described the former MP as "an extraordinary man, a great writer and a brilliant speaker".
Ed Miliband says Tony Benn inspired him to see the importance of politics as a 16-year-old while on work experience with the Labour stalwart:
Load more updates