The creators of the spectacular sea of poppies that engulfed the Tower of London to mark the centenary of the start of the First World War will be honoured today.
Sculptor Paul Cummins, 37, and theatre designer Tom Piper, 50, will receive MBEs from the Duke of Cambridge at Buckingham Palace in recognition of the immensely popular 'Blood Swept Lands And Seas Of Red'.
The artists previously met William, along with the Duchess of Cambridge and Prince Harry in August when the royals toured the powerful display of 888,246 ceramic poppies that progressively filled the moat at the Tower - one for each British or Colonial military death during the First World War.
Mr Cummins, from Chesterfield, receives his MBE for services to art and First World War commemorations. Mr Piper, from London, receives his for services to theatre and First World War commemorations.
A look at the Tower of London's poppy installation 'Blood Swept Lands and Seas of Red' from the first poppy to the field of red.
Read the full story ›
Advertisement
Two families who lost men in military campaigns almost a century apart have made an emotional visit to the Tower of London's sea of poppies.
Read the full story ›
The Tower of London has been lit up green this evening as a tribute to the state visit of Ireland's President, Michael Higgins.
President Higgins has today met the Queen, addressed Parliament and spoken at a state banquet at Windsor Castle.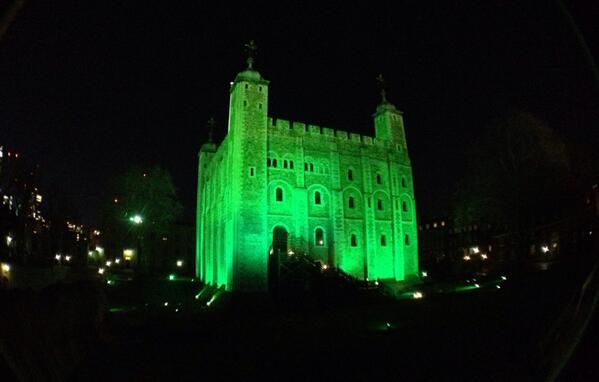 The Metropolitan Police have confirmed that there has been an allegation of theft from the Tower and that they have launched an investigation.
The Olympic and Paralympic medals have been handed over to the Tower of London for safekeeping ahead of the London 2012 Games.
Read the full story ›
Advertisement