All air passengers flying into or out of UK airports have been advised to make sure electronic devices in their hand luggage are charged before they travel.
The updated guidance has been issued by the Department for Transport "in line with the US advice".
A DfT spokesman said, "Passengers flying into or out of the UK are therefore advised to make sure electronic devices being carried in their hand luggage are charged before they travel."
New rules on flights mean passengers could face having electronic devices taken from them if they do not switch on.
Read the full story ›
Advertisement
British Airways passengers who attempt to board a plane to the United States with an uncharged electronic device will not be allowed to fly, the airline has announced.
The measure follows new rules enforced in the US which stated that mobile phones, laptops, tablets and other devices without power would not be allowed onto flights in hand luggage.
Meanwhile British Airways has taken the extra step of telling customers that customers who bring broken or uncharged devices will have to re-book.
Channel Tunnel travellers are experiencing a second day of disruption following Monday's overhead power line problem.
Four of the high-speed Eurostar train services had to be cancelled today and there were delays to the Folkestone to Calais shuttle services
Eurostar said passengers who had a booking on a cancelled train could exchange their ticket, free of charge, for another available service within the next four months
The Port of Dover has been "working hard" with ferry companies to help get Tunnel traffic across the Channel after a broken down-train forced an evacuation and caused major disruption for travellers.
"The port continues to maximise available capacity for the additional traffic whilst maintaining a first class service for customers already heading to Europe's busiest ferry port," a Port of Dover spokeswoman said.
"The port continues to monitor the situation closely, in liaison with its ferry partners. Freight traffic entering the port is currently heavy, due to the issues at the Tunnel.
"Tourist traffic is flowing freely into the port but passengers are advised to allow extra time for their journey."
Services through the Channel Tunnel using one of the two running tunnels, were able to continue but Eurotunnel warned that services were being delayed, with hold-ups possibly lasting for the rest of the day.
The evacuated passengers are now at the French terminal and are waiting for the affected train to arrive so they can get their cars

We are advising people who don't need to travel today to travel on another day. There are queues building up and travellers should expect delays throughout the day.
– Eurotunnel statement
Advertisement
Hundreds of passengers have had to be evacuated from a broken-down train in the Channel Tunnel this morning, leading to long delays for travellers at London St Pancras.
CHANNEL TUNNEL update: Shuttle train passengers being evacuated after overhead power lines apparently came down. http://t.co/RwiXjmhcvG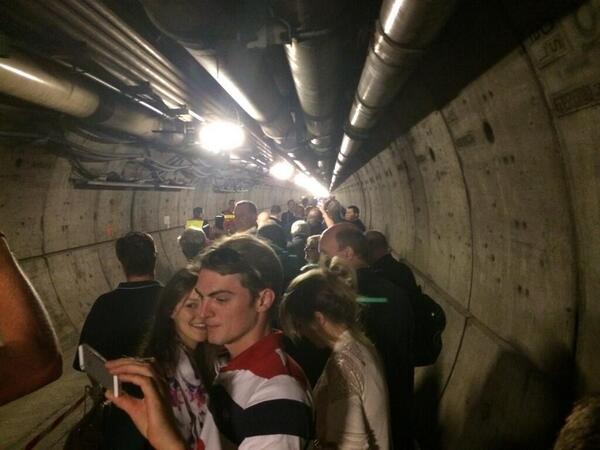 The French-bound Eurotunnel passenger shuttle train came to a halt about a quarter of the way through the tunnel after a problem with the overhead power line. 382 passengers and four dogs were evacuated and taken on to the French terminal.
Uncharged phones and laptops will be barred from planes going to the US under new security measures, the US Transportation Security Administration (TSA) said.
The new rules come amid growing concern about the increased capability of al-Qaeda affiliates in Yemen and Syria, and the threat the foreign fighters of Syria pose to the home countries.
Officials in the US say some passengers at overseas airports will be asked to turn on their phones under new security measures.
The Transportation Security Administration (TSA) said it will require some foreign airports to order passengers to turn on devices such as mobile phones. Any that do not power up will not be allowed on flights to the US, and those travellers may have to undergo additional screening.
Load more updates