The M6 northbound has been closed near Crewe after a serious accident. The northbound carriageway has been shut between J16 and 17 and is not expected to re-open until around 4pm.
There are currently delays of around two hours.
Travelers at St Pancras station have posted pictures of the scene on Twitter, with some describing the situation with the hashtag #chaos.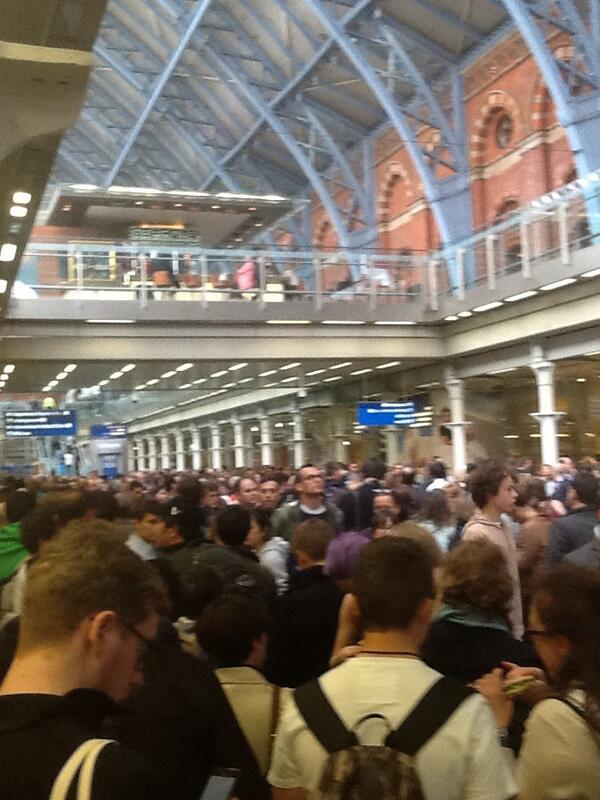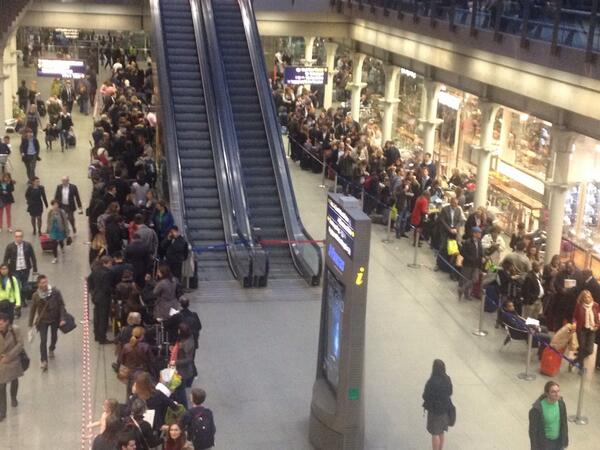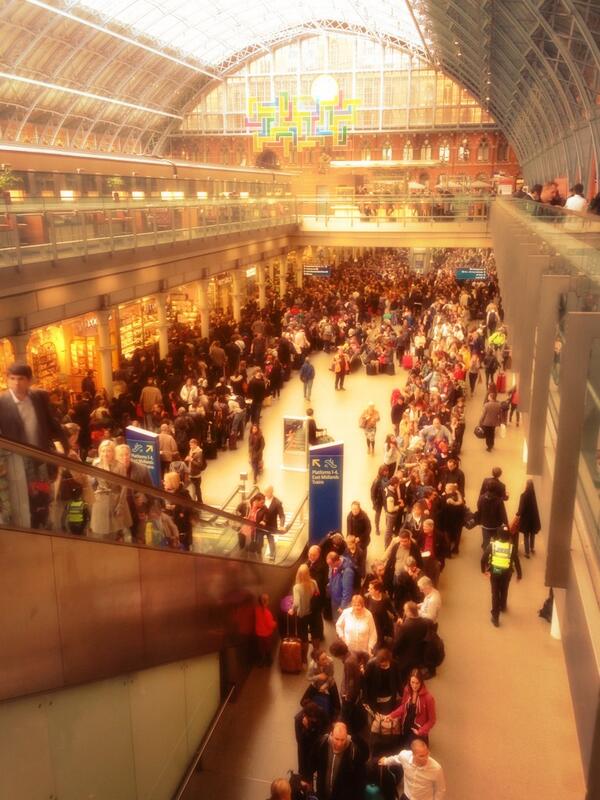 Eurostar told ITV News that customers have a choice of re-booking and getting compensation, or of a full refund, as well as being reimbursed for reasonable resulting accommodation costs.
Advertisement
Hundreds of travelers are queuing and waiting at St Pancras after severe delays meant a backlog of Eurostar services.
A fatality in the Lille region and infrastructure problems in the Eurotunnel mean few customers will be able to travel today, a spokesperson for Eurostar told ITV News.
Video footage shows the scenes at St Pancras, where some queues appear to stretch much of the length of the station.
There are "severe delays" on the Eurostar after a fatality and infrastructure problems in the Eurotunnel caused a backlog of trains.
Eurostar's twitter feed advises customers who are not currently at the station not to make their way there this evening, saying "we will be unable to accommodate you tonight".
It also says customers trying to contact them by phone could have to wait up to 20 minutes.
A fatality in the Lille region was followed by a technical hitch in the Channel Tunnel, resulting in a backlog of passengers on the tunnel's shuttles.
Eurostar say customers have a choice of re-booking their journey for free along with some compensation, or of getting a full refund for their journey.
They say they will also reimburse resulting accommodation costs.
The Local Government Association says today's report on the rising cost of road repairs shows the severe difficulties councils face maintaining the road network.
Keeping our roads safe is one of the most important jobs councils do and they have worked hard to fix another 2 million potholes this year despite deep funding cuts and multi-million pound compensation costs for pothole damage.

The Government has responded to our calls for extra funding to repair our roads in recent months but it is simply not enough to free councils trapped in an endless cycle of only being able to patch up our deteriorating network. This will always be more expensive than longer-term preventative work.
A new report estimates the "catch-up" cost of repairing potholes and getting the local road network back into reasonable condition has risen to £12 billion.
Visitors to ITV News' Facebook page have been sharing their experiences of pothole damage.
Countless tyre damage due to potholes. Bumpy awful journeys. The roads are in a dreadful condition, even motorways. Very dangerous at high speed. About time the government spent the money in the right places!
– Carole Mallett
I stopped counting the potholes in one road the other day! Got fed up!

It's shocking.
– Eve Van Eyk
I hit a pothole and it destroyed my inner wheel. As they were custom-made I couldn't afford to fix them so had to sell the car.
– Cheryl Young
Add your comments on our Facebook page here.
Advertisement
The RAC warned Daybreak that hundreds of pounds worth of damage can be created by one pothole.
RAC mechanic Rory Perera said there had also been a dramatic rise in the number of breakdowns peaking at "10,000 per quarter, depending on the weather conditions".
Britain is "facing a roads crisis escalating at an alarming pace" which is exacerbated by every bout of severe weather and following years of underfunding, according to a local government campaigner.
Peter Box, the chairman of the LGA's economy and transport board, criticised the findings of a report into the UK's pothole crisis and warned:
Councils have long warned that our already dilapidated road network could not cope with another extreme winter and the unprecedented recent flooding experienced across the country has left behind a trail of destruction to our highways.
– Peter Box
AA president Edmund King explained:
Our new data, along with the AIA Survey, shows that Britain's roads are ill-prepared for the economic recovery and unfit for purpose for many road users, such as cyclists and motorcyclists.

It is unacceptable that each winter, whether it is frost or rain, our roads are crumbling and give way too easily.
– Edmund King
Claims for personal injury or damage to a vehicle rose by 20% during 2013 in England and Wales, according to experts.
The Asphalt Industry Alliance (AIA) also found:
Every local council outside London were facing an extra average of 540 per claim per local council in England and 141 for every authority in Wales.
The total cost of compensation claims due to poor road condition, including the cost of staff time spent processing them, amounted to £31.6 million across England and Wales over the last year.
Payouts on claims accounted for only £16.6 million of this, with the remaining £15 million (up from £13 million) being staff costs incurred by local authorities processing claims.
Load more updates