Gunmen who attacked a museum in Tunisia killing 23 people were trained in Libya, a security official has told the AFP news agency.
Colombian President Juan Manuel Santos offered his condolences to the families of the two Colombian victims of the deadly Tunisia museum attack.
Santos said he had spoken to General Jose Arturo Camelo, whose wife and son were killed in the attack.
Santos recalled what General Camelo had told him, saying:
Look at the irony of life, all my life I've been like a soldier fighting against terrorism, combating terrorism, and now terrorism in a place far away from Colombia has taken my wife and my son, a son who had just graduated with a master's degree from Madrid.

They went to Tunisia as a gift for my son.
– Santos repeats Camelo's words
Advertisement
Tunisia's army have taken to the streets as security is ramped up following the deadly attack on the national museum in Tunis.
New Editor Jonathan Wald reports from Tunis: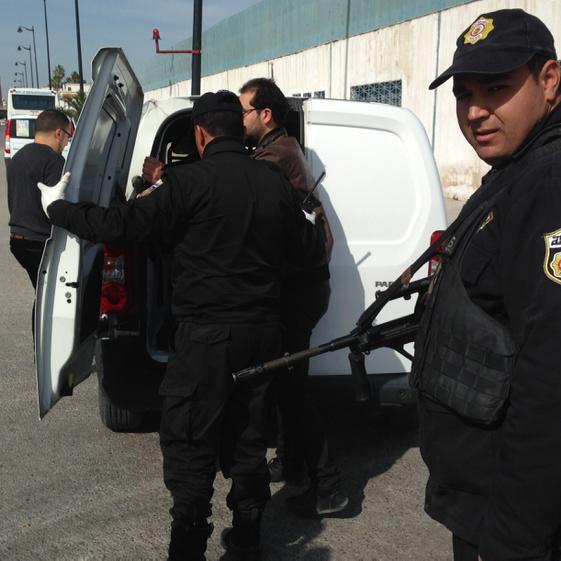 The funeral was held today for anti-terror officer Aymen Morjan, who was gunned down in yesterday's terror attack on Tunisia's national museum.
Meanwhile the country's interior minister promised to "eradicate" the people responsible for the massacre of 23 people.
ITV News Correspondent Paul Davies reports:
Across Tunis' main hospitals, the grim work of tending to the dead and injured continued today.
As the minister of health paid his respects, he said the country remained "defiant" about surviving yesterday's terror attack.
ITV's International Affairs Editor Rageh Omaar reports from Tunisia:
Sally Adey, the British holidaymaker who was killed in yesterday's attack on a museum in Tunisia, was the only Briton injured in the attack, ITV News understands.
The 57-year-old's husband was with her inside the Bardo Museum in Tunis and was unharmed by the attackers.
Advertisement
A Spanish man and his pregnant wife who were caught up in Tunisia's museum massacre hid in the building overnight, not knowing the siege had ended yesterday afternoon.
ITV's International Affairs Editor Rageh Omaar reports from Tunisia:
Residents in the village where Sally Adey grew up are "shocked and very deeply saddened" by her death at the hands of terrorists in Tunisia, her family's church said today.
The community here in Scothern has been shocked and very deeply saddened by the news of the death of Sally Adey yesterday.

Our thoughts and prayers are with Sally's father Bob and his wife Joan at this terrible time.
– Revd Adam Watson - St Germains' Scothern
Mrs Adey's neighbours in Shropshire said they believed she and her husband might have arranged to go on the cruise relatively recently.
Another resident in the hamlet near Albrighton, described Mrs Adey as a friendly woman who was "just a very good neighbour".
"I still can't believe it is Sally," the neighbour said. "You don't expect anything like this to happen when you are on a cruise and it's just dreadfully sad."
A woman who was shot by terrorists in Tunisia's museum attack says she smeared herself with victims' blood and played dead to survive.
Read the full story ›
IS released an audio file claiming responsibility for the deadly gun attack on a museum in Tunisia yesterday, praising the two men who killed 20 foreign tourists as "knights of the Islamic State"
The men were armed with machine guns and bombs when they launched the attack on the Bardo Museum in Tunis.
Load more updates