Turkey's SuperLig has been suspended for one full week of fixtures after a gun attack on Fenerbahce's team bus.
The measure was announced by the Turkish Football Federation on Monday.
Turkey has blocked access to Twitter and YouTube over the publication of photographs of an Istanbul prosecutor held at gunpoint by far-left militants hours before he was killed in a shootout last week, officials said.
Presidential spokesman Ibrahim Kalin said a prosecutor had sought the block on access to social media sites because some media organizations had acted "as if they were spreading terrorist propaganda" in sharing the images.
This has to do with the publishing of the prosecutor's picture. What happened in the aftermath (of the prosecutor's killing) is as grim as the incident itself.

The demand from the prosecutor's office is that this image not be used anywhere in electronic platforms.
– Ibrahim Kalin
Istanbul prosecutor Mehmet Selim Kiraz died from his wounds last Tuesday after security forces stormed the office where members of the far-left Revolutionary People's Liberation Party-Front (DHKP-C) had taken him hostage.
The DHKP-C had published a picture of Kiraz with a gun to his head and said it would kill him unless its demands were met.
"A request has been made to both Twitter and YouTube for the removal of the images and posts but they have not accepted it and no response has been given. That's why this decision has been taken through a court in Istanbul," a senior Turkish official told Reuters.
Twitter and YouTube could not immediately be reached for comment.
Advertisement
Shots have reportedly been fired at a bus carrying Turkish side Fenerbahce FC, injuring the driver according to AFP news agency.
The Turkish team were returning from beating Rizespor 5-1 on when their bus was attacked by unknown assailants while crossing a bridge near Trabzon.
The driver was taken to hospital for treatment but the extent of his wounds is not known.
A childhood friend of detained Briton Waheed Ahmed has spoken today about his shock at the arrest of the 21-year-old student.
Bassat Yousaf, who said he had known Ahmed, for 15 years described him as "a nice person, a really humble guy" and someone who "was just the same person that he was when he was in high school".
He said: "I didn't see any change in him whatsoever. He was a nice guy, I used to see him daily, I used to see him going up and down getting a milkshake.
"Seeing him on the news came as a shock for me. He didn't seem that kind of person. He was a family guy and not the kind of person they are talking about."
Yousaf, who said he had seen his friend collecting money for victims of the Syria conflict before he learned he had gone to Turkey, said he was "very shocked" to see the news of Ahmed's arrest after allegedly trying to cross the border and thought "he might have gone there to help".
Labour's shadow home secretary has called for more to be done to prevent Brits travelling to Syria after a "very disturbing" series of cases in recent months.
Yvette Cooper said "the police can't do it all" and called for an overhaul of the Prevent programme - which aims to stop people becoming terrorists or supporting terrorism.
She added that police should be given new powers "so that anyone returning from trying to join ISIL can be required to undertake the Channel de-radicalisation programme".
After the arrest of nine Britons in Turkey, Cooper said: "The police are rightly investigating this latest case and it is particularly disturbing that children are involved. Much more needs to be done by everyone to combat extremism and radicalisation."
Police are searching the home of a Labour councillor whose son was arrested by Turkish police allegedly attempting to enter Syria.
Police search the home of Shakil Ahmed, the councillor from Rochdale whose son was detained trying to enter Syria. http://t.co/2eal6arVOq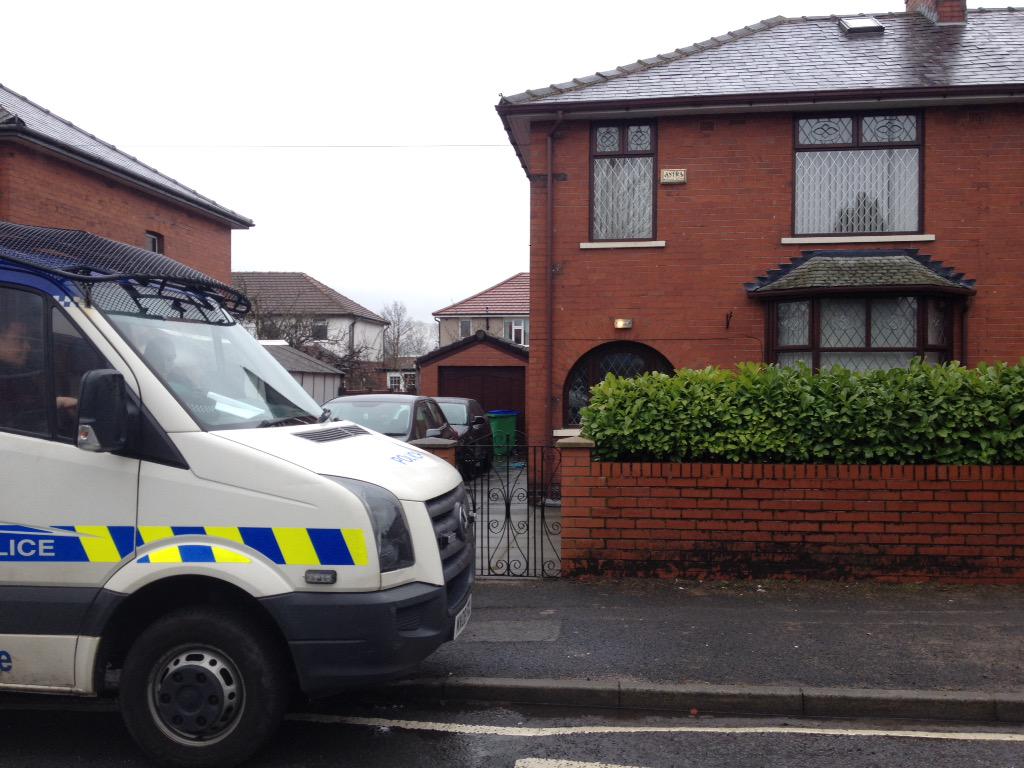 Rochdale councillor Shakil Ahmed had previously said she was "extremely upset" at the news, and had thought her son was in Birmingham.
Advertisement
Waheed Ahmed, a 21-year-old politics student at Manchester University, has been named tonight as one of the nine Britons arrested by Turkish authorities for attempting to cross into Syria.
His father, Rochdale councillor Shakil Ahmed, said he was "extremely upset" at the news and said he thought his son was in Birmingham.
Waheed was one of a group of nine Rochdale residents believed to be from the same family, and including women and children, who were stopped at the Turkey/Syria border yesterday.
ITV News Correspondent Juliet Bremner reports:
A Rochdale Iman has said the arrest of nine of the town's residents, alleged to have been trying to cross the border into Syria, was the "last thing we need".
Iman Irfan Chishti, of the Rochdale Council of Mosques, said: "We are shocked to hear this has happened in our town.
"Rochdale has had its fair share of negative publicity of late, given the grooming issue, and this is the last thing we need."
Footage has emerged that shows the Britons arrested by Turkish authorities for attempting to cross into Syria, being transported to and from the police station in the Southern Hatay province where they are believed to have been held overnight.
The group, who are from Rochdale, includes two women aged 47 and 22, three men aged 24, 22 and 21, and four children aged one, three, eight and 11, according to Greater Manchester Police.
Rochdale councillor Shakil Ahmed has issued a statement tonight expressing his shock at the news that his son is one of nine Britons who are currently being held in Turkey for allegedly trying to cross the border into Syria.
I was shocked, worried and extremely upset to hear that my son has been arrested on the Turkey/Syria border. It's a total mystery to me why he's there, as I was under the impression he was on a work placement in Birmingham.

"My son is a good Muslim and his loyalties belong to Britain, so I don't understand what he's doing there. If I thought for a second that he was in danger of being radicalised, I would have reported him to the authorities.

He's studying a degree in politics and sociology at Manchester University and has a good future ahead of him. I just want to speak to my son and get him home as soon as possible so I can find out what's going on.
– Shakil Ahmed
Load more updates