Turkey's Deputy Prime Minister, Veysi Kaynak said a much larger attack was apparently being planned based on the weapons found at the scene of the Izmir car bomb attack.
"Based on the preparation, the weapons, bombs and ammunition seized, it is understood that a big atrocity was being planned," Kaynak told reporters.
The attackers were reportedly carrying two automatic rifles, rocket launchers and eight hand grenades.
He said the attack, thought to have been carried out by Kurdish militants, would not stop Turkey's military involvement in Syria and Iraq.
Kurdish PKK militants were behind a car bombing outside a courthouse that killed two people in the Turkish city of Izmir, a governor said.
Provincial governor Erol Ayyildiz said a "clash erupted" after officers stopped a vehicle at a police checkpoint in front of Bayrakli courthouse.
"In this clash, terrorists detonated the car bomb while trying to escape," he told reporters.
A police officer and a courthouse employee were killed in the attack, he added.
Police shot dead two of the attackers who were armed with Kalashnikov rifles and grenades.
Advertisement
One policeman and a courthouse employee have reportedly been killed in a car bomb explosion in Izmir.
Izmir's Governor said the car stopped in front of the courthouse before the suspected attackers began a gunfight with police officers using kalashnikov rifles and grenades.
Some of the wounded are believed to be in critical condition.
Two attackers stormed their way into an Izmir courthouse after causing an explosion outside, ITV News understands.
The explosion was caused by a car bomb, the secretary general of the city municipality Bugra Gokce told reporters.
After the explosion - outside Gate C - the suspected attackers entered the building.
Both suspects were killed after being shot by police officers.
Footage recorded inside the courthouse shows dozens of armed security officials walking down the corridors with staff waiting patiently nearby.
Police in Turkey have shot dead a second suspected attacker in the western Aegean city of Izmir.
According to the Anadolu news agency, authorities are now searching for a third assailant.
Ten people are reportedly wounded after an explosion outside the city's courthouse earlier on Thursday.
At least three people have been injured after an explosion near a courthouse in the Turkish city of Izmir.
One vehicle was pictured on fire, with injured people being seen put on stretchers by rescue workers, according to CCN Turk.
Turkish police are reported to have killed one attacker following the explosion.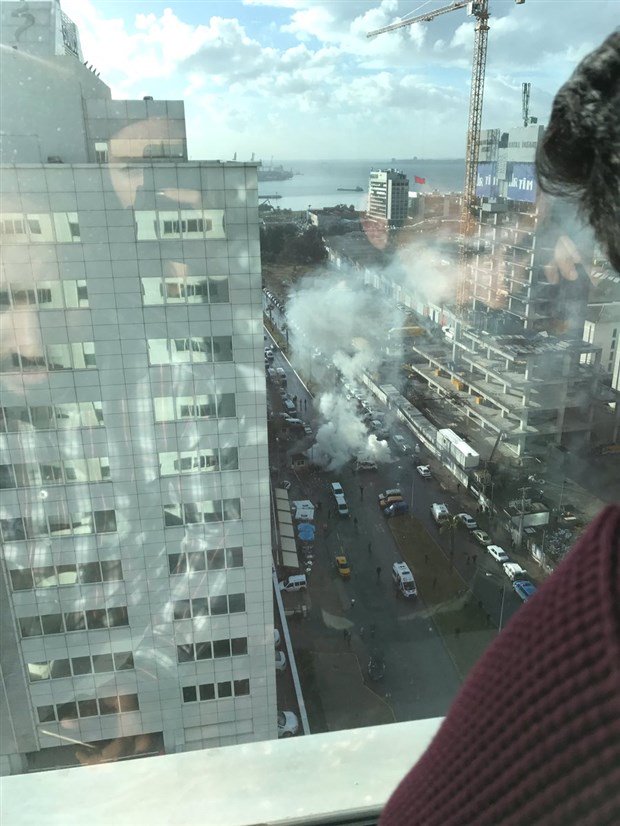 Advertisement
Authorities in Turkey have established the possible links and location of the main suspect behind the New Year's Day attack at an Istanbul nightclub.
In an interview with broadcaster A Haber, the country's Deputy Prime Minster Veysi Kaynak said he could not rule out the possibility of the gunman fleeing abroad.
It is believed the suspect is a member of the Uighur community - a Muslim group who live in western China.
He also said it was clear the attacker acted alone, but could have been helped by others.
As CCTV footage emerged showing the Reina nightclub gunman just hours before the attack, Turkish police announced they had detained 58 people in connection with the attack across three cities in Turkey.
A third of those detained are children.
ITV News has also learnt that the suspected gunman used a fake passport and an alias to rent several homes in the weeks before the attack, yet despite the information they already hold, Turkish authorities have so far failed to find the attacker.
Police in Istanbul have arrested 20 people as they continue to hunt for the gunman behind the attack on Reina nightclub which left 39 people dead and up to 70 wounded.
Authorities increased security around the city on Wednesday as they arrested 20 people with suspected links to the deadly attack, Turkish media reported.
Police in Turkey have released a photograph showing the alleged Reina nightclub attacker arriving at a bus terminal to purchase a ticket to Istanbul.
Turkish authorities claim he walked into the ticket hall in Konya with his friend several days before attack.
Although they claim to have identified the suspect, they have not released his identity publicly.
Load more updates