Twitter says it has "suspended a number of accounts" following the abuse that Robin Williams' daughter suffered on the social media site following his death.
A statement reportedly from Twitter's vice president of trust and safety, reprinted in the Washington Post, said:
We will not tolerate abuse of this nature on Twitter. We have suspended a number of accounts related to this issue for violating our rules and we are in the process of evaluating how we can further improve our policies to better handle tragic situations like this one. This includes expanding our policies regarding self-harm and private information, and improving support for family members of deceased users.
– Del Harvey, Twitter VP of Trust and Safety
Young people would rather use social media than help a person in need, according to a poll carried out by a blood cancer charity.
According to the survey by Anthony Nolan:
9% of 18 to 24-year-olds would write a post on Facebook or Twitter or share a photo.
15% of 18 to 24-year-olds have pretended to be on the phone or texting to avoid helping a stranger who was in danger.
6% of people aged 25 to 34 would post about such event on social media.
7% of people aged 25 to 34 would take a photo on their mobile phones.
3% of people said they would take to the internet if they saw a stranger in trouble.
Advertisement
Almost one in 10 youngsters would immediately take to social media to tell their friends and followers if they saw a stranger in a risky situation, a poll suggests.
Nine percent of 18 to 24-year-olds would write a post on Facebook or Twitter or share a photo, the poll by Anthony Nolan found.
The poll comes after an epileptic woman spoke out about two strangers who refused to help her during a fit but were instead laughing and filming her on their mobile phones.
Germany's victory over Argentina in the World Cup final last night set a new record for the most tweets per minute.
There were 618,725 tweets in the 60 seconds after the final whistle was blown at the Maracana beating the previous high for a sporting event, which was Brazil's humiliating 7-1 defeat to Germany.
However, the champions' semi-final win over the host nation kept hold of the most tweets sent during a sporting event record with 35.6 million compared to last night's 32.1 million.
The most mentioned players on Twitter were Germany's Mario Gotze, who scored the winning goal, and Argentina's talisman and captain Lionel Messi.
Award-winning author of Cloud Atlas choose to tell his latest effort, The Right Sort, via the "straitjacket" of Twitter.
Read the full story ›
Public sector workers are striking today over a row on pay, conditions, pensions and spending cuts.
Here are some of the reactions from Twitter users on the industrial action.
I'm with the strikers. No pay rise for years while ministers give themselves 11% + expenses? Unacceptable #strikeaction
Hefty fines if kids aren't at school, yet teachers go on strike when they want? You're not the only ones struggling! #strikeaction #selfish
As a parent I would be happy if my children couldn't go to school, they are teaching kids to stand up for what's important #strikeaction
Advertisement
Brazil's humiliating loss to Germany in last night's World Cup semi-final was the most talked about individual sports game ever on Twitter.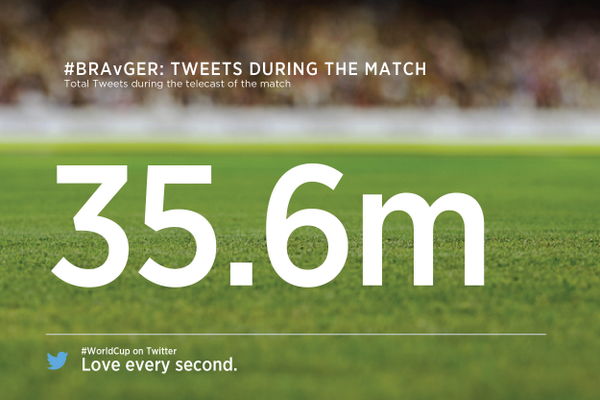 Mystery surrounds a new Twitter account claiming to be the anonymous street artist Banksy.
Read the full story ›
Twitter users have hijacked #AskThicke to torment singer Robin Thicke over his "sexist" lyrics and comments.
Read the full story ›
The co-founder of Twitter told ITV News he believes social media sites are "just getting started".
Read the full story ›
Load more updates