Nigel Farage has admitted he is nervous about Thursday's ITV Leaders' Debate, telling reporters at a pub in Dover he has concerns over how host Julie Etchingham will "control" the seven leaders.
Had it been a panel of four, or maybe five, I would have looked forward to it much more, but I think with seven - how on earth she's going to control it I just don't know.

I fear it will generate into a bit of a shouting match as everyone's desperate to make their mark.
– Nigel Farage
He told ITV News UK Editor Rohit Kacharoo that he thought his position in the podium line-up is "Pretty good".
"Tucked inbetween Cleggers and Miliband, that's alright," he said. "It'd be nice to be next to David but I don't think he'd like it very much."
The Ukip leader said that he thought the Prime Minister would be "delighted" with his position at the far end of the seven leaders "far away...from maybe Ed," who he praised as standing up to Jeremy Paxman "remarkably well" in last week's Q&A show.
Ukip leader Nigel Farage has claimed "broken" promises on controlling immigration are part of the reason why many people are sceptical about politics and insisted only his party are being honest about the contentious issue.
Speaking during a campaign trail event at Dover, Mr Farage reiterated his party's view that Britain cannot control immigration while it is part of the European Union.
Advertisement
Nigel Farage denied he was overcome by emotion as he wiped his eyes while addressing supporters on the election campaign trail in Dover.
ITV News UK Editor Rohit Kachroo reports from the Ukip event:
Farage wipes his eye. Blames the breeze. Denies he's crying - overcome by emotion of the cliffs of Dover
The latest ITV News poll suggests the Conservatives have a four point lead over Labour going into the campaign.
ITV News election analyst Professor Colin Rallings projects they will be some way short of a majority on those figures with David Cameron, or Ed Miliband struggling to form a government.
ITV News Deputy Political Editor Chris Ship examines the options of how Parliament might look.
ITV News UK Editor Rohit Kachroo has been with Nigel Farage as the Ukip leader plans his strategy for the ITV Leaders' Debate on Thursday.
Read the full story ›
Advertisement
It was, in some ways, a unique election launch, but how it will end is anyone's guess.
Read the full story ›
With two MPs elected in as many months, Ukip leader Nigel Farage says his party will be "serious players" in the general election.
Read the full story ›
Nigel Farage has announced the party's "pledge to Britain", which includes saying no to the EU, controlling the country's borders, an extra £3 billion for the NHS, cuts in foreign aid spending and no tax on the minimum wage.
Ahead of the leaders' debate on Thursday the Ukip leader told ITV News UK Editor Rohit Kachroo that: "I hope that I am able to get across to the viewing public the fact that Ukip alone is completely distinctive on these key issues."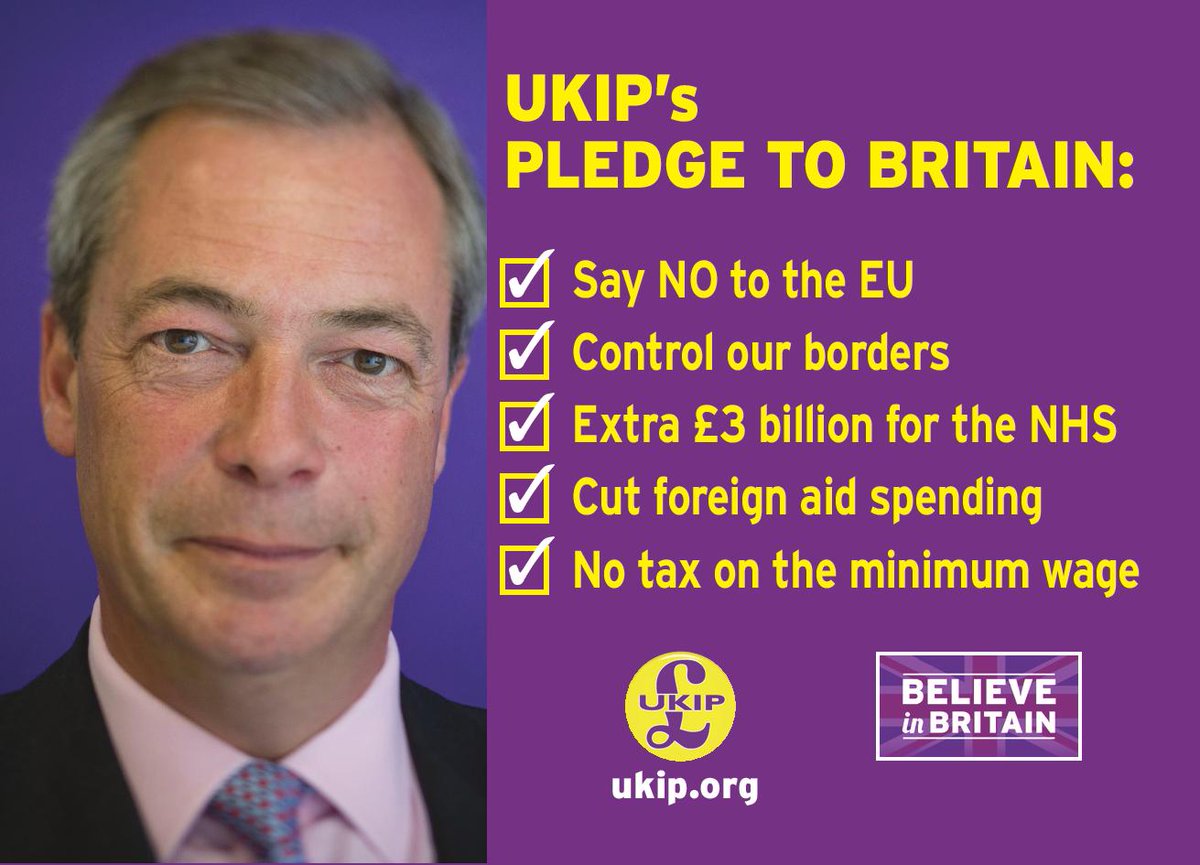 Ukip has launched its formal campaign with "simple, pragmatic" policies that are "more in tune" with the public than the Westminster parties, Nigel Farage has told ITV News.
"We are the ones talking about our relationship with Europe, when we want a trade deal ... we're the party saying we want an Australian-style points system to manage properly immigration into Britain," he added.
The Ukip leader also explained to ITV News UK Editor Rohit Kacharoo why he thinks the election battle that officially began today "doesn't matter" - yet:
Load more updates