St George would likely have been welcomed to Britain by a 3rd Century Ukip because of his skills as a dragon slayer, the party's economic spokesman has joked.
Patrick O'Flynn said he completely disagreed with the argument that, because St George was from the country now known as Turkey, England's national day is irrelevant, calling the idea "ridiculous".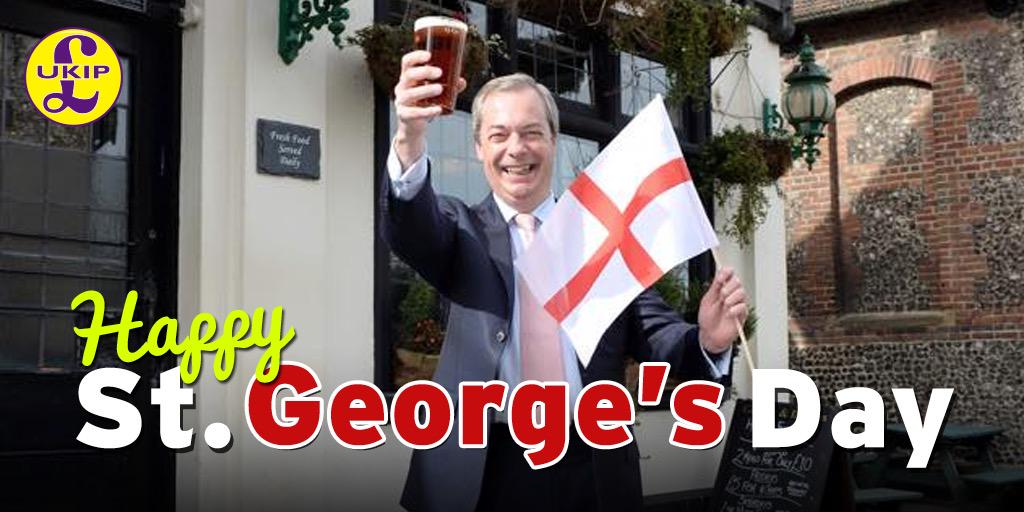 Asked whether the saint would have been welcomed as a skilled migrant, O'Flynn replied, "Well, I guess dragon slaying is a skill, but whether it is one that's in short supply for the needs of the British economy - we will leave to our migration commission."
Nigel Farage has insisted Ukip's support was "holding up remarkably well", despite polls suggesting it has drifted down to the low teens over the course of the election campaign.
The Ukip leader predicted his party would "surprise" those who have suggested he will fail to secure the Thanet South seat in Kent and leave just one Ukip MP on May 8.
"I was out last night knocking on doors in the seat which I am fighting and I think it is going extremely well. I think Ukip is holding up remarkably well in the polls," Farage told BBC's Breakfast programme.
"Our vote is firming over the course of the last couple of weeks. In our target seats we are doing well," he said.
"The thing about Ukip is that all the so-called experts have underplayed us over the last few years. They have underestimated our potential, they are doing so again, and I think we are going to surprise people."
Advertisement
Farage opens up about sheds, foraging, family life and politics as he speaks to Julie Etchingham in his hometown of Deal.
Read the full story ›
Nigel Farage reveals he has done a bit of skinny dipping in his time, as the latest leader features in Tonight's Spotlight series.
Read the full story ›
A new ComRes poll for ITV News spells bad news for Ukip, while other research suggests support for Ukip has stabilised or even grown.
Read the full story ›
Nigel Farage's party is trailing Labour in the challenge for Tory-held seats, an exclusive ComRes poll for ITV News has found.
Read the full story ›
Advertisement
More than 100 small business owners say they support Ukip's policies to help small traders in a letter published in the Daily Express.
Read the full story ›
Nigel Farage has told ITV News he would "happily" accept Christian refugees into Britain because they have "literally got nowhere to go".
Read the full story ›
The Royal Navy should be sent to the Mediterranean to help thousands of migrants following the latest boat disaster, Nigel Farage has said.
After accusing David Cameron yesterday of "directly causing" the deaths of migrants in the Mediterranean Sea by bombing Libya in 2011, the Ukip leader said if he was Prime Minister he would send the Royal Navy to help.
Speaking in Rochester, Mr Farage said: "We could help. We could send the Royal Navy down, but it's a question of what's the signal - is the signal 'If they keep on coming we'll keep on taking you' or is the signal 'We're very sorry, we can't take you'?"
Asked what he would do as Prime Minister, Mr Farage said: "I would say there is a horrible humanitarian crisis going on, we'll send the Royal Navy - what's left of it - to help, we will divert part of our £20 billion a year aid budget."
He said Mr Cameron has a "very big challenge" when he attends a summit on the migrant crisis at the European Council in Brussels on Thursday.
Load more updates