Twenty-four people are being rescued by fire crews after getting stuck at the top of a rollercoaster in Maryland in the United States.
Local fire officials say the riders are being rescued slowly from the Jokers Jinx ride at the 6 Flags America theme park.
Firefighters have reached the 1st car by tower bucket - each of 6 cars will be emptied slowly http://t.co/bkuF5zFt5c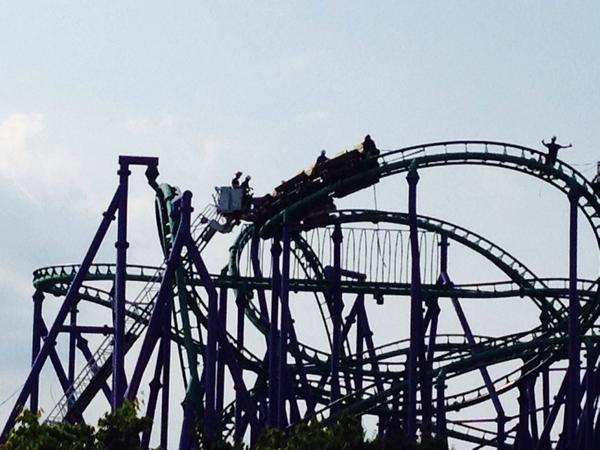 Hong Nguyen, 34, heard cries while running in a quiet area of Houston before discovering missing Genesis Haley abandoned in the brush.
Read the full story ›
Advertisement
The US State Department said it is increasing security at its embassy in Baghdad and will move some workers out of the Iraqi capital - but said a "substantial majority" of the embassy presence will remain.
"Some additional U.S. government security personnel will be added to the staff in Baghdad; other staff will be temporarily relocated - both to our Consulate Generals in Basra and Arbil and to the Iraq Support Unit in Amman," a State Department statement spokesperson said.
Two police offers were shot in a pizza restaurant in Las Vegas during a shooting spree that left at least three dead.
According to the Associated Press news agency, police said two suspects shot two officers who were eating lunch, with one shouting: "This is a revolution."
They were then said to have fled to Walmart across the street, where they shot a person before killing themselves.
The condition of the officers is not immediately known, the police spokesman said.
Two young American girls are accused of stabbing their friend 19 times in an attempt to become 'proxies' to a fictional horror meme.
Read the full story ›
Sriram Hathwar and Ansun Sujoe receive $30,000 each after officials fail to separate them in the annual Scripps National Spelling Bee.
Read the full story ›
Advertisement
China has hit back at US claims that military officials targeted American companies and stole trade secrets, insisting that the allegations are "made up" and would "damage" relations between the two countries.
Five Chinese individuals have been indicted in the US on on cyber espionage charges, but Foreign Ministry spokesman Qin Gang urged "immediate rectification".
"China is a staunch defender of network security, and the Chinese government, military and associated personnel have never engaged in online theft of trade secrets," he said in a statement.
At least one person has suspected to have been killed by the wild fires that have engulfed San Diego county, officials from the City of Carlsbad have announced.
A mix of tornado winds are fire burning out of control in southern California has given rise to phenomenon US media outlets have dubbed 'fire-nados'.
One blaze, in the city of San Marcos, has burned over 700 acres and is being made worse by high temperatures.
Firefighters are gaining ground on a number of other fires in the region. A total of nine different blazes are forcing the evacuation of tens of thousands of people as the air quality drops due to the smoke wafting over the area.
Authorities have been forced to declare a state of emergency in San Diego after wild fires ripped through the surrounding countryside.
A wall of flames dozens of feet high has advanced towards an upscale hillside community near San Diego, threatening to destroy up-market homes, along with eight other wild fires threatening the Californian city.
The nine blazes raging round San Diego have destroyed more than 10,000 acres, and evacuation notices have been sent to areas that are home to 125,000 residents since the first blaze broke out on Tuesday, county officials said.
Load more updates