The former Beatle is refusing to perform in North Carolina after it passed an 'anti-gay' law.
Read the full story ›
A convicted criminal whose 'hot felon' mugshot swept the internet has left prison - to start his new career as a male model.
Read the full story ›
Advertisement
Two gunmen who opened fire on a back garden party in the US, killing five people and wounding several more, are on the run, police say.
Read the full story ›
The wife of former US President Ronald Reagan has died aged 94, according to reports.
Read the full story ›
A gunman who shot three people dead after going on a shooting spree in Texas has been killed by police.
Read the full story ›
A gunman who opened fire at a work site in Kansas was 'driving and shooting from his car' before he was shot by police, according to officials
Speaking at a press conference Harvey County Sheriff T. Walton said that the gunman has been shot and killed by authorities after he opened fire at the Excel Industries site in Hesston.
Describing the incident as "horrible" Walton confirmed the shooter had killed "three or four people, and wounded as many as 20 others".
Advertisement
At least two people have reportedly died after a man opened fire at a Kansas workplace.
According to Wichita television station KWCH the shooter targeted lawn care business Excel Industries in Hesston shortly after 5pm on Thursday,
An 'active shooter' has reportedly opened fire at a business park in Kansas.
According to local reports there are believed to be 'multiple injuries'.
The shooter opened fire at the offices of lawn care company Excel Industries in Hesston, shortly after 5 pm local time.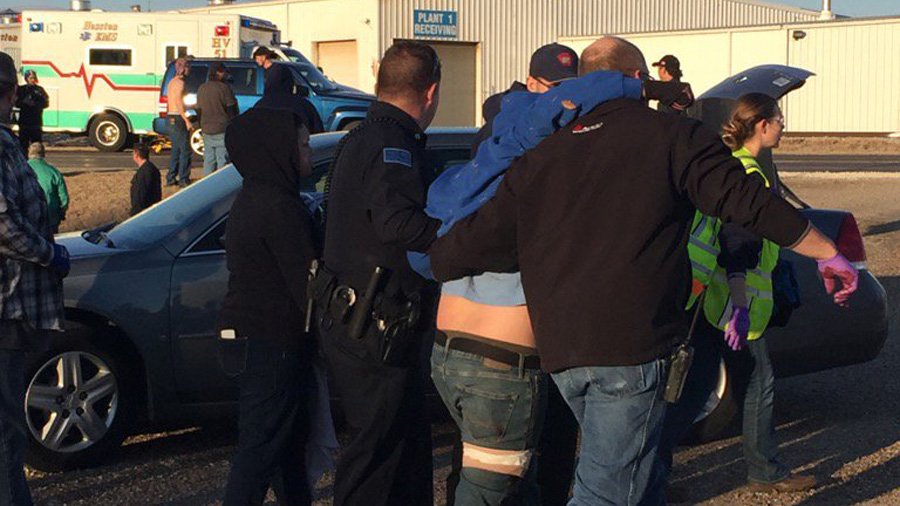 America and Russia have reached a principle agreement to cease hostilities between various parties in Syria, according to Secretary of State John Kerry.
Speaking at a joint press conference with the Jordanian Foreign Minister, Mr Kerry announced he and Russian counterpart Sergei Lavrov had struck a chord in negotiations.
The 72-year-old believes US and Russian presidents Barack Obama and Vladimir Putin will be speaking in the coming days to complete the deal in principle.
Mr Kerry announced the development following telephone discussions with Mr Lavrov today.
He added that while the two countries are "still filling out the details," it is hoped a conversation between the presidents will happen "as soon as it is appropriate."
The Russian Foreign Ministry said the ceasefire conditions would exclude operations against organisations "recognised as terrorist by the UN Security Council."
Barack Obama will make a historic visit to Havana next month, becoming the first US president to visit Cuba in nine decades.
The brief visit - part of a trip to Latin American - is another step on the road to reconciliation between the US and Cuba, who have been estranged since the Cuban revolution in 1959.
Mr Obama and Cuban president Raul Castro moved to re-establish ties in 2015 when embassies were reopened in the respective countries.
Critics of the move point to the oppressive nature of the regime in Cuba, with Cuban-American Republican presidential candidate Ted Cruz saying that Obama should not visit whilst the Castro family remains in power.
Load more updates