Live updates
Iran shows 'captured' US drone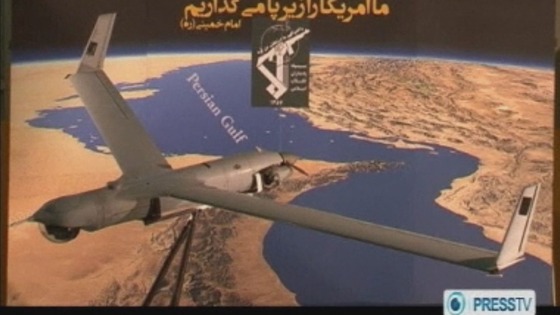 Iran shows 'captured' US drone
Iranian media has said a US ScanEagle drone was captured "in the last few days" by the naval unit of the Islamic Revolutionary Guards Corps after entering Iranian airspace while gathering information over Gulf waters.
A US Navy spokesman said they were aware of the reports, and were looking into them.
Last month the US said Iranian warplanes shot at an American surveillance drone flying in international airspace. Iran said the aircraft had entered its airspace.
Advertisement
Khan's rally against US drones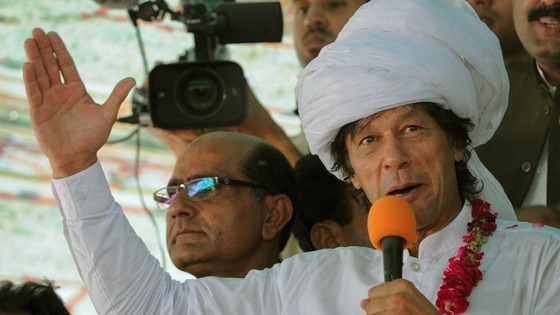 Pakistani authorities stopped an anti-drone protest lead by Imran Khan from entering South Wazirista by placing shipping containers on the highway.
The 15-mile convoy of vehicles were delayed several times during the march and then told that it was unsafe for them to be the on the road after dark.
Despite this the protest was hailed as a "huge success" by the ex-cricketer turned politician. Addressing the crowd he said:
"We want to give a message to America that the more you carry out drone attacks, the more people will hate you"
Khan's rally against US drones
Police hurdles delayed us for 3 hrs but still made it to the border of Waziristan in a 15 mile long convoy of vehicles. 1/3
2/3 were then told by the army that serious danger ahead. Did not want to risk lives and turned back. Later spoke to charged crowd in Tank
3/3 Peace march was a huge success. Warm welcome by people of the area. Huge participation plus global awareness created against drones
Khan's rally against US drones
A 'peace march' led by cricketer-turned-politician Imran Khan against US drone attacks on Saturday has halted in North West Pakistan.
Action by thousands of protesters has reached the city of Dera Ismail Khan, where protesters are at risk of attack by Taliban militants, according to local police.
Khan's rally against US drones
A delegation of American activists from women's peace group CodePink will take part in a march to Waziristan in the tribal area of Pakistan tomorrow, to protest against the use of unmanned drones in the region. Dianne Budd, a doctor from San Francisco said she was somewhat concerned for her safety:
Of course I'm concerned about our security, but I am even more concerned about the security of the people of Waziristan who face constant threats and terror from the drones flying above their heads twenty-four hours a day.
CodePink co-founder Medea Benjamin said the march was intended to put pressure on the Obama administration to stop the secretive attacks. She said
We also feel this march will put significant pressure on the Obama administration to come clean about these drone attacks, to recognize how inhumane and counterproductive they are. We will continue to find ways to protest these barbaric assassinations until they finally end.
Advertisement
Khan's rally against US drones
Imran Khan has started his march from Islamabad to Southern Waziristan, a dangerous tribal area of Pakistan currently the target of CIA drone attacks.
The march has been denounced by various Pakistani Taliban factions, but Khan insisted it would go ahead:
This is a peace march, an effort for peace in Pakistan on our part ... We are not going to fight anyone.
Khan's rally against US drones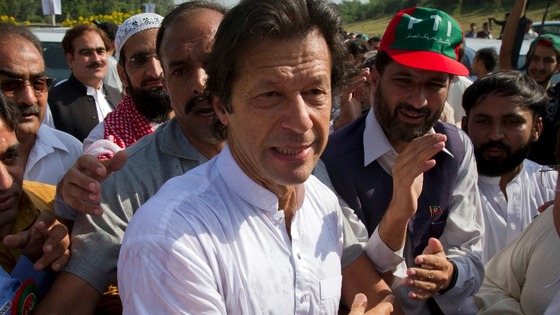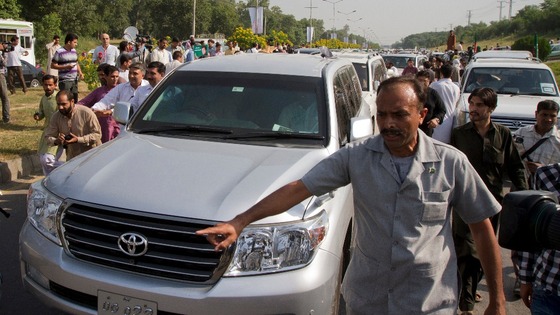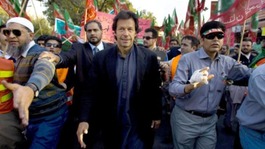 Politician Imran Khan will lead thousands on a 'peace march' against US drone attacks in Pakistan, but it is not without danger.
Read the full story
Back to top