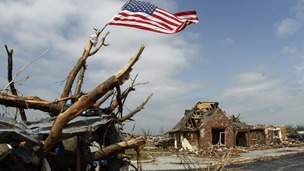 Tonight visits Oklahoma as it begins to rebuild after Monday's devastating tornado to find out what causes the deadly storms.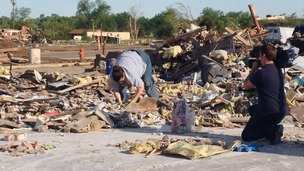 Monday's tornado in Oklahoma has left survivors picking through the pieces of their lives - but others haven't been so lucky.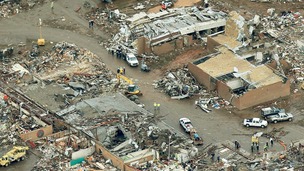 A monstrous tornado at least half a mile wide roared through the suburbs of Oklahoma City leaving a trail of destruction in its wake.
Live updates
American Boy Scouts plan to accept openly gay boys
The Boy Scouts of America have approved a proposal to end a ban on openly gay scouts that has been in place throughout the organization's 103-year history, the group said in a statement.
The vote by more than 1,400 members of the group's National Council came amid intense lobbying by gay-rights activists and members of conservative organizations. The change does not remove the organization's ban on gay adult leaders.
Obama pledges drone use limit
Obama outlines new US foreign policy approach
President Obama has signalled a change in US foreign policy and a narrower definition of what the 'war on terror' constitutes.
He has announced that the use of drones will be limited to situations of 'imminent' danger to the US, has switched responsibility for launching a drone attack from the CIA to the Department of Defence, and overturned a ban on transferring Guantanamo detainees to Yemen.
Washington Correspondent Robert Moore reports.
Advertisement
Obama pledges drone use limit
Obama attempts to redefine 'the war on terror'
by Robert Moore - Washington Correspondent
There is no doubt that Obama is attempting to redefine the very nature of the conflict. This is no longer the former President George W. Bush's ever expansive, generic war on terror. This now becomes President Obama's very narrow war - an assault on those groups that pose a specific threat.
It is not clear to me that he will be successful - this is a somewhat weakened and distracted president at the start of his second term. The speech has already been attacked by senior Republicans - one saying that with this speech the president has handed victory to the terrorists.
On more concrete issues like closing Guantanamo, don't forget he promised that on day one of his time in office.
He has been criticised by the left and the right, but many moderate voices will also say that hey welcome the fact that America's longest war is no longer necessarily an endless one.
Obama pledges drone use limit
Obama announces review into press freedom rules
President Obama has ordered the US Justice Department review the policy under which it obtains journalists' records.
The move comes after the administration was criticised for secretly seizing two months of phone records from The Associated Press and reading the e-mail of a Fox News reporter as part of separate investigations about the publication of government secrets.
Read: AP condemns phone records seized by government
Obama re-stated his support for a media shield law that he said would "guard against government overreach." Such a law would require a federal judge to sign off before officials could access the records of journalists. Mr Obama said:
Journalists should not be at legal risk for doing their jobs. Our focus must be on those who break the law.
Obama pledges drone use limit
Obama heckler escorted out of foreign policy speech
Medea Benjamin, author and peace protester with US group Code Pink and Drones Watch, was removed after heckling President Obama during his foreign policy speech.
Read: Obama to lift ban on transfer of Guantanamo detainees
Obama pledges drone use limit
Obama heckled during foreign policy speech
President Obama was heckled and applauded as he announced his plans to transfer detainees from Guanatanamo Bay.
103 of the 166 detainees are currently on hunger strike in the facility. The heckler, from US protest group Code Pink, called on the President to shut Guantanamo "today" and asked if he was going to "apologise to the thousands of Muslims he has killed."
Advertisement
Obama pledges drone use limit
Obama to lift ban on transfer of Guantanamo detainees
President Obama has announced he is lifting the 2009 ban on transfers of Guantanamo detainees to Yemen.
He also said the prison was costing tax-payers too much money it was time to look into other options.
There is no justification beyond politics for Congress to prevent us from closing a facility that should never have been opened.
He has directed the US Department of Defence to identify a site to hold military tribunals for Guantanamo detainees.
Where appropriate, we will bring terrorists to justice in our courts and military justice system.
Obama pledges drone use limit
Obama pledges to limit the use of drones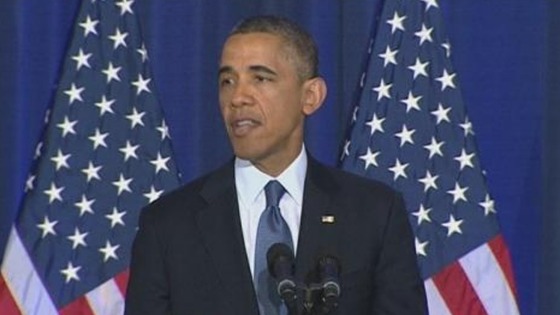 US President Obama has outlined plans to limit the use of US drones, saying they must be targeted against terrorists when a threat was "imminent." Responsibility for launching a drone has been transferred from the CIA to the US Department of Defence. He said:
"To say a military tactic is legal, or even effective, is not to say it is wise or moral in every instance.
"Any drone strike will only be launched when a terrorism suspect cannot be captured. The United States will respect state sovereignty and will limit strikes to al Qaeda or associated targets.
"And before any strike is taken, there must be near-certainty that no civilians will be killed or injured - the highest standard we can set."
Tonight visits Oklahoma as it begins to rebuild after Monday's devastating tornado to find out what causes the deadly storms.
Read the full story
US admits drone killings
Obama's 'commited to transparency' over drone strikes
President Obama has faced concerted pressured from both the left and right to allow greater scrutiny of the secret decision-making process for using drones overseas. He said earlier this year he wanted to be more open about how the drone war is conducted.
Consistent with his commitment to being open and transparent with the American people, he will speak at length about the policy and legal rationale for how the United States takes direct action against al Qaeda and its associated forces, including with drone strikes.

He will discuss why the use of drone strikes is necessary, legal and just, while addressing the various issues raised by our use of targeted action.
– White House official

Ahead of the speech the administration has formally acknowledged for the first time that it had killed four Americans in counter-terrorism operations in Yemen and Pakistan since 2009, including militant cleric Anwar al-Awlaki.

It had been known that three Americans had been killed in drones strikes in overseas counter-terrorism but the government's top lawyer, Attorney General Eric Holder, disclosed details that had remained secret.
Load more updates
Back to top