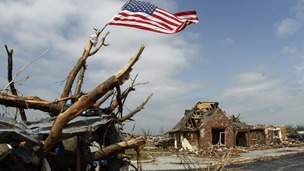 Tonight visits Oklahoma as it begins to rebuild after Monday's devastating tornado to find out what causes the deadly storms.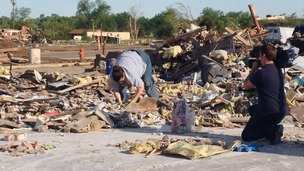 Monday's tornado in Oklahoma has left survivors picking through the pieces of their lives - but others haven't been so lucky.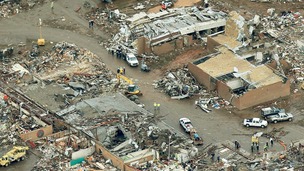 A monstrous tornado at least half a mile wide roared through the suburbs of Oklahoma City leaving a trail of destruction in its wake.
Live updates
Rescues after US bridge collapse
Witness 'looked in mirror and bridge wasn't there'
A man told the local Skagit Valley Herald newspaper he felt a vibration and looked in his rear view mirror to see that the part of bridge he had just crossed was no longer behind him. "I thought something was wrong with my car at first," he said.
Kari Ranten, a spokeswoman for Skagit Valley Hospital, said two people who were injured in the collapse were on their way to the hospital for medical care and that another person was being taken to a different area hospital.
Rescues after US bridge collapse
No deaths after US bridge collapse
Washington state authorities have told the Associated Press that there have been no deaths as in the collapse of a highway bridge north of Seattle.
The major highway bridge linking Seattle with Canada and the rest of the Pacific Northwest region had collapsed dumping at least a handful of vehicles and people into a river.
Advertisement
Rescues after US bridge collapse
Cars in water after bridge collapse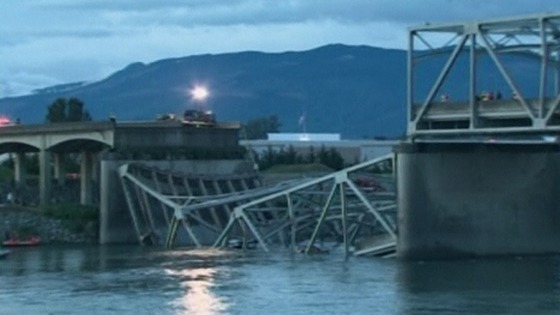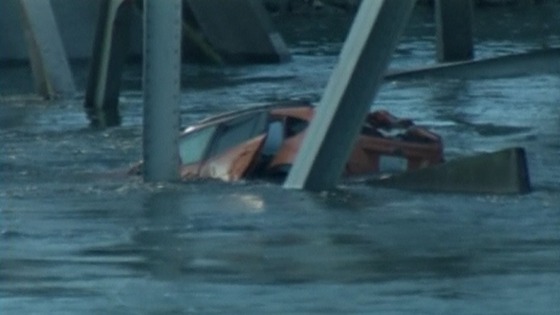 'Moderate' 5.7 magnitude quake in California
A magnitude 5.7 earthquake struck in Northern California, epicenter of the quake was located 2 miles (3 km) northeast of the town of Canyondam according to the US Geological Survey.
Initial reports had said the quake was magnitude 5.9.
A 5.7 magnitude quake is considered moderate, but has the potential to cause considerable damage.
5.9 earthquake hits California
A magnitude 5.9 earthquake has struck near Canyondam in northern California according to the US Geological Society.
Rescues after US bridge collapse
People and cars in river after bridge collapse in US
Part of a four-lane freeway bridge over the Skagit River in Washington state collapsed sending vehicles and people into the water.
The collapse on Interstate 5 which removed both the northbound and southbound sides occurred at about 7pm local time in Mount Vernon, 55 miles (90 km) north of Seattle, Washington State Patrol spokesman Trooper Mark Francis said.
"I've got reports of vehicles and people in the water," Trooper Francis said. He added that he did not know if anyone was injured.
The cause of the collapse was not immediately known.
Advertisement
Rescues after US bridge collapse
Bridge collapse in Washington state leaves cars in river
Part of a freeway over a river in Washington state has collapsed and vehicles have been reported in the water, according to Reuters.
American Boy Scouts plan to accept openly gay boys
The Boy Scouts of America have approved a proposal to end a ban on openly gay scouts that has been in place throughout the organization's 103-year history, the group said in a statement.
The vote by more than 1,400 members of the group's National Council came amid intense lobbying by gay-rights activists and members of conservative organizations. The change does not remove the organization's ban on gay adult leaders.
Obama pledges drone use limit
Obama outlines new US foreign policy approach
President Obama has signalled a change in US foreign policy and a narrower definition of what the 'war on terror' constitutes.
He has announced that the use of drones will be limited to situations of 'imminent' danger to the US, has switched responsibility for launching a drone attack from the CIA to the Department of Defence, and overturned a ban on transferring Guantanamo detainees to Yemen.
Washington Correspondent Robert Moore reports.
Obama pledges drone use limit
Obama attempts to redefine 'the war on terror'
by Robert Moore - Washington Correspondent
There is no doubt that Obama is attempting to redefine the very nature of the conflict. This is no longer the former President George W. Bush's ever expansive, generic war on terror. This now becomes President Obama's very narrow war - an assault on those groups that pose a specific threat.
It is not clear to me that he will be successful - this is a somewhat weakened and distracted president at the start of his second term. The speech has already been attacked by senior Republicans - one saying that with this speech the president has handed victory to the terrorists.
On more concrete issues like closing Guantanamo, don't forget he promised that on day one of his time in office.
He has been criticised by the left and the right, but many moderate voices will also say that hey welcome the fact that America's longest war is no longer necessarily an endless one.
Load more updates
Back to top