Jennifer Berry allegedly killed her baby daughter after hiding her pregnancy from her boyfriend.
Read the full story ›
Hollywood actor Jim Carrey said that learning about the death of ex-girlfriend Cathriona White was like being "hit with a lightning bolt."
Read the full story ›
Advertisement
'God weeps' for the victims of clerical sexual abuse, Pope Francis told bishops during an address in Philadelphia today.
Speaking on the final day of his US visit the 70-year-old pontiff talked about his experience of meeting abuse victims and pledged that those responsible 'will be punished'.
He said: "God weeps for sexual abuse of children.
"Youth are protected and ... all responsible will be held accountable."
The final Mass on Pope Francis' six-day US tour is expected to draw in crowds of more than 1.5m people on Sunday.
Speaking before flying back to Rome the pontiff's last American address will take place in Philadelphia and is expected to attract the biggest crowds of his whole trip.
Pope Francis stopped his car to kiss and bless a disabled boy shortly after arriving in Philadelphia.
Michael Keating, 10, who suffers from cerebal palsy was waiting on the tarmac clutching his rosary beads when the Pope spotted him and ordered his vehicle to stop.
He walked over to the boy, put his hand on his head and kissed him as his mother looked on. His mother, Kristin Keating told reporters "it was an unbelievable feeling" that had left her son calm and happy.
The Pope later addressed a crowd of around 40,000 outside Independence Hall in Philadelphia before leading mass at the Cathedral Basillica of Saints Peter and Paul in Philadelphia.
The Pope will end his tour of the United States tomorrow.
James McNeil, 85, plunged to his death after what is believed to have been a harness malfunction on a zip line at a church camp.
Read the full story ›
Advertisement
Pope Francis' first US visit has sparked an unexpected craze among Americans - dressing dogs up in miniature versions of his papal garb.
Read the full story ›
Pope Francis was greeted by rapturous cheers and applause as he arrived at a packed Madison Square Garden in New York to lead mass.
He was met by trumpets and fanfare as he entered the arena.
As he made his way to the front of the arena, he stopped to greet people with many looking emotional at the opportunity to meet the pontiff.
The Pope is visiting New York City during a six-day tour of the United States, with stops in Washington DC, New York City and Philadelphia.
Pope Francis has received an New York ID card during his visit to the city.
New York Mayor Bill de Blasio posted a photo of the Pope's ID card on Twitter. It lists his address as the Apostolic Palace in Vatican City and his height as 5 foot 9 inches.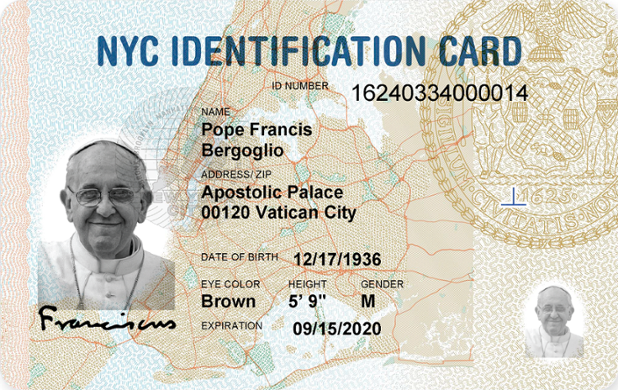 The ID card is intended for residents of New York to access government services, but should the Pope return to the city in the near future, he will be able to benefit from a free one-year membership at many of the city's leading museums, zoos and concert halls.
The pontiff's visit to New York is part of his six-day tour of the US.
Load more updates