Famous faces have taken to Twitter to share their support for Usain Bolt, following recent allegations that he called the commonwealth Games "a bit s***".
Former English footballer Gary Lineker and TV presenter Piers Morgan tweeted today:
One thing's for sure, @usainbolt is the biggest star at the Commonwealth Games and deserves a bit more respect. Good of him to appear.
I think what the Times is doing to @usainbolt is a bit s**t!
The Jamaican sprinter has said the claims were "nonsense".
Security guards approached the Jamaican sprinter for a photograph earlier this week while he was training at a venue known as Lesser Hampden, it was claimed.
One volunteer from Hampden Park told the paper: "The [supervisor] was saying we shouldn't be doing that with our mobile phones."
"Everyone was taking photographs of him but these two guys got punted [sacked]."
The sports star is not believed to have played any role in the guards' dismissal.
A statement released by Glasgow 2014 said: "Sword Security can confirm three members of contract security staff have been removed from roles at Glasgow 2014's training facilities at Lesser Hampden after breaching conditions of their employment.
"All three are still employed by the company but are no longer working at Glasgow 2014. Sword Security's policies are designed to ensure the privacy of athletes is fully respected in the lead-up to and during competition."
Advertisement
The Times has published a transcript of the conversation in which Usain Bolt is alleged to have branded the Commonwealth Games "a bit sh**."
Read the full story ›
Usain Bolt's manager has dismissed a report claiming the athlete described the Commonwealth Games as "a bit s***" as "utter rubbish".
The atmosphere in and around the stadiums has been absolutely fantastic and I have absolutely no idea where these quotes have come from.
– Ricky Simms, speaking to BBC Sport
Usain Bolt has put in a passionate supporting role at the Commonwealth Games after hitting back at a report which claimed he had slurred the Glasgow event.
The Commonwealth Games Federation said it was "pleased" with Usain Bolt's response to this morning's allegations that he had called the Glasgow 2014 Games "a bit s***".
The world's fastest runner denied the allegations in a tweet today, saying: "I'm waking up to this nonsense..journalist please don't create lies to make headlines."
Glasgow 2014 spokeswoman, Jackie Brock-Doyle, said: "I think he woke up to the story like everyone else. His tweet says it all. He has woken up to something he didn't believe he said yesterday."
Chief executive Mike Hooper said: "We take Mr Bolt at his word. We're very pleased with how he's responded."
He described the Jamiacan sprinter as "very upbeat, very positive, very focused on delivering for his fellow countrymen in the relay events".
Speaking about the Games, Mr Hooper added: "We're not trying to be the Olympic Games. We're about the celebration of the Commonwealth, sport and culture within the Commonwealth, and what a fantastic event we are seeing here in Glasgow."
Advertisement
Jamaican sprinter Usain Bolt risked the wrath of Glasgow after reportedly saying that the Commonwealth Games in the city were "a bit s***".
According to the Times, the world record-holding runner said he was "not really" having fun in Scotland and thought "the Olympics were better".
Earlier, Bolt had tweeted following his meeting with the Royals, saying it was "honourable" meeting with Prince Harry.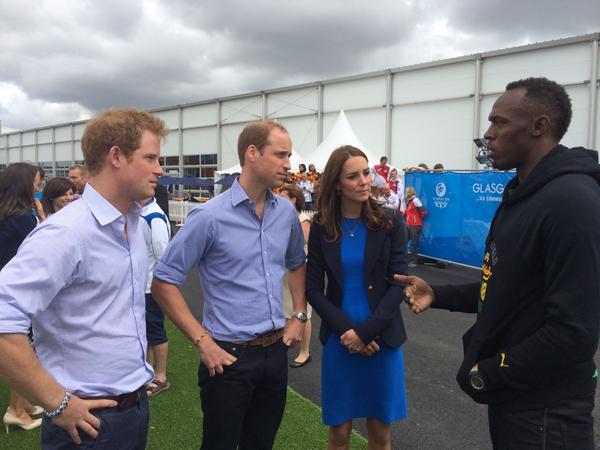 After learning of their shared love of chicken nuggets, Prince Harry cheekily asked the Olympic champion Usain Bolt whether he worked out.
Read the full story ›
Sprinter Usain Bolt is set to arrive in Glasgow today as he prepares to make his first ever appearance at the Commonwealth Games.
The multiple Olympic champion will compete in the 4X100m relay heats at Hampden Park next Friday.
Bolt will be hoping to add to his eight world titles and six Olympic gold medals in the final next Saturday on the last day of athletics at the Games.
The Jamaican star is one of the more recognised names in the sport to compete in Glasgow following the withdrawal of Mo Farah.
Jamaican sprinter and six-time Olympic gold medallist Usain Bolt has said he is ready for a good Commonwealth Games showing, after recovering from foot surgery and a hamstring injury.
"It's been rough, but I've been through it a couple times so know what it takes to get back so I'm just pushing on and working towards what's necessary for this season," Bolt said during a training session.
The Jamaican missed nine weeks of training after surgery on his left foot in March.
Load more updates