School crash driver 'terrified'
The driver of the car which overturned outside a primary school in the Vale of Glamorgan injuring nine people has spoken of his "terrifying experience".
61-year-old Robert Bell, who was travelling with his granddaughter, said he did "not have a clue" what happened:
"I was stationary and my grand-daughter said I coughed and the next thing I knew I'm coming round and I'd been unconscious and upside down.
"I haven't a clue what happened. Luckily my grand-daughter came round before me. She just has tiny minor cuts. She had the sense of mind to undo her seatbelt and reach over and undo mine and we then dropped," he told BBC Wales.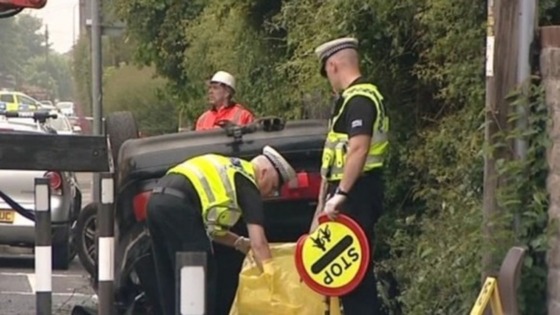 Mr Bell suffered cuts and bruises in the crash which occurred at 8.50am on Thursday, which left five Rhws Primary school pupils, a lollipop lady and two other women injured.
One schoolgirl remains in intensive care.
A force spokesman said the incident "was not believed to be a deliberate act".