Live updates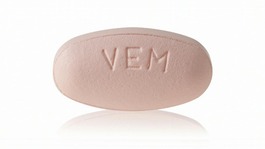 A new drug called Vemurafenib has been shown to extend the life expectancy of people with advanced skin cancer.
Read the full story
Vemurafenib is not a total cure but can stop cells from further spreading.
From today doctors can apply for some patients to be given the treatment and, if approved by NICE, could be widely available on the NHS.
The oncologist Dr James Larkin has been involved in the drug's development.
Advertisement
Advanced melanoma is a devastating disease and new treatments are desperately needed, so it's especially pleasing that patients will now be able to benefit from a drug that we helped develop.

The success of vemurafenib demonstrates the importance of our approach to developing personalised medicines for cancer.
– Prof Alan Ashworth, chief executive of the Inst of Cancer Research
The new drug, vemurafenib, taken as four pills twice a day, blocks a specific cancer-causing form of a gene which has been identified by specialists.
A test is available to identify patients who might benefit from the treatment.
In clinical trials vemurafenib increased the life expectancy of patients with advanced disease from 9.6 months to 13.2 months.
A "personalised" pill for advanced skin cancer that can extend life has been approved for use in the UK from today.
The drug, vemurafenib, only works for patients with a specific variant of the BRAF gene.
Back to top