Thousands from crisis-hit Venezuela poured into Colombia during a brief opening of the border to buy food, medicine and basic supplies.
Read the full story ›
Footage has been released of dramatic looting in Venezuela, where food riots have become a daily occurrence amid an economic crisis.
Read the full story ›
Advertisement
Clocks will go forward 30 minutes so there is half an hour more daylight in the evening when energy consumption peaks.
Read the full story ›
Venezuela has ramped up a deportation programme for Colombians - in some cases separating children from their parents, Colombia's migration office has said.
President Nicolas Maduro closed two official border crossings between the two countries last week, following a shootout between an armed smuggling gang and troops which left three soldiers wounded.
He later declared a 60-day state of emergency in five regions near the border, saying Venezuela was a "victim" of "paramilitaries and the Colombian right".
Since then, 612 adult Colombian citizens and 139 minors have been returned to their native country.
While children cannot legally be deported, authorities have been describing their movements as "repatriations".
Colombia's Foreign Ministry has demanded guarantees that families will be kept together during the deportation process.
The South American country may soon have to cope with a shortage of its national drink, as its economic woes continue.
Read the full story ›
Venezuelan town of Catatumbo is named as the place with the world's most lightning bolts.
Read the full story ›
Advertisement
A Chilean woman has been shot dead while clearing a barricade put up by anti-government protesters, the first foreign fatality during a month of civil unrest in Venezuela.
The death of Gisela Rubilar, 47, who was studying in the western Venezuelan city of Merida, brought to at least 21 the number of fatalities in five weeks of demonstrations against President Nicolas Maduro's government.
"She was ambushed by extreme right-wing groups ... She was vilely murdered with a shot in the eye," Alexis Ramirez, the governor of Merida state, told reporters, blaming the killing on unidentified demonstrators in the Andean city.
Small groups of anti-government protests continued to clash with police on Saturday in Caracas as isolated incidents of violence continued to erupt throughout the day.
Venezuelan opposition sympathizers have been holding rowdy street protests for nearly a month to demand the resignation of President Nicolas Maduro. They accuse his government of using excessive force against demonstrators.
Maduro says the demonstrations are part of a Washington-backed plot to overthrow his government.
And although the two countries have little in common, opposition protesters from Ukraine are now showing support for their Venezuelan counterparts.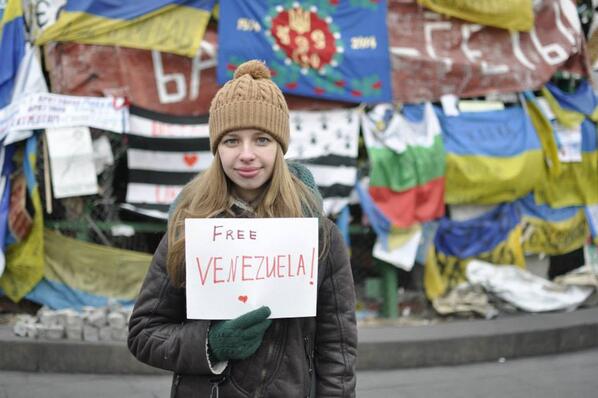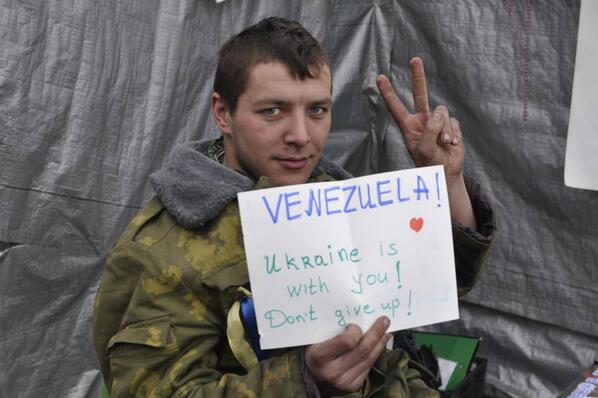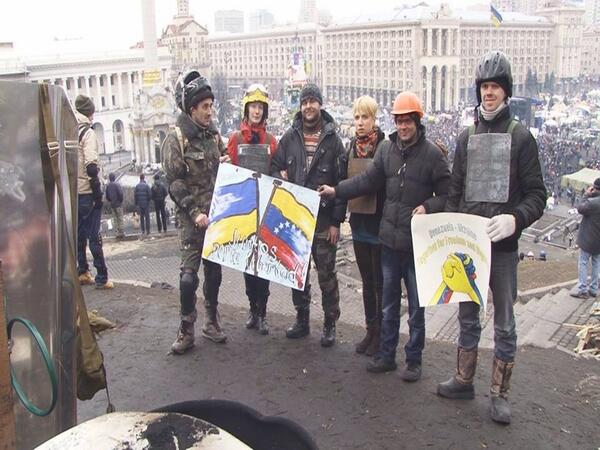 Venezuelan protesters continue barricading roads and burning trash in the country's capital Caracas, despite opposition leaders voicing despair at the violence.
The anti-government protesters are demanding president Nicolas Maduro resigns over Venezuela's high rates of crime, inflation and shortages of basic food items.
The opposition marched to the Cuban embassy to protest alleged interference in Venezuelan affairs by the island's communist government.
Venezuela accused the Americans of fomenting violent protests in the country's capital Caracas. Washington called the accusations "baseless and false."
The US gave three Venezuelan diplomats 48 hours to leave the country in a tit-for-tat reprisal over Venezuela's decision to expel three US diplomats last week.
Load more updates