The South American country may soon have to cope with a shortage of its national drink, as its economic woes continue.
Read the full story ›
Venezuelan town of Catatumbo is named as the place with the world's most lightning bolts.
Read the full story ›
Advertisement
A Chilean woman has been shot dead while clearing a barricade put up by anti-government protesters, the first foreign fatality during a month of civil unrest in Venezuela.
The death of Gisela Rubilar, 47, who was studying in the western Venezuelan city of Merida, brought to at least 21 the number of fatalities in five weeks of demonstrations against President Nicolas Maduro's government.
"She was ambushed by extreme right-wing groups ... She was vilely murdered with a shot in the eye," Alexis Ramirez, the governor of Merida state, told reporters, blaming the killing on unidentified demonstrators in the Andean city.
Small groups of anti-government protests continued to clash with police on Saturday in Caracas as isolated incidents of violence continued to erupt throughout the day.
Venezuelan opposition sympathizers have been holding rowdy street protests for nearly a month to demand the resignation of President Nicolas Maduro. They accuse his government of using excessive force against demonstrators.
Maduro says the demonstrations are part of a Washington-backed plot to overthrow his government.
And although the two countries have little in common, opposition protesters from Ukraine are now showing support for their Venezuelan counterparts.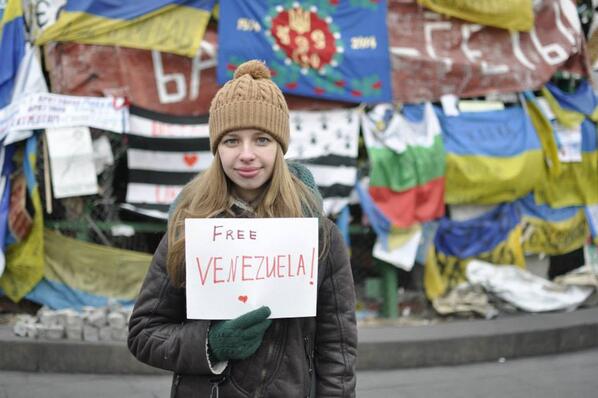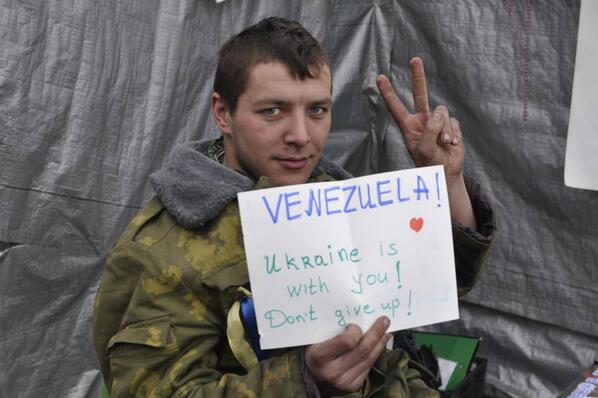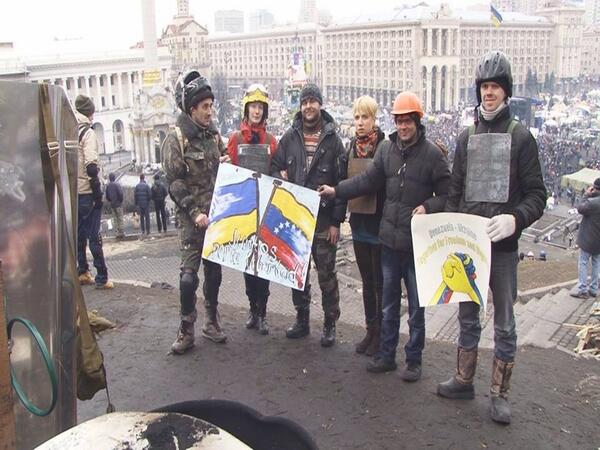 Venezuelan protesters continue barricading roads and burning trash in the country's capital Caracas, despite opposition leaders voicing despair at the violence.
The anti-government protesters are demanding president Nicolas Maduro resigns over Venezuela's high rates of crime, inflation and shortages of basic food items.
The opposition marched to the Cuban embassy to protest alleged interference in Venezuelan affairs by the island's communist government.
Venezuela accused the Americans of fomenting violent protests in the country's capital Caracas. Washington called the accusations "baseless and false."
The US gave three Venezuelan diplomats 48 hours to leave the country in a tit-for-tat reprisal over Venezuela's decision to expel three US diplomats last week.
Advertisement
Argentina's biggest football star Diego Maradona backed the country's president Nicolas Maduro.
Mr Maduro, a hand-picked successor to the late Hugo Chavez, is facing increasing pressure from the opposition.
"We're seeing all the lies that the imperialists are saying and inventing. I'm prepared to be a soldier for Venezuela in whatever is required," said Maradona, a friend of both Chavez and Cuban leader Fidel Castro, before declaring: "Long live Chavez, long live Maduro, long live Venezuela!"
The country's economic crisis and soaring crime have sparked anti-government protests last month.13 people have died, 500 people have been arrested and about 150 injured during riots in the past two weeks.
Protesters have already started in Venezuela this morning, according to pictures posted on social media.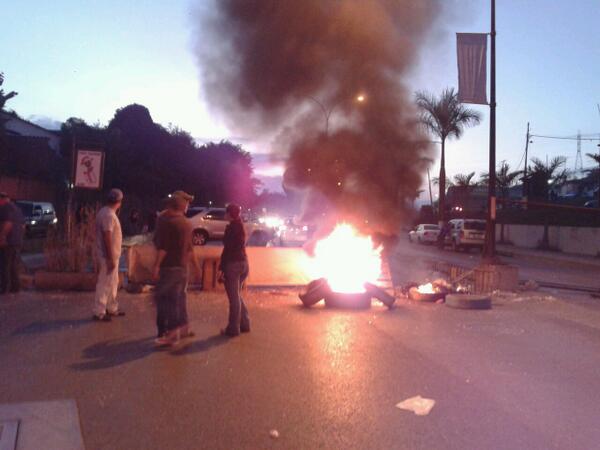 13 people have died as anti-government protests continue in the Venezuelan capital of Caracas.
Demonstrators put up barricades and set fire to cars and across the city, in protests against President Nicholas Maduro's 10-month-old government.
The government says 529 people have been charged over the unrest, with most given warnings but 45 kept behind bars.
About 150 people have been injured, authorities say.
US Secretary of State John Kerry has criticised Venezuela's "unacceptable" use of force against anti-government protesters and political figures.
"Despite calls from thatcountry's democratic opposition and the international community, the Venezuelangovernment has confronted peaceful protesters with force and in some cases witharmed vigilantes claiming to support the government ...This is not howdemocracies behave," Kerry said.
"The government's use of force and judicial intimidation against citizens and political figures, who are exercising a legitimate right to protest, is unacceptable and will only increase the likelihood of violence," he added.
He called on the Venezuelan government to release jailed dissidents "and initiate a process of genuine dialogue with the democratic opposition.
Load more updates