Protesters have already started in Venezuela this morning, according to pictures posted on social media.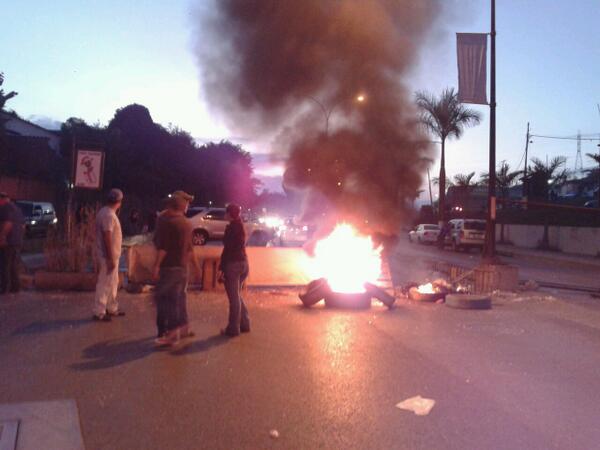 13 people have died as anti-government protests continue in the Venezuelan capital of Caracas.
Demonstrators put up barricades and set fire to cars and across the city, in protests against President Nicholas Maduro's 10-month-old government.
The government says 529 people have been charged over the unrest, with most given warnings but 45 kept behind bars.
About 150 people have been injured, authorities say.
Advertisement
US Secretary of State John Kerry has criticised Venezuela's "unacceptable" use of force against anti-government protesters and political figures.
"Despite calls from thatcountry's democratic opposition and the international community, the Venezuelangovernment has confronted peaceful protesters with force and in some cases witharmed vigilantes claiming to support the government ...This is not howdemocracies behave," Kerry said.
"The government's use of force and judicial intimidation against citizens and political figures, who are exercising a legitimate right to protest, is unacceptable and will only increase the likelihood of violence," he added.
He called on the Venezuelan government to release jailed dissidents "and initiate a process of genuine dialogue with the democratic opposition.
Venezuelan state television has said that a woman died after an ambulance taking her to hospital was blocked by opposition protesters in Caracas, bring to six the number of fatalities in a week of political unrest.
VTV said the victim, the mother of a VTV employee, was being rushed to hospital when she suffered a heart attack as her ambulance became stuck in gridlock created by anti-government protesters blocking roads.
The Venezuelan government has expelled three American officials over allegations the US is conspiring with the country's opposition leader.
Venezuela's foreign minister Elias Jaua today repeated accusations made by President Nicolas Maduro that the US is conspiring with Leopoldo Lopez to oust the socialist president during ongoing protests.
"This independent Bolivarian Republic of Venezuela does not accept threats, blackmail or conditions of any kind from any foreign country," he said.
The US has called the accusations "baseless and false".
The British man who was shot dead on Monday in Venezuela "loved" his adopted country, but had narrowly escaped death in a similar incident in 2000, his friend and business partner Luis Dominguez said in an interview.
Thomas Henry Berry and his ex-wife were killed in front of their five-year-old daughter when their car broke down on a highway.
Advertisement
A former Miss Venezuela and her British ex-husband were shot dead after their car broke down in the country on Monday night.
Their 5-year-old daughter survived the attack but was left with a bullet wound in her leg.
ITV News Correspondent Neil Connery reports.
A former Miss Venezuela and her British ex-husband were shot dead after their car broke down in the country on Monday night. Their 5-year-old daughter survived the attack but was left with a bullet wound in her leg, the government and local media said.
Monica Spear, 29, who was also a soap opera actress, and Henry Berry, 39, died in an attempted robbery on the highway between Puerto Cabello and Valencia in central Venezuela.
The 2004 Miss Venezuela winner lived in the United States but was vacationing in her homeland.
The Foreign Office said they are, "aware of the death of a British national" and are providing consular assistance.
President Nicolas Maduro has been granted powers to rule by decree for a year, it was announced tonight.
The President said he needed the powers to fix the economy, but adversaries regard this as a power grab.
Maduro now has the power to pass laws without the approval of the Venezulan congress or a second democratic party.
Speaking to a crowd of supporters after the victory, Maduro said: "I want to thank the majority of patriotic and socialist lawmakers for approving this law that will let us advance, over the next 12 months, in defeating the economic war being waged against our people.
"Tonight has been a victory for the people! ... Who says the revolution is over?" he added, flanked by ministers, to applause from a crowd outside the Miraflores presidential palace.
Venezuela's President Nicolas Maduro has claimed an image of his predecessor the late socialist leader Hugo Chavez has appeared on the wall of an underground construction site.
Maduro, who showed a photo of a white-plaster wall with marks that appear like eyes and a nose, said Chavez's face had briefly appeared to workers building a new subway line in Caracas in the middle of the night.
Speaking on state television, the president said: "My hair stands on end just telling you about it. Who is that face? That gaze is the gaze of the fatherland that is everywhere around us, including in inexplicable phenomena."
Load more updates