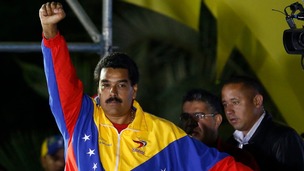 The former bus driver rose through the political ranks with his faithful support of the late President.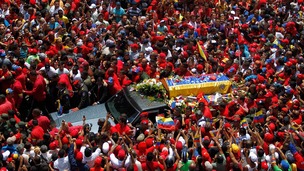 More than 20 world leaders are expected to attend the funeral today, but there will be no burial as he will be embalmed.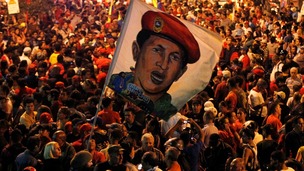 Thousands flocked to the streets of Caracas to see the coffin of Chavez travel through the city to lie in state until Friday's funeral.
Live updates
Venezuela election date set
Hugo Chavez's chosen successor is sworn in
Nicolas Maduro has been sworn in as the interim president of Venezuela following the state funeral for Hugo Chavez.
Maduro held the post of vice president under Chavez and had been passionately backed as his successor by the late president.
Venezuela election date set
Venezuela says 'goodbye' to President Hugo Chavez
With the queues to see Hugo Chavez's body still snaking through the capital, Venezuala said goodbye to the man who has dominated politics in the country for decades.
Some 30 head of state from around the world were among the mourners at his state funeral; many of them visibly emotional.
ITV News' International Editor Bill Neely reports from Caracas:
Advertisement
Venezuela election date set
President Hugo Chavez's final act goes on and on
More than two million Venezuelans have filed past the open casket of their dead president Hugo Chavez in the last two days.
Such is the demand to pay tribute that plans for a burial have been eschewed in favour of a simple ceremony, and the announcement that Chavez's body will be displayed permanently.
ITV News International Editor Bill Neely reports from Caracas:
Venezuela election date set
Jesse Jackson gives sermon at Hugo Chavez funeral
The Reverend Jesse Jackson has given a short sermon at the funeral of Hugo Chavez.
The US civil rights activist paid tribute to Chavez for raising the hopes of the poor and helping them to achieve their dreams.
He also expressed his hope that Venezuela and the US would heal their differences.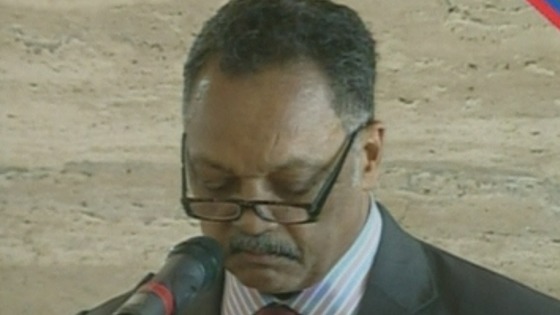 Among the guests listening intently to the sermon was the actor and director Sean Penn.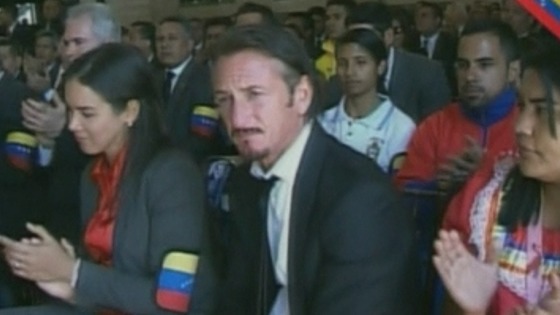 Venezuela election date set
Iranian President kisses Hugo Chavez's coffin
Iran's President Mahmoud Ahmadinejad stopped twice to kiss the coffin of Venezuela's late leader Hugo Chavez during today's funeral.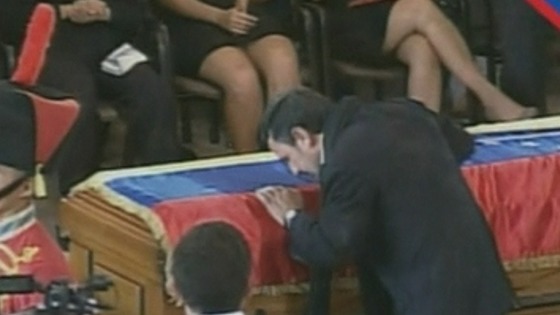 Ahmadinejad is one of some 30 heads of state who are attending the funeral.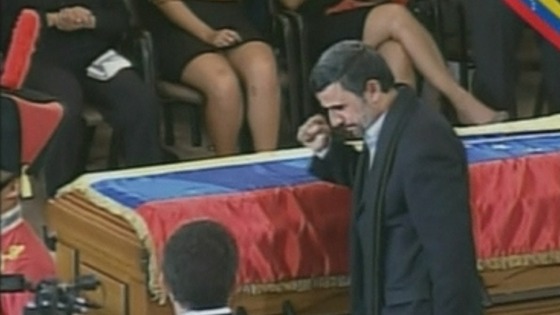 Venezuela election date set
World leaders and celebrities attending Chavez funeral
Among some 30 world leaders and other dignitaries attending Hugo Chavez's funeral are the following:
President Mahmoud Ahmadinejad of Iran
President Raul Castro of Cuba
President Evo Morales of Bolivia
President Rafael Correa of Ecuador
President Dilma Rousseff and former President Luiz Inacio Lula da Silva of Brazil
Film actor and director Sean Penn
President Alexander Lukashenko of Belarus
US civil rights activist Rev. Jesse Jackson

About 50 countries have sent delegations, including the US and Canada.
Advertisement
Venezuela election date set
Mourners keep queueing as Chavez's funeral proceeds
by Bill Neely - International Editor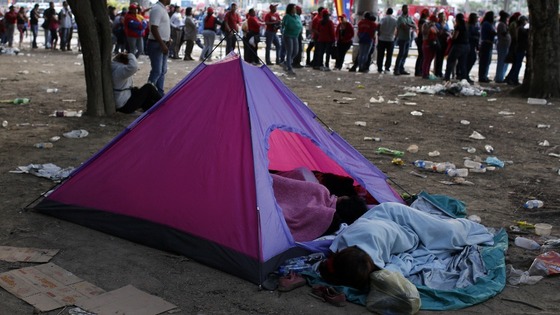 Hugo Chavez's funeral got under way with a 30-gun salute and formal introductions of some 30 world leaders.
But still there are crowds of people queueing for their chance to see the leader's body in its open casket. Many are chanting "Chavez lives and so does the revolution!"
An estimated two million people have filed past the leader's open casket since yesterday.
Scenes are not as chaotic as yesterday when dozens were injured in the crush.
Venezuela election date set
Chavez's home town pays tribute to its famous son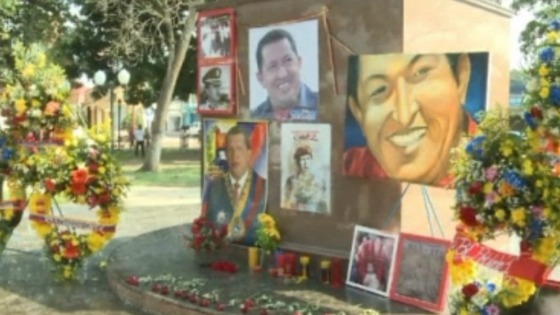 Portraits and flowers have been left in the centre of Sabaneta, Barinas State - Hugo Chavez's home town.
Crowds have gathered at the makeshift shrine to pay their respects, the president funeral will happen today after his death at 58 after a two-year battle with cancer.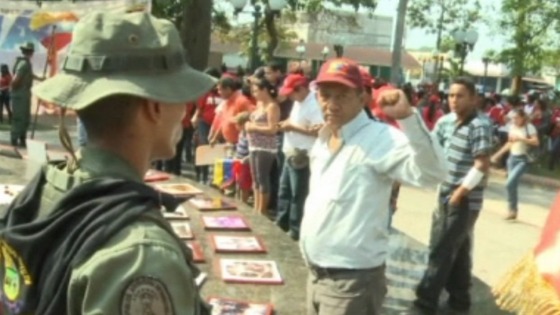 Gallery: From prison to President - Hugo Chavez a life in pictures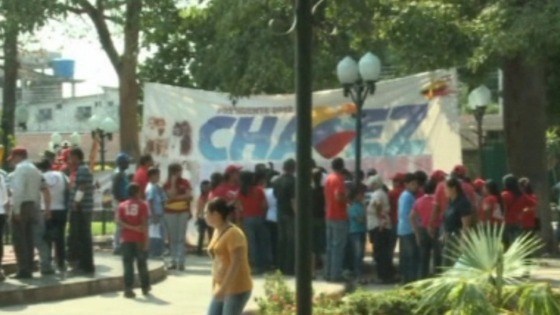 Venezuela election date set
Huge crowds gather in Caracas ahead of Hugo Chavez funeral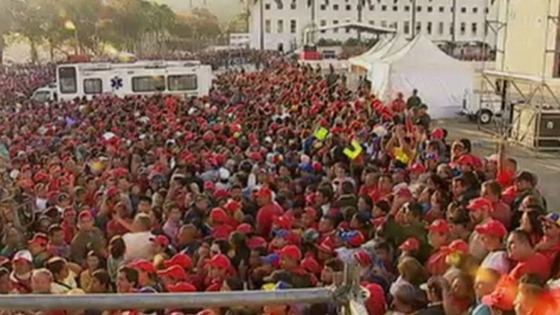 Huge crowds gathered again outside the Military Academy where the body of Hugo Chavez has lain in state since his death.
His funeral is due to start shortly.
Yesterday dozens were injured in the crush to view the president's body.
Venezuela election date set
Ahmadinejad praises 'dear friend' Hugo Chavez ahead of funeral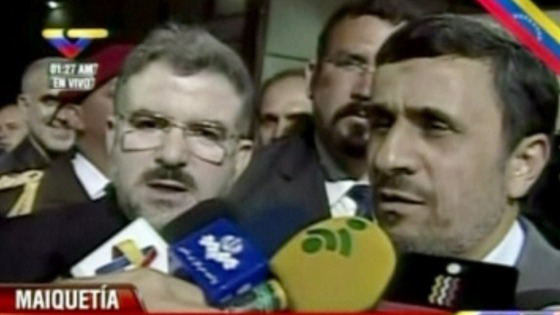 Iranian President Mahmoud Ahmadinejad has arrived in Caracas for funeral of ally and 'close friend' President Hugo Chavez.
Speaking to reporters President Ahmadinejad said;
"He was a dear friend to all the countries of the world. To us, President's Chavez loss is very painful because we've lost a friend, a close friend and a revolutionary and just leader. To me, he had a big personality and a very close friend and brother. I feel like I lost myself."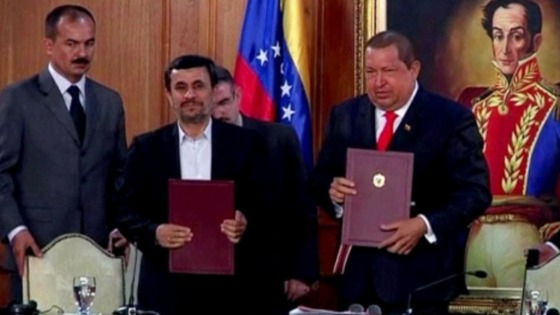 "He was a great man with very big, humane dreams. I express my solidarity with the people of Venezuela, with all of the people of Latin America and with all the countries of the world. And we promise to realize and materialize his ideas which were so valuable.
"I am certain God will help us and the spirit of President Chavez will be watching us and will help us from the heavens."
Load more updates
Back to top