Victoria Beckham has revealed she is "so excited" to be spending husband David Beckham's 40th birthday in Marrakech.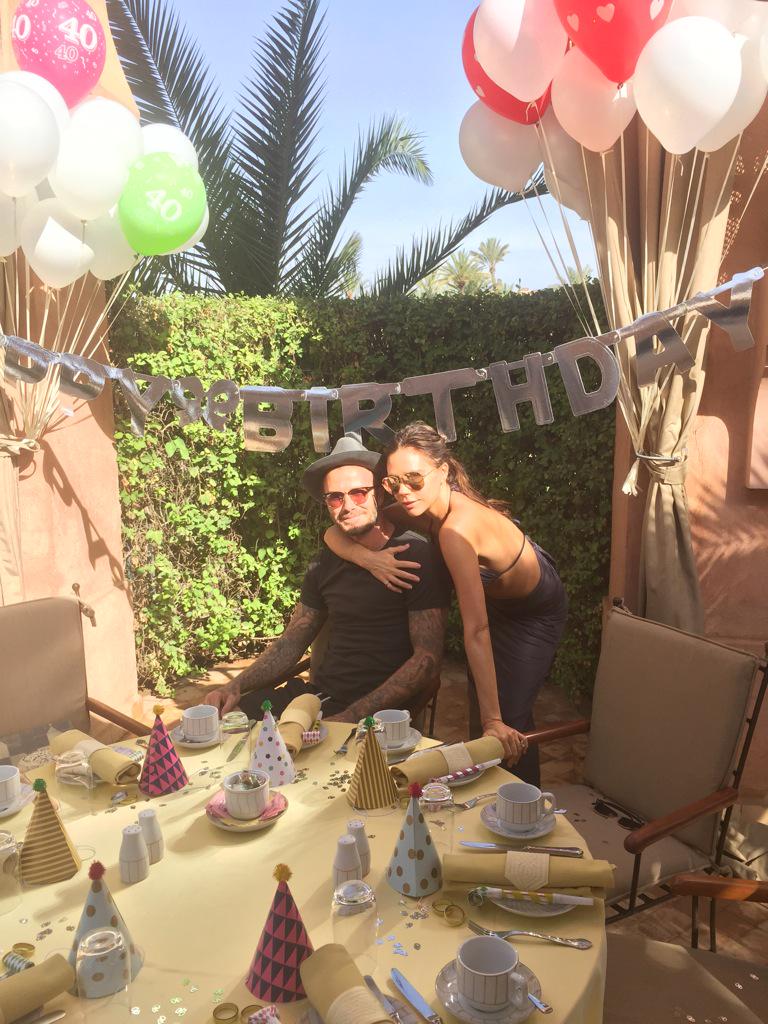 Victoria Beckham has been celebrated for her philanthropic work at the fifth annual Global Gift Gala.
Read the full story ›
Advertisement
Victoria Beckham was the new face on the United Nations stage in New York today.
The pop star turned UN goodwill ambassador talked about the plight of babies born with the HIV virus in South Africa.
ITV News' Rebecca Barry reports:
Victoria Beckham has said she has "a responsibility" to support women and children fighting the Aids virus.
The fashion designer and former pop star said she wanted to do all she could to help prevent children from being born with the virus after visiting HIV clinics in Cape Town, South Africa.
Speaking to media after her appointment as an international goodwill ambassador with the UNAIDS programme, she said: "This is the beginning of an important journey for me. As a woman and a mother I have a responsibility to support other women."
Fashion designer and former Spice girl Victoria Beckham has been named 'greatest style icon' in a survey of 1,000 women for Hello! Fashion Monthly.
Victoria beat off stiff competition from actress Emma Watson who came second and model Kate Moss who was third.
Seven out of the top 10 women in the list are British and include Alexa Chung, Cara Delevingne, her sister Poppy and Rita Ora while American's Olivia Palermo, Jessica Alba and Kim Kardashian also feature as stylish stars.
"It's great to see such a high percentage of British women represented within Hello! Fashion Monthly's new list of the most stylish stars. As a nation, we are really dominating the industry at present.
– Hello! Fashion Monthly's Editor-At-Large, Hilary Alexander
Her husband David Beckham and sons Brooklyn, Romeo and Cruz poured two huge buckets of water over the former Spice Girl.
Read the full story ›
Advertisement
Spice Girl-turned-fashion designer Victoria Beckham has donated 600 items from her wardrobe to be sold online to raise money for charity.
Read the full story ›
Italian fashion giants Domenico Dolce and Stefano Gabbana have said their "friend" Victoria Beckham may well be a designer but they list her alongside high street names.
When asked in London this evening what they thought of new designers such as former Spice Girl Beckham, Gabbana said: "She's a friend. She make a good job but... for us, she don't make the same way like a fashion designer.
"She become after many, many, many different things. She's a designer but..."
When asked if he admired her designs, he said: "She's a fashion designer but it's another... it's different."
He added: "John Galliano is a designer... Alexander McQueen."
Dolce described them as "professional" designers, adding: "Victoria Beckham, Zara, H&M...there's a lot."
Beyonce, Victoria Beckham and Jennifer Garner are fronting a campaign to ban the word "bossy" from being used to describe women.
Read the full story ›
Load more updates