A "drunk passenger" on a Virgin Australia flight who sparked a hijack scare after trying to enter the cockpit has been named by Bali police as 28-year-old Australian Matt Christopher.
An airport manager for the company told Indonesia's Metro TV that Christopher had been acting aggressively and was handcuffed by the flight crew.
An hour before landing in Bali, the pilot alerted traffic controllers of a possible hijacking on board, an Indonesian air force spokesman said.
A Virgin Australia Airlines plane was evacuated after a drunk passenger tried to enter the cockpit sparking a hijack alert, an Indonesian air force spokesman said.
All passengers on board the plane were unharmed and the passenger has been arrested, the spokesman added.
Advertisement
Virgin said the passenger who tried to break into the cockpit of one of its planes en route to Indonesia was drunk.
The Virgin spokesperson confirmed that the plane was not hijacked.
A passenger who "attempted to hijack" a Virgin Australia Airlines passenger plane has been arrested in Bali, Indonesia's Metro TV reported, citing a police official.
A passenger tried to enter the cockpit of a Virgin Australia Airlines plane travelling from Brisbane and the pilot called it a "hijack", an Indonesian transport official told local station Metro TV.
Flight tracking website Flightrader said the Virgin Australia Airlines flight VA41 reportedly hijacked en route from Brisbane has landed at Indonesia's Bali airport.
This is the flight path for the hijacked Virgin Australia flight VA41. Standing on ground at Denpasar/Bali now. http://t.co/gWivgM0iIZ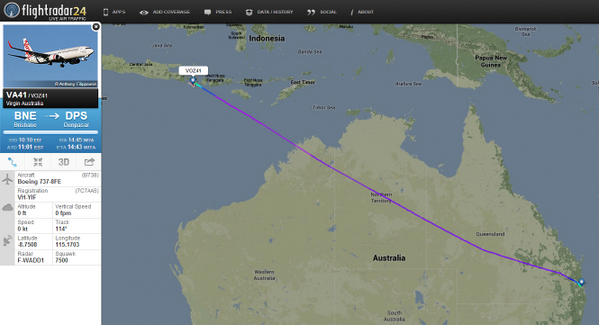 Advertisement
A Virgin Australia Airlines passenger plane that was hijacked has been forced to land at Indonesia's Bali airport, Reuters reported, citing Indonesia's Metro TV.
Virgin Australia Airlines was formerly called Virgin Blue.
A Virgin Blue passenger plane has been hijacked on the way to Bali, Reuters reports, citing Indonesia's Metro TV.
Virgin Galactic's SpaceShipTwo has made its third rocket-powered supersonic flight in the Mojave Desert, soaring to a record 71,000 feet.
The company says the reusable space vehicle was carried by aeroplane to 46,000 feet yesterday and then released.
The craft used its rocket motor the rest of the way to reach its highest altitude to date. SpaceShipTwo and its two-member crew then glided to a safe landing in the desert north of Los Angeles.
Virgin Galactic says the 10-minute test flight moves the company closer to its goal of flying paying passengers into space.
A Virgin Atlantic passenger plane en route to New York had to make an emergency landing at a small Canadian airport leaving British holidaymakers stranded.
More than 250 passengers and crew on board Virgin Atlantic's flight VS25 from Heathrow had to make the unscheduled touch down at Gander Airport in Newfoundland after a technical fault believed to do with refuelling.
The plane will not be used to fly the passengers to John F Kennedy Airport and another aircraft is on its way to transport them, a Virgin Atlantic spokeswoman said.
The area surrounding Gander Airport is small and there were no available hotel rooms for passengers who had no option but to spend the night inside the terminal.
The airline could not confirm what caused the technical fault and engineers are currently performing tests.
Load more updates