Flight tracking website Flightrader said the Virgin Australia Airlines flight VA41 reportedly hijacked en route from Brisbane has landed at Indonesia's Bali airport.
This is the flight path for the hijacked Virgin Australia flight VA41. Standing on ground at Denpasar/Bali now. http://t.co/gWivgM0iIZ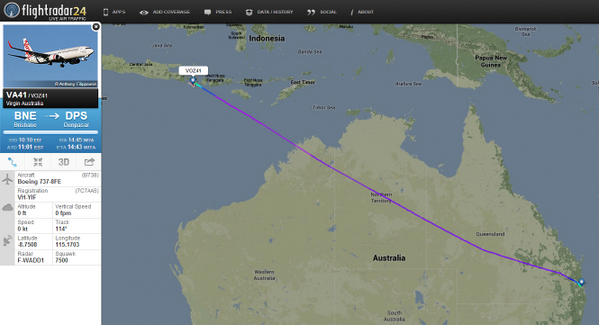 A Virgin Australia Airlines passenger plane that was hijacked has been forced to land at Indonesia's Bali airport, Reuters reported, citing Indonesia's Metro TV.
Virgin Australia Airlines was formerly called Virgin Blue.
Advertisement
A Virgin Blue passenger plane has been hijacked on the way to Bali, Reuters reports, citing Indonesia's Metro TV.
Virgin Galactic's SpaceShipTwo has made its third rocket-powered supersonic flight in the Mojave Desert, soaring to a record 71,000 feet.
The company says the reusable space vehicle was carried by aeroplane to 46,000 feet yesterday and then released.
The craft used its rocket motor the rest of the way to reach its highest altitude to date. SpaceShipTwo and its two-member crew then glided to a safe landing in the desert north of Los Angeles.
Virgin Galactic says the 10-minute test flight moves the company closer to its goal of flying paying passengers into space.
A Virgin Atlantic passenger plane en route to New York had to make an emergency landing at a small Canadian airport leaving British holidaymakers stranded.
More than 250 passengers and crew on board Virgin Atlantic's flight VS25 from Heathrow had to make the unscheduled touch down at Gander Airport in Newfoundland after a technical fault believed to do with refuelling.
The plane will not be used to fly the passengers to John F Kennedy Airport and another aircraft is on its way to transport them, a Virgin Atlantic spokeswoman said.
The area surrounding Gander Airport is small and there were no available hotel rooms for passengers who had no option but to spend the night inside the terminal.
The airline could not confirm what caused the technical fault and engineers are currently performing tests.
The Virgin boss willingly dragged himself through another PR stunt as he donned lip stick and a stewardess' uniform to honour a losing bet.
Read the full story ›
Advertisement
The Virgin Galactic aircraft, designed to carry passengers into Space, has broken the sound barrier on a key test flight.
Read the full story ›
The founder of Virgin Atlantic, Sir Richard Branson has told the Independent that terror warnings issued by the Foreign Office to tourists are "doing more harm than good".
The British entrepreneur said that warning of the risk of a terrorist attack was "exactly what the terrorists wanted" because it reduced tourist numbers.
In a statement the FCO said "We have a responsibility to make sure British nationals have the necessary information and advice so that they can make their own choices. We would rightly be criticised if UK lives were lost and we had not reflected a known terrorist threat in our travel advice."
Sir Richard Branson's airline Virgin Atlantic starts its first domestic services today.
Known as Little Red, the new service begins with a Manchester to Heathrow flight this morning, kicking off a four-times-a-day service between the two airports.
Next Friday a six-daily Heathrow-Edinburgh service begins, followed by thrice-daily Heathrow-Aberdeen flights from April 9.
Virgin is starting domestic services after take-off and landing slots at Heathrow were made available following the takeover of carrier bmi by British Airways parent company IAG.
Dubbed the Darth Vader of the US network TV industry, John Malone is the man behind Liberty Global, the 'world's leading broadband company.'
Read the full story ›
Load more updates