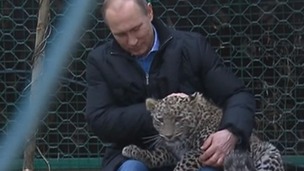 Rugged Russian President Vladmir Putin visited a centre for endangered Persian leopards at Sochi National Park.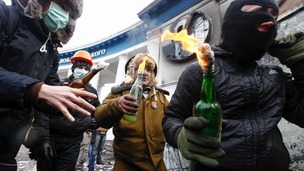 These are difficult days for Ukraine, a country edging toward its second revolution in a decade.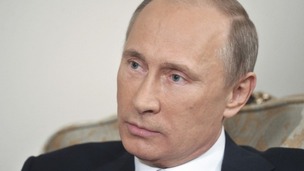 Is Russia's proposal for international monitors to oversee Syria's arsenal of chemical weapons, serious diplomacy or just making trouble?
Live updates
Police re-capture government building in Donetsk
US President Obama and Russian President Vladmir Putin spoke on the telephone tonight amid escalating tension over the Crimea region of Ukraine.
Russian state broadcaster Ria reported that Putin told Obama Russia "reserves the right to protect its interests and those of Russia speakers if there is violence" in the region, whilst Reuters reports that Obama "raised concerns to Putin's about Russia's plans for possible intervention".
Read: Ukraine asks EU and NATO to 'protect territorial integrity'
Police re-capture government building in Donetsk
The world's leaders seem to have been caught thoroughly off guard by the speed with which this has escalated.
Watch: 'Fears of a full scale war' grow in Ukraine
Foreign Secretary William Hague has called in the Russian Ambassador to ask for an explanation, he's also asked for and got a meeting of the UN Security Council tonight. But Russia wields a veto on that body and it's not at all clear what they can do about it.
For the full story and latest updates click here.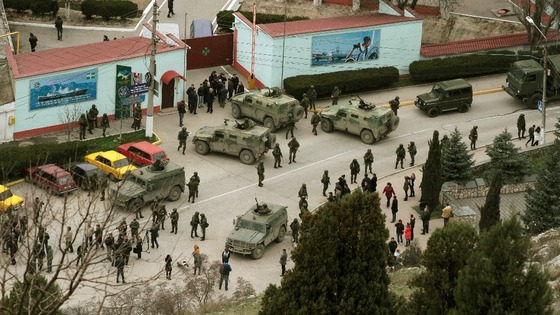 President Obama's warnings last night that action against Ukraine would have a costs seem to be being ignored, but what we don't know is what President Putin's intentions are.
Read more: Obama warns of 'costs' for Russian military intervention
Does he really intend a shooting war with Ukraine? Is he gambling that Ukrainians simply won't fight? Or is he simply raising the tension so high now that when he backs down and doesn't invade the world breathes a sigh of relief and accepts his conquest of Crimea.
Any one of these is possible.
Advertisement
Police re-capture government building in Donetsk
President Vladimir Putin has asked parliament for permission to use Russian military in Crimea, the Kremlin said.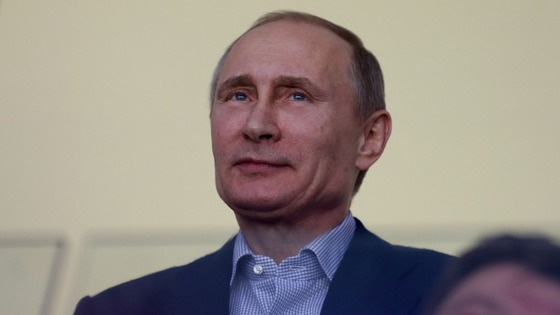 Police re-capture government building in Donetsk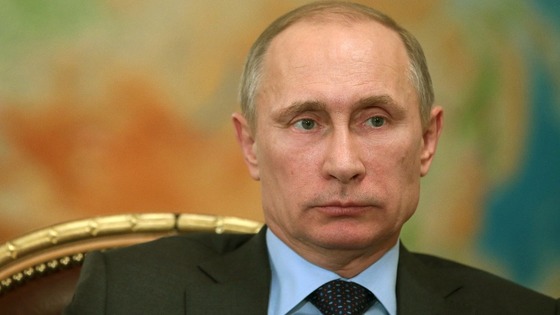 Vladimir Putin has ordered the Russian government to consider a request from Ukraine's Crimea region for humanitarian aid.
Mr Putin has also ordered the government to hold talks with foreign partners including the International Monetary Fund and the G8 on the issue of financial aid to Ukraine.
US warns against Russian military intervention in Ukraine
Russia's President Putin and the German Chancellor Merkel held a phone conversation to discuss the situation in Ukraine, the Kremlin has said.
"They underscored their joint interest in a stable Ukraine - both in economic and political terms," Merkel's spokesman Steffen Seibert said in a statement, adding they had agreed to stay in close contact.
Ukraine warns Russia against 'act of aggression' in Crimea
Last night there was mild satisfaction in Downing Street about the prospect for a truce in Ukraine but fast-forward 24 hours and the Prime Minister and Foreign Secretary are using phrases like "widespread horror" and "terrible situation unfolding in Ukraine"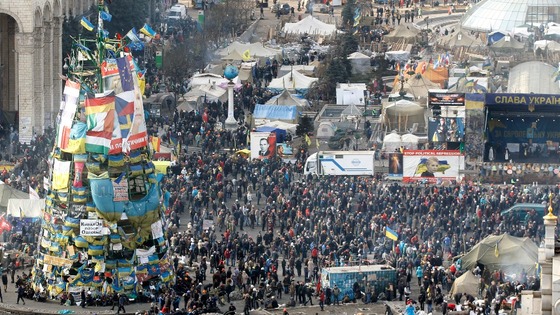 Latest updates on the violent clashes in Kiev
I think the fact that the Prime Minister picked up the telephone this evening to Vladimir Putin of Russia gives you some indication of the seriousness of the escalating crisis in Ukraine.
These are two men who have had a very frosty relationship for some time, particularly at the G20 in St Petersburg recently and the whole issue of military strikes in Syria.
But on Ukraine this evening and particularly on this emerging plan being put forward by EU foreign ministers, there is complete agreement that both sides should try and get behind this.
That is not to say they agree on everything, the Prime Minister tonight also had talks with the leaders of Germany and Holland - tomorrow he hosts the Dutch Prime Minister here in the UK.
There is a level of surprise in Downing Street at the level of cooperation from Moscow tonight.
Read: Ukraine's deadliest day in 22 years as protests escalate
Advertisement
Ukraine warns Russia against 'act of aggression' in Crimea
Russian President Vladimir Putin has expressed his "utmost concern" over the escalation of violence in Ukraine during conversations with David Cameron and German Chancellor Angela Merkel.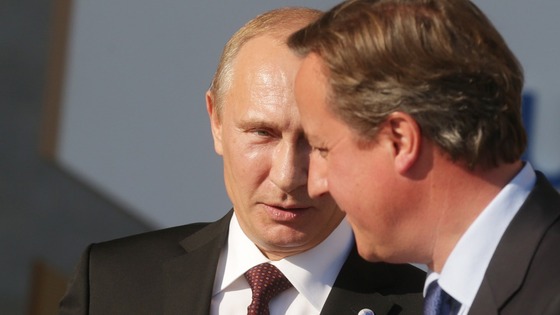 The Kremlin said in a statement: "Vladimir Putin stressed the critical importance of an immediate end to bloodshed, the need to take urgent measures to stabilise the situation and suppress extremist and terrorist attacks."
Ukraine warns Russia against 'act of aggression' in Crimea
David Cameron has spoken to Russian President Vladimir Putin about "the terrible situation" in Ukraine, with violent clashes today leaving at least 39 dead.
Latest updates on the violent clashes in Kiev
The Prime Minister has made further phone calls on the terrible situation in Ukraine. He called President Putin shortly after 6pm, followed by the Polish Prime Minister, Donald Tusk.

All three leaders support the idea of a roadmap that has been put forward by European foreign ministers in Kiev today.

The Prime Minister agreed with President Putin that they should both encourage all sides in Ukraine to get behind this emerging plan as a way to end the violence and open the way to a lasting peaceful solution.
– A Downing Street spokesman
Ukraine warns Russia against 'act of aggression' in Crimea
Vladimir Putin is sending an envoy to Ukraine at the request of President Viktor Yanukovich to mediate talks between the government and opposition, marking Russia's first open involvement in the escalating crisis.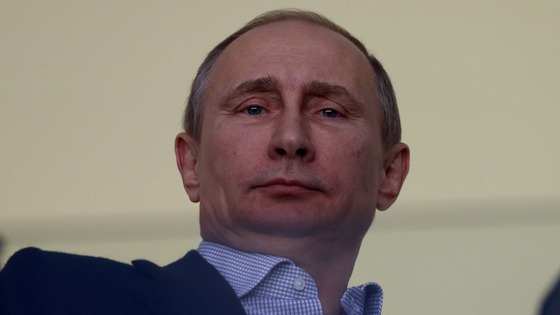 Russia has so far steered clear of the violent protests which began when the Ukrainian leader scrapped plans for deals with the European Union in favour of closer ties with Moscow.
A spokesman for the Russian president said: "Putin decided to send (Russian) human rights ombudsman Vladimir Lukin on this mission."
Russian TV shows doctored images of Olympic ceremony
An international group of business leaders, diplomats and aid agencies have joined forces and issued a plea to the president of Russia, Vladimir Putin, urging him to use the opening of the Winter Olympics in Sochi to help bring peace to Syria.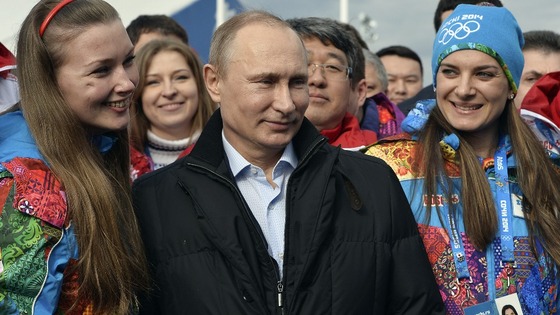 In an open letter in the Financial Times, the likes of South African Archbishop Desmond Tutu, Virgin Group boss Sir Richard Branson and former US Secretary of State Madeleine Albright have asked Putin to build on his earlier request for a global Olympic truce.
"As Vladimir Putin welcomes the world to Sochi, he has a moment in which to prove that the world's most ambitious Olympics will be used to secure a political legacy of which the Russian people and the rest of the world can be truly proud," said the letter.
Load more updates
Back to top