Russian President Vladimir Putin has responded to suggestions that he had been forced to lie low because of ill health saying that life without rumours would be boring.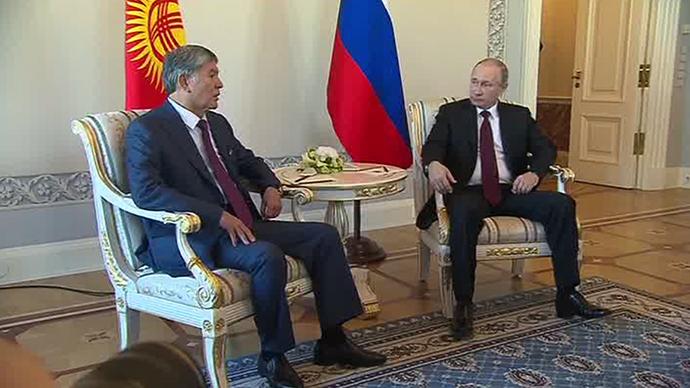 "It would be boring without gossip," Putin said in his first public appearance since March 5.
Putin is meeting with Kyrgyzstan President Almazbek Atambayev in Saint Petersburg.
President Vladimir Putin is set to appear in public later after an unusually long 10-day absence. Putin is expected to meet with Kyrgyzstan President Almazbek Atambayev in Saint Petersburg. A Kremlin official told AFP that the meeting was on track to take place.
The Russian President was last seen in public at a news conference on March 5 with Italian Prime Minister Matteo Renzi.
Advertisement
Russian President Vladimir Putin is so healthy his handshake could "break your hand", his spokesman said.
Dmitry Peskov dismissed rumours circulating on the internet that the Russian leader is in poor health in an interview on the radio station Ekho Moskvy.
A Kremlin announcement yesterday that Putin was postponing an upcoming trip to Kazakhstan set off a flurry of rumours, with some suggesting he could be seriously ill or planning the removal of a major government figure.
Putin has not been seen in public since he gave a televised address to members of the Interior Ministry on March 5.
Russian President Vladimir Putin ordered for work to start on taking control of Crimea weeks before a referendum which Kremlin officials claimed prompted the region's annexation from Ukraine.
In an interview with Russian state television channel Rossiya-1 broadcast on Sunday, Putin said that the plans were first discussed in February last year during an emergency meeting about the overthrow of Ukrainian president Viktor Yanukovich.
His account is at odds with previous Kremlin statements that claimed that the annexation decision was taken after the referendum on March 16, when Crimeans voted to become part of the Russian Federation.
This was on the night of Feb. 22 through to Feb. 23. We finished around 7 in the morning. And, while saying goodbye, I told all the colleagues: 'We have to start the work on Crimea's return into Russia'."
– President Vladimir Putin
Western governments have condemned Russia's intervention in Crimea as illegal, with the European Union and United States imposing sanctions on Moscow.
Russian President Vladimir Putin is take a 10% pay cut, Agence France-Presse reports.
The earnings of several other top officials will also be cut. Russia is still reeling from the collapse of the ruble.
The wage reduction also applies to all of those employed by the presidency and the council of ministers affected.
Vladimir Putin has written a letter telling Boris Nemtsov's mother, Dina Eidman that he 'shares her sorrow.'
The message of condolences from the President, published on the Kremlin website, reads in part:
Please accept my deepest condolences in connection with this irreparable loss. I sincerely share your sorrow.

Boris Nemtsov has left his mark in the history of Russia, in its political and public life. He occupied significant posts in a difficult time of transition in this country. He always openly and honestly voiced and upheld his views.

We will do everything to ensure that the perpetrators of this foul and cynical crime and those who stand behind them are properly punished.
– Vladimir Putin
Advertisement
Russian president Vladimir Putin says a ceasefire in the Ukraine conflict has been agreed.
The ceasefire will begin on Sunday, he said and heavy artillery will be removed.
Speaking to reporters after almost 16 hours of talks, Putin said: "We have managed to agree on the main issues."
Russian President Vladimir Putin will take part in the Minsk talks on the situation in eastern Ukraine, Interfax news agency reports, citing a Kremlin spokesperson.
The White House said President Barack Obama urged Russian President Vladimir Putin in a phone call to agree to a peace deal.
"If Russia continues its aggressive actions in Ukraine, including by sending troops, weapons, and financing to support the separatists, the costs for Russia will rise," the White House statement added.
The Kremlin, in its statement about the call, said Putin and Obama highlighted the need for the need for a political solution to the "internal" conflict in Ukraine.
The Kremlin also said the two leaders also noted the necessity to safeguard the rights of inhabitants of all Ukrainian regions, including Russian-speakers in the east.
Foreign Secretary Philip Hammond has accused Russian President Vladimir Putin of acting like a "mid-20th century tyrant" over Ukraine,
Mr Hammond said that President Putin reverse its annexation of the Crimea and start respecting international law.
He also predicted that Russian economic decline - partly as a result of international sanctions - would curb its "outrageous" foreign adventures.
Load more updates