The Kremlin has announced the Russian President has granted citizenship to prominent US boxer Roy Jones Junior.
Read the full story ›
The Kremlin has released pictures of Russian President Vladimir Putin working out at the gym with Prime Minister Dmitrty Medvedev in Sochi.
Read the full story ›
Advertisement
President Vladimir Putin has been submerged in the Black Sea to explore an ancient shipwreck.
Read the full story ›
Outgoing Fifa president Sepp Blatter told Russian premier Vladimir Putin that the world governing body has complete trust in the country hosting the 2018 World Cup.
Blatter met Putin ahead of the draw for the qualifying competition for the finals and the pair then shared the stage at the ceremony at St Petersburg's Konstantinovsky Palace.
The 79-year-old made no mention of the crisis that has engulfed Fifa, saying in his speech: "Today is an important day in the long and winding road to the World Cup 2018. We are on track, Russia will be a fantastic host. It will be a wonderful moment for Russia, the rest of the world and for football.
"Hundreds of thousands of visiting fans will come to Russia for the first time in their lives and will be met with warmth, friendship and real Russian hospitality."
Earlier, Blatter said to Putin there was "complete trust" in Russia's ability to host the tournament - significant given that the Swiss attorney general is investigating the bidding for the 2018 and 2022 World Cups.
Blatter said: "We say 'yes' to Russia. Our support is especially important during the current geopolitical situation."
In response, Putin said to Blatter: "As promised, we will do all we can for sportsmen and fans alike to feel at home here."
Vladimir Putin has insisted that the 2018 football World Cup will go ahead in his country, despite the launch of an investigation into alleged corruption during the bidding process.
The Russian president said England's failure to secure the tournament came about because the bid team did not exhibit its country's potential as a host.
Prosecutors in Switzerland are conducting an investigation into allegations of money laundering surrounding Fifa's handling of the 2010 bidding process which led to Russia being named hosts for 2018 and Qatar for 2022.
But Mr Putin said: "If anyone has evidence, let them present it. We won in a fair fight and we are going to host the World Cup. Any other decision we will consider unfair."
"Great Britain did not exhibit all their potential for what it needed to do to win the World Cup.
"We don't think we are guilty of anything. We fought for the bid fairly. We don't think the decision can be changed. Construction of the stadia has begun and the next World Cup is very soon."
Vladimir Putin has sent a telegram to Fifa President Sepp Blatter congratulating him on his re-election, the Kremlin said.
"The head of the Russian state expressed confidence that experience, professionalism and high authority will help Blatter in future encourage the spread in the geography and popularity of football in the whole world," a Kremlin statement said.
Russia was interested in co-operating with Fifa in general and in particular in preparation for the 2018 World Cup in Russia, it said.
Over the 17 years that you have stood at the head of FIFA, you have acquired great respect among fans, coaches and players. I am certain that your experience and organisational talent, and your efforts aimed at consistently expanding football's geography will serve to further develop and increase the popularity of this 'number one sport' that unites millions of fans all over the world.

I would like to stress that Russia is ready for further close and constructive cooperation with FIFA, which is especially important ahead of the 2018 World Cup. I am confident that through our joint efforts, we will hold an exceptional championship from an organisational and athletic standpoint."
– Telegram from Vladimir Putin to Sepp Blatter
Advertisement
Vladimir Putin has accused the United States of meddling after senior Fifa officials were arrested on suspicion of corruption following an investigation by the FBI.
Russian officials said yesterday that the country's 2018 World Cup bid was fully compliant after Swiss authorities said they were investigating allegations of "criminal mismanagement and money laundering" in connection with the awarding of the tournament.
Attacking the corruption investigation into Fifa, Mr Putin said: "This is yet another blatant attempt (by the United States) to extend its jurisdiction to other states.
He said the arrests were a "clear attempt" to prevent the re-election of Fifa president head Sepp Blatter, who he said had Russia's backing.
US Secretary of State John Kerry will meet Russian President Vladimir Putin in Sochi on Tuesday for talks on Ukraine, Syria and Iran.
Mr Kerry's trip to Russia - his first since 2013 - is aimed at maintaining "direct lines of communication" with the Kremlin and to "ensure US views are clearly conveyed", the US State Department said.
The visit comes amid a period of heightened tension between the US and Russia over the latter's actions in the Ukraine conflict.
A diplomatic source was quoted by Russian media as saying that Kerry's visit "is very symbolic".
Russian President Vladimir Putin made no explanation for his prolonged absence as he made his first public appearance since March 5 today.
Read the full story ›
Russian President Vladimir Putin has responded to suggestions that he had been forced to lie low because of ill health saying that life without rumours would be boring.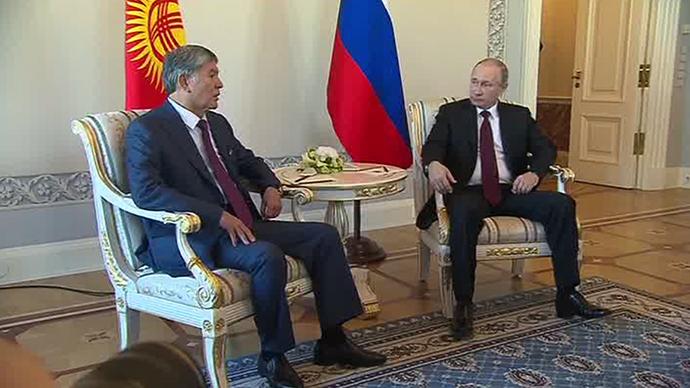 "It would be boring without gossip," Putin said in his first public appearance since March 5.
Putin is meeting with Kyrgyzstan President Almazbek Atambayev in Saint Petersburg.
Load more updates