Vladimir Putin has sent a telegram to Fifa President Sepp Blatter congratulating him on his re-election, the Kremlin said.
"The head of the Russian state expressed confidence that experience, professionalism and high authority will help Blatter in future encourage the spread in the geography and popularity of football in the whole world," a Kremlin statement said.
Russia was interested in co-operating with Fifa in general and in particular in preparation for the 2018 World Cup in Russia, it said.
Over the 17 years that you have stood at the head of FIFA, you have acquired great respect among fans, coaches and players. I am certain that your experience and organisational talent, and your efforts aimed at consistently expanding football's geography will serve to further develop and increase the popularity of this 'number one sport' that unites millions of fans all over the world.

I would like to stress that Russia is ready for further close and constructive cooperation with FIFA, which is especially important ahead of the 2018 World Cup. I am confident that through our joint efforts, we will hold an exceptional championship from an organisational and athletic standpoint."
– Telegram from Vladimir Putin to Sepp Blatter
Vladimir Putin has accused the United States of meddling after senior Fifa officials were arrested on suspicion of corruption following an investigation by the FBI.
Russian officials said yesterday that the country's 2018 World Cup bid was fully compliant after Swiss authorities said they were investigating allegations of "criminal mismanagement and money laundering" in connection with the awarding of the tournament.
Attacking the corruption investigation into Fifa, Mr Putin said: "This is yet another blatant attempt (by the United States) to extend its jurisdiction to other states.
He said the arrests were a "clear attempt" to prevent the re-election of Fifa president head Sepp Blatter, who he said had Russia's backing.
Advertisement
US Secretary of State John Kerry will meet Russian President Vladimir Putin in Sochi on Tuesday for talks on Ukraine, Syria and Iran.
Mr Kerry's trip to Russia - his first since 2013 - is aimed at maintaining "direct lines of communication" with the Kremlin and to "ensure US views are clearly conveyed", the US State Department said.
The visit comes amid a period of heightened tension between the US and Russia over the latter's actions in the Ukraine conflict.
A diplomatic source was quoted by Russian media as saying that Kerry's visit "is very symbolic".
Russian President Vladimir Putin made no explanation for his prolonged absence as he made his first public appearance since March 5 today.
Read the full story ›
Russian President Vladimir Putin has responded to suggestions that he had been forced to lie low because of ill health saying that life without rumours would be boring.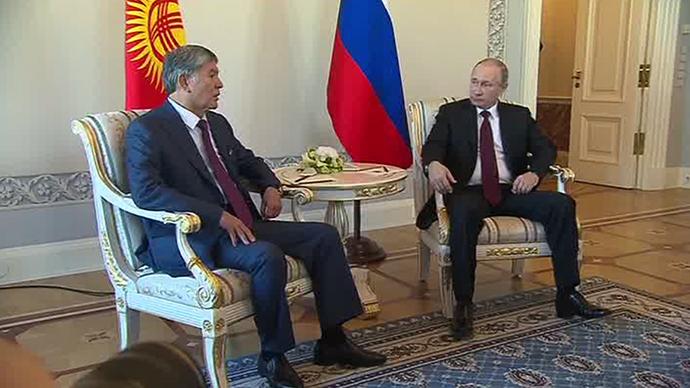 "It would be boring without gossip," Putin said in his first public appearance since March 5.
Putin is meeting with Kyrgyzstan President Almazbek Atambayev in Saint Petersburg.
President Vladimir Putin is set to appear in public later after an unusually long 10-day absence. Putin is expected to meet with Kyrgyzstan President Almazbek Atambayev in Saint Petersburg. A Kremlin official told AFP that the meeting was on track to take place.
The Russian President was last seen in public at a news conference on March 5 with Italian Prime Minister Matteo Renzi.
Advertisement
Russian President Vladimir Putin is so healthy his handshake could "break your hand", his spokesman said.
Dmitry Peskov dismissed rumours circulating on the internet that the Russian leader is in poor health in an interview on the radio station Ekho Moskvy.
A Kremlin announcement yesterday that Putin was postponing an upcoming trip to Kazakhstan set off a flurry of rumours, with some suggesting he could be seriously ill or planning the removal of a major government figure.
Putin has not been seen in public since he gave a televised address to members of the Interior Ministry on March 5.
Russian President Vladimir Putin ordered for work to start on taking control of Crimea weeks before a referendum which Kremlin officials claimed prompted the region's annexation from Ukraine.
In an interview with Russian state television channel Rossiya-1 broadcast on Sunday, Putin said that the plans were first discussed in February last year during an emergency meeting about the overthrow of Ukrainian president Viktor Yanukovich.
His account is at odds with previous Kremlin statements that claimed that the annexation decision was taken after the referendum on March 16, when Crimeans voted to become part of the Russian Federation.
This was on the night of Feb. 22 through to Feb. 23. We finished around 7 in the morning. And, while saying goodbye, I told all the colleagues: 'We have to start the work on Crimea's return into Russia'."
– President Vladimir Putin
Western governments have condemned Russia's intervention in Crimea as illegal, with the European Union and United States imposing sanctions on Moscow.
Russian President Vladimir Putin is take a 10% pay cut, Agence France-Presse reports.
The earnings of several other top officials will also be cut. Russia is still reeling from the collapse of the ruble.
The wage reduction also applies to all of those employed by the presidency and the council of ministers affected.
Vladimir Putin has written a letter telling Boris Nemtsov's mother, Dina Eidman that he 'shares her sorrow.'
The message of condolences from the President, published on the Kremlin website, reads in part:
Please accept my deepest condolences in connection with this irreparable loss. I sincerely share your sorrow.

Boris Nemtsov has left his mark in the history of Russia, in its political and public life. He occupied significant posts in a difficult time of transition in this country. He always openly and honestly voiced and upheld his views.

We will do everything to ensure that the perpetrators of this foul and cynical crime and those who stand behind them are properly punished.
– Vladimir Putin
Load more updates