Banning smoking in cars when children are present would reduce the number of youngsters suffering from second-hand smoke related health conditions, the Welsh health minister has said.
Our aim is to protect the health of children and young people from the harm associated with exposure to second-hand smoke when travelling in private vehicles.

Changing the law would protect children from the health harms associated with exposure to second-hand smoke in private vehicles, encourage action by smokers to protect children from second-hand smoke and lead to a reduction in health conditions in children caused by exposure to second-hand smoke.
– Mark Drakeford
Smokers in Wales who spark up in their car while travelling with an under-18 passenger could soon face a £50 fine, according to the Welsh Government.
A six week consultation on plans to issue on-the-spot fines to drivers caught with a cigarette in their hand was launched today.
The Welsh Government says the ban would protect children from toxic second hand smoke.
"Some people light up in their cars without thinking and believe that opening the window will help disperse the smoke; however it simply blows back into the car," said Welsh First Minister Carwyn Jones.
"Children cannot escape from the toxic chemicals contained in second-hand smoke when travelling in vehicles."
Advertisement
Even in parts of Wales hit by mine closures in the 1980s there seems little demand to break away from the rest of the UK.
Read the full story ›
Could this finally be the time for Wales to qualify for a major tournament? We look at the reasons they might make the dream a reality.
Read the full story ›
The peace march here in Newport is on its way to the Celtic Manor Resort.
It is a three-mile march from the Cenotaph in Newport to Nato summit itself.
The march is unified really in its opposition to what Nato is doing in various parts of the world, from Ukraine to Afghanistan. They are concerned about issues in Iraq, in Iran and in Syria.
We think there are probably around about 500 protesters, and the plan is when they reach the Celtic Manor, about three or four protesters will be allowed to hand over a petition which will then be taken to the summit itself.
Advertisement
Nato Wales Police has posted on Twitter ahead of the two-day summit in Newport: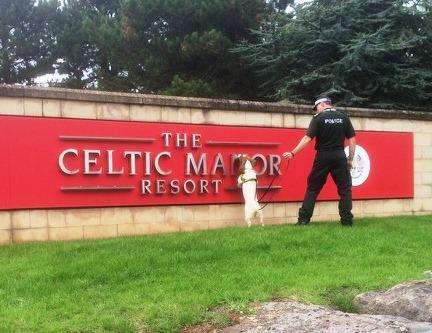 A leading security consultant said the Nato summit in Newport will be one of the "biggest security operations" in the UK.
Read the full story ›
Nato Wales Police's official Twitter page reported ahead of the summit in Newport:
Load more updates