Despite recent violence that has marred the European Championship in Lille, it does not appear to have dampened the spirits of these England fans ahead of today's match against Wales.
The starting 11 for Wales Group B Euro 2016 match against England this afternoon has been revealed, with Gareth Bale leading the charge as expected.
Sorry, this content isn't available on your device.
Advertisement
The full teamsheet for England's Group B Euro 2016 match against Wales has been revealed.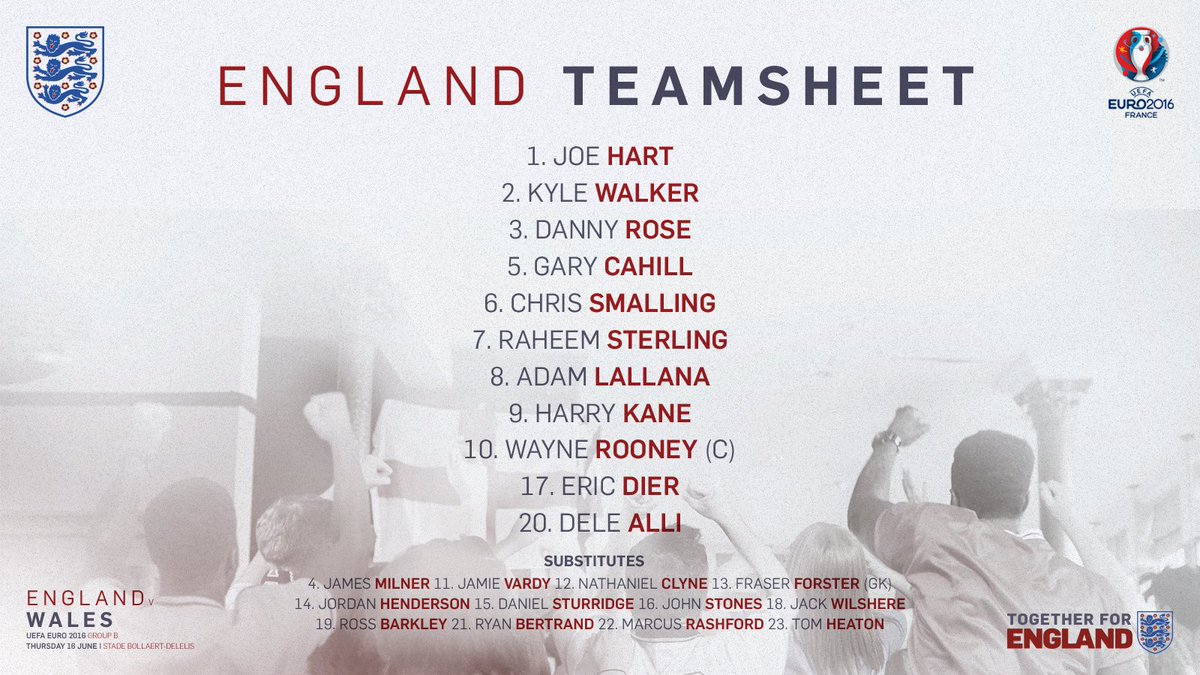 Former England footballers Alan Shearer and Sol Campbell have voiced support for the Three Lions ahead of their showdown against Wales.
Ahead of the England v Wales game, two fans are showing their respective allegiance by changing their name for the day.
In a light-hearted apology letter to their father shared on Twitter, they wrote: "Dear Dad, we the undersigned hereby change our surnames from "Davies" to "Davis" for one day only (depending on the result).
Football fans in the French northern city of Lens are in jovial mood ahead of England v Wales at Euro 2016.
The game is being played under a heightened security presence with police officers from England and Wales joining their French counterparts.
On Tuesday the FA appealed to fans to "respect their hosts" and avoid "isolated areas" to avoid the trouble that marred England's opening match against Russia in Marsielle.
Advertisement
The English lions and Welsh dragons are gearing up for their crucial Euro 2016 clash in France and so are their respective fans.
Read the full story ›
A Welsh market town in Gwynedd has changed its name ahead of today's Wales v England game.
Read the full story ›
A trade union has called on employers in the West Country to let people watch the England game at work - saying it will be good for morale.
Read the full story ›
Gareth Bale has set the tone ahead of Wales' match with England by saying not one member of England's squad would get into Chris Coleman's team.
The Wales captain was in jovial mood as he laughed off a question by ITV News Sports Editor Steve Scott, on how many England players would get into the Welsh team.
Gareth Bale scored Wales' opening goal at Euro 2016, in a 2-1 win over Slovakia on Sunday, and will face England in Lens on Thursday.
Load more updates