England defender Gary Cahill has heaped praise on Wayne Rooney ahead of the captain's 100th cap.
"He (Rooney) has come into the role (of captain) fantastically well," Cahill told ITV News, "He's taken the armband and he's been great for us."
"He needs no introduction. He is coming up to his 100th cap which is an amazing achievement for somebody still as relatively young as what he is. He's got many, many years in front of him."
Watch England v Slovenia live on ITV this Saturday - details here.
England manager Roy Hodgson has apologised to Wayne Rooney for a comment he made about the striker's Liverpudlian accent.
When asked about Rooney's capabilities as Three Lions captain earlier this week, Hodgson said:
"Everyone knows Wayne is not the sort of person with his Liverpool accent who is going to be able to stand up in front of a lecture room of people.
"But he doesn't need to. All he has to do is make certain the players he is talking to understand where he is coming from."
RH on Scouse accent story: "It was in no way aimed at Wayne or anyone from Liverpool- my wife is from Liverpool. I've apologised to WR."
But addressing the media ahead of Thursday's Euro 2016 qualifier against San Marino, Hodgson admitted he felt compelled to say sorry.
"I apologised about the headline," he explained. "He knows it wasn't aimed at him or anyone from Liverpool. My wife's from Liverpool."
Advertisement
Wayne Rooney has tweeted that it is a "dream come true" to be named England captain.
In an interview on his official website, the Manchester United forward also said he would take "massive pride" in the role.
"As a kid I always loved the occasion of watching a big England game on the television. Back then I had a burning ambition to play for my country. Now to be appointed captain is beyond my wildest dreams," he said.
Being named England captain is a dream and something I'll take great pride in doing. My exclusive interview is here – http://t.co/RwqO59k0vT
He revealed he planned to speak to former captain Steven Gerrard about the demands of the role.
Roy Hodgson says Wayne Rooney's "commitment to the cause", along with his experience captaining Manchester United contributed to the decision to make him the new England captain.
Wayne Rooney will succeed Steven Gerrard as captain of the England football team, manager Roy Hodgson has announced.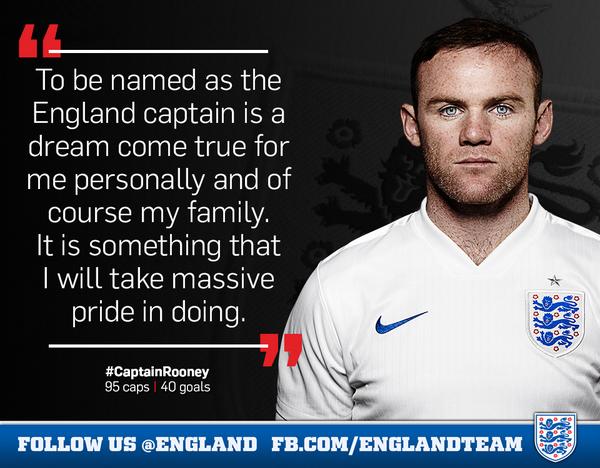 Gutted with the score, but so pleased @waynerooney scored and his boys were here to see it!!
Coleen Rooney, wife of England striker Wayne Rooney, says she is so pleased the couple's two young sons Kai and Klay were able to watch his goal.
The whole family are currently in Brazil.
Advertisement
England has equalised against Uruguay with Wayne Rooney scoring his first World Cup goal.
For in depth expert analysis on the game visit ITV Sport
Wayne Rooney kissed his son Kai ahead of an England World Cup training session in Portugal.
The Manchester United striker, who was waiting for England manager Roy Hodgson to start the session, picked up his son after the youngster ran towards him.
Rooney and the rest of the England squad are in Vale Do Lobo, Portugal, training for the World Cup in Brazil this summer.
Manchester United star Wayne Rooney's reported £300,000 a week should not be controlled as his talent attracts the high salary, shadow chancellor Ed Balls has suggested.
Mr Balls said in the footballer's case it was perhaps "genuinely the talent getting the pay" as there is "only one Wayne Rooney" who could go anywhere in the world.
Mr Balls made the remarks after he was questioned about Business Secretary Vince Cable's comments in the Observer that he did not understand "why people need a million quid a year".
He told BBC Radio 5 Live's Pienaar's Politics: "I think in some parts of our economy - when it's not a great idea or when it's not the talent of Wayne Rooney - then you do think to yourself these massive multimillion-pound salaries, it feels like a bit of a Ponzi scheme."
Former Scotland manager Berti Vogts has revealed that he approached a teenage Wayne Rooney about playing for Scotland.
Vogts, who was in charge of Scotland from 2002 to 2004, said he was made aware of a family link when Rooney was a 16-year-old with Everton.
He said: "I spoke to Wayne Rooney - his grandmother, she is Scottish.
"The Scottish Football Association found the grandmother and I made the call. I flew from Glasgow to Everton. He was playing under David Moyes at Everton and I spoke to him - a young lad of 16 years of age. I said to him 'you can play for Scotland'."
Explaining Rooney's reaction, the German coach beat his chest theatrically and said: "(Rooney told me) 'I am English, I am English'. Okay, sorry. You have to speak to the player but he told me 'I'm so sorry boss, I'm English'."
Load more updates