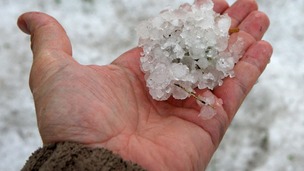 Rather than a winter phenomenon, hail is surprisingly common during the most intense summer thunderstorms.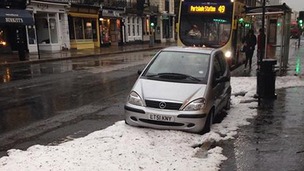 Lightning and hail storms, described by locals as like walking through a 'zombie apocalypse,' causes travel chaos in Brighton.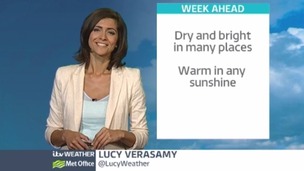 There will sunshine for much of the country on Monday, but storms and rain will hit much of the South.
Live updates
An earlier satellite picture reveals the weather system responsible for a contrast in weather and temperature today. In what has been a story of two halves, there has been plenty of sunshine across the south and the south east, meaning temperatures bounced up towards 27C. For the rest of the UK there was a fresher feel to the day, around 21C at best with the cloud cover.
Tonight, expect blustery winds to continue around the fringes of Scotland, with a few showery outbreaks from time to time. Otherwise it will be calm, dry and quiet, with not too much going on at all.
Expect much more in the way of cloud in the coming few hours, which will sink its way through England and Wales.
That will produce a few spots of drizzly rain, but not amounting to too much.
Further north, through parts of Scotland and Northern Ireland, blustery showers are expected on off - likely to keep it feeling quite cool and fresh.
Highs of 26C (79F) or 27C (81F) are expected.
Advertisement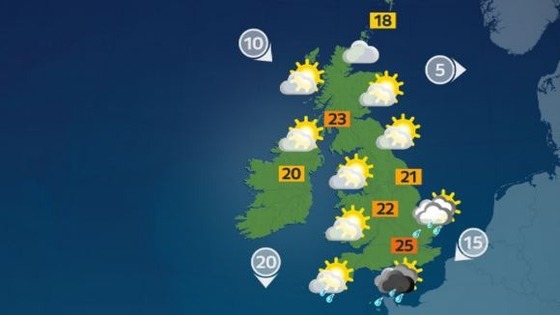 Any rain across the far southeast of England will quickly clear this morning, leaving many southern and central parts of England with a fine and dry day, with plenty of sunny spells developing.
Elsewhere, a band of cloud and light and patchy rain will gradually sink southeastwards during the course of the day.
Skies will begin to brighten up later in the day across Scotland and Northern Ireland, however further showers will move into western parts at times.
It will feel a little fresher than yesterday across Scotland and Northern Ireland, but across southern England it will become very warm with a top temperature of 27C in the southeast.
For most areas it will be pleasantly warm on Tuesday with highs of 26C or 27C, although there will be some drizzly rain in parts of the north.
Watch the latest forecast with ITV News weather presenter Lucy Verasamy:
Lightning and hail storms hit Sussex
More heavy rain overnight in the south-east may delay a clean-up operation following a day of flash floods.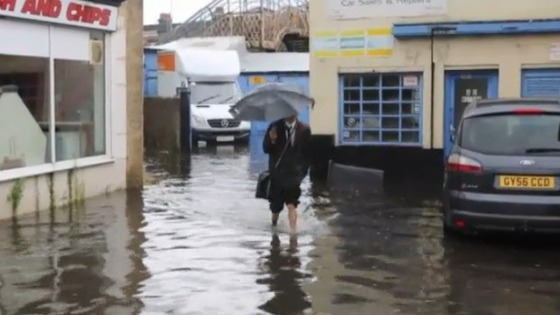 However forecasters said there would not be a repeat of the deluges in East Anglia, the south-east and London today.
The Environment Agency said that "recovery operations may be affected" but that flooding is not expected during the next three days.
Temperatures get a boost again tomorrow.
Most of us will see some sunshine at some point tomorrow - highs of 25-27C possible in places it'll feel warm - but feeling cooler across north-west Scotland.
Advertisement
Lightning and hail storms hit Sussex
Meridian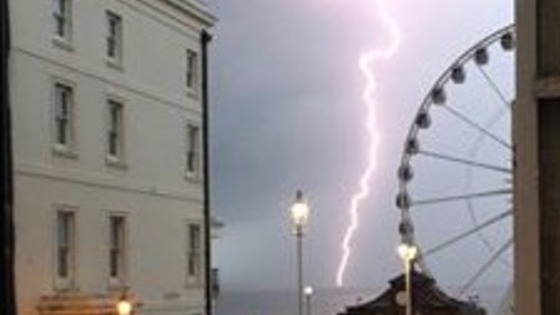 Freak weather has hit the south coast following the recent heatwave. Lightning and heavy rain caused flashfloods in the region.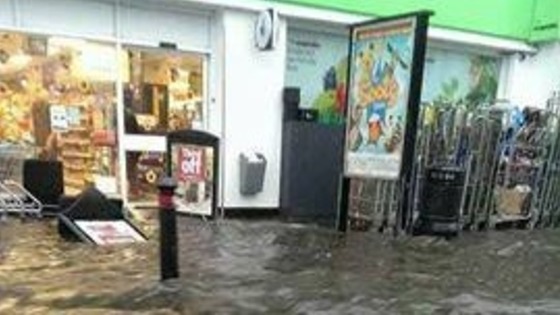 Lightning and hail storms hit Sussex
Lightning and hail storms hit Sussex at the start of the morning rush-hour, with flash flooding causing disruption to travel.
Video courtesy of the Worthing Herald
Lightning and hail storms hit Sussex
By Lucy Verasamy: Weather Presenter
A lively start to the week with intense thundery rain through the south-east already - and further downpours in places this afternoon.
A few scattered, light showers will drift through Northern Ireland, the West Country and Wales.
Elsewhere a fine, bright day with sunshine. Looking good in Glasgow for the Commonwealth Games.
Highs of 22C in the north and 25C in the south, but muggy with the thundery air.
Lightning and hail storms hit Sussex
Two weeks worth of rain fell in just an hour this morning, battering England's south coast and causing flash flooding and disruption on the roads and rail. The Met Office said a "deeply unstable airmass" caused the storms.
ITV News reporter Richard Pallot reports:
Load more updates
Back to top