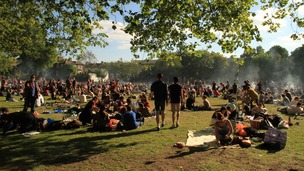 This weekend will follow the usual bank holiday tradition of having one "soggy" day.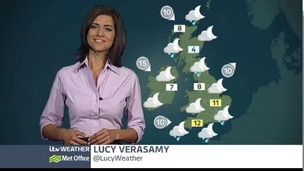 It will remain disappointingly cold for August, with temperatures under 20C until later next week.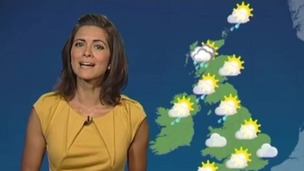 There will be blustery showers around the fringes of Scotland which will continue to be on and off throughout the course of tomorrow.
Live updates
It will be fine and dry across most central and eastern parts with warm sunny spells at first.
However cloud, rain and strengthening winds will spread northeastwards across the UK, turning heavy and persistent in places.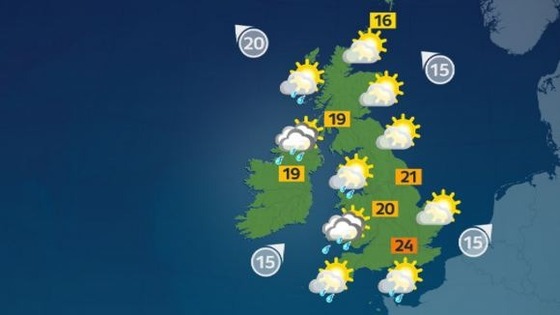 It will be mostly fine and dry today with warm sunny spells and highs of up to 24C.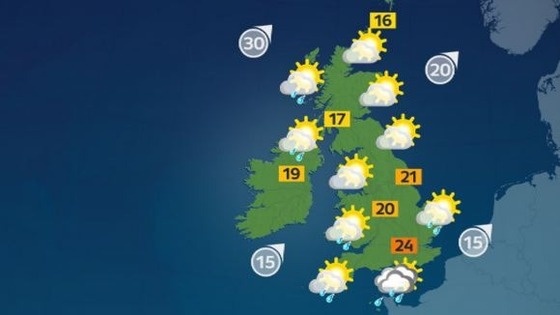 However, isolated heavy showers are likely to develop later, most likely across southern parts of the UK.
Gusty winds and outbreaks of rain at first across northwestern Scotland will ease and clear away to the north throughout the day.
Advertisement
It is a tale of two halves for Britain's weather today with fine conditions below the Midlands but showers and cloud in many other regions.
Most areas will have a day of sunshine and showers today. Some of the showers will be heavy and thundery, especially in the north and west.
The southeast of England should escape with the driest and brightest of the weather, although even here more in the way of cloud is likely to develop this afternoon.
Top temperatures of 25C.
There's a real step change with the weather on the way over the next few days.
The very settled and hot conditions are replaced by much cooler and more showery weather.
The showers that appeared across north western parts of England slip into northern parts of Wales tonight.
Prepare yourself for a real step change with the weather over the next few days. Gone are the very settled and very warm conditions of the last few days, increasingly replaced by much more unsettled weather with showers spreading in to all areas, feeling a lot cooler as well. Our culprit is the jet stream which is sort of a conveyor belt for weather systems.
Advertisement
Scotland and the north of England will see cloud and rain into this evening, as well as some sunny spells.
Further south it should be warm and dry with highs of 26C.
Watch the latest forecast with ITV News weather presenter Becky Mantin.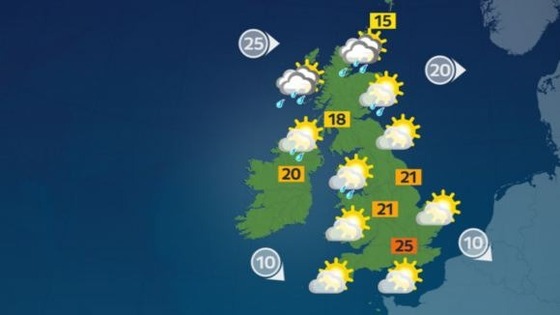 Many southern and central areas of the UK will have another fine and dry with some spells of sunshine, although the sunshine will become rather more limited during the middle of the day than of late.
Further north will see a mixture of sunshine and scattered showers, some of which will be heavy, especially in the north of Scotland.
It will be breezy in the north, but elsewhere winds will remain light allowing temperatures to reach a maximum of 25C (77F) in the southeast of England.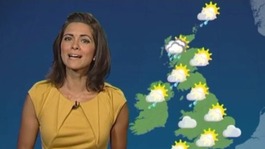 There will be blustery showers around the fringes of Scotland which will continue to be on and off throughout the course of tomorrow.
Read the full story
An earlier satellite picture reveals the weather system responsible for a contrast in weather and temperature today. In what has been a story of two halves, there has been plenty of sunshine across the south and the south east, meaning temperatures bounced up towards 27C. For the rest of the UK there was a fresher feel to the day, around 21C at best with the cloud cover.
Tonight, expect blustery winds to continue around the fringes of Scotland, with a few showery outbreaks from time to time. Otherwise it will be calm, dry and quiet, with not too much going on at all.
Load more updates
Back to top