An NFL franchise in London could be worth more than £100million a year to the UK economy, according to a new report
Read the full story ›
The four were quizzed about the stadium's history as the Jacksonville Jaguars prepare to host the San Francisco 49ers there this Sunday.
Read the full story ›
Advertisement
Four Jacksonville Jaguars cheerleaders were tested on their knowledge of the stadium ahead of Sunday's game against the San Francisco 49ers.
Read the full story ›
Tinie Tempah and Gene Simmons were among the acts to perform in the lead up to the Minnesota Vikings' match against the Pittsburgh Steelers tonight at Wembley Stadium.
The Kiss bassist sung 'The Star-Spangled Banner' to a packed crowd prior to kick off.
Smoke billowing from timber doors welcomed the Minnesota Vikings to the Wembley field ahead of their clash against the Pittsburgh Steelers this evening.
The teams tweeted video and pictures of the atmosphere from the ground before kick off.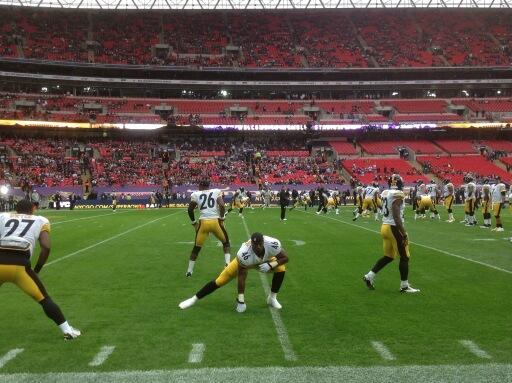 Wembley Stadium will tonight host the Minnesota Vikings and Pittsburgh Steelers in the first of two NFL International Series matches to be played in London this year.
Advertisement
The police have released 11 new images of football fans they want to question following violence at Wembley during the FA Cup semi-final between Millwall and Wigan.
The disturbances took place in the Millwall supporter section and 43 people have so far been arrested – this is the third photo appeal.
The release of the new pictures follows dawn police raids last week which resulted in three arrests.
Police said they are investigating incidents involving Millwall supporters at today's FA Cup semi-final that left some fans bloodied and younger ones in tears.
A Scotland Yard spokesman said:
Ten people have been arrested following sporadic disorder among fans in the Millwall supporters' area at Wembley. Investigations into the circumstances of the incidents are continuing.
Millwall football fans fought each other at Wembley as their side lost 2-0 to Wigan in the FA Cup semi-final today.
Police intervened after MIllwall fans fought each other in the stands at Wembley as the London club lost 2-0 to Wigan Athletic in the FA Cup semi-final.
Load more updates