A man wearing a Pokemon hat forced the White House to shut down after he jumped the fence to the official residence of the American President, NBC News reported.
The man, who also appeared to be holding a Pokemon toy, was arrested after trying to break into the White House on the anniversary of the 9/11 attacks.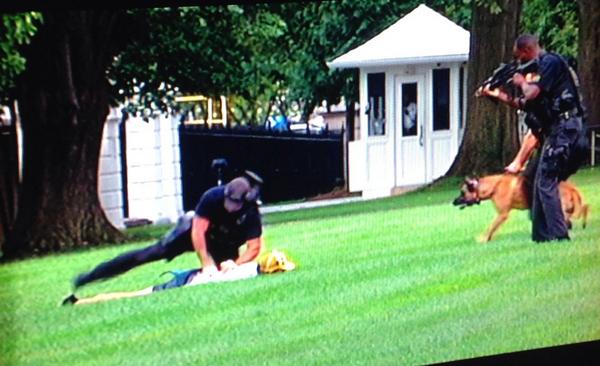 Secret service agents quickly apprehended the man and ordered him to lie down as they aimed their guns at him.
However, the man reportedly resisted calls to lie down and had to be forced to the ground before he was searched.
Agents then handcuffed him, before he was led off the lawn with his head hanging low.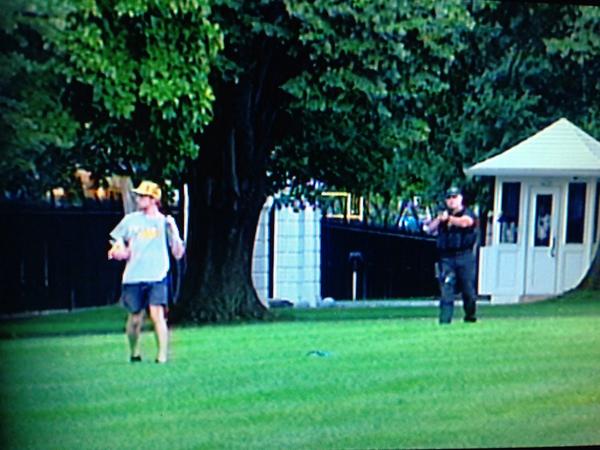 After more than three years of jousting with the White House press corps, President Barack Obama's chief spokesman, Jay Carney, will step down next month to pursue yet-to-be-named opportunities, Mr Obama has announced.
The president interrupted Carney on the podium, where he was answering questions during the White House daily news briefing, catching reporters by surprise.
Obama called Carney one of his closest friends and advisers, and said he was "not thrilled" when Carney first told him in April that he wanted to leave.
Advertisement
Suspicious items thrown over the White House fence today have triggered the second security lockdown of the US President's residence this week.
President Barack Obama was not at the White House when the incident took place.
A Secret Service spokesman said two people have been taken into custody and the suspicious items were being examined.
A car that trailed a motorcade carrying Obama's daughters Sasha and Malia on Tuesday prompted another White House security lockdown that lasted more than an hour.
The White House has called for urgent action to mitigate the affects of climate change, in its third National Climate Assessment.
It its starkest warning to date, the Obama administration said the effects of climate change are already being felt, and already costing money. The report said:
"Climate change, once considered an issue for a distant future, has moved firmly into the present."
The report has be called a "game changer" as it details, for the first time, the predicted effects on different regions: Residents in the northeast coast could face bigger storm surges and flooding, whilst the southwest of the country is likely to confront more wildfires and severe water shortages.
A 10-year-old American girl used a face-to-face meeting with the First Lady as an opportunity to try and help her dad find a job.
While attending a question and answer session with Michelle Obama at The White House, schoolgirl Charlotte Bell approached the First Lady and handed her her dad's CV.
Charlotte told Mrs Obama: "My dad's been out of work for three years and I wanted to give you his resume."
The two embraced on stage, with the First Lady saying: "Oh my goodness." The two then spoke before Mrs Obama addressed the crowd: "Well it's a little private, but she's doing something for her dad. Alright?".
She held up the piece of paper in her hand and shook it. "Got it."
The White House said Ukraine's government has the "responsibility to provide law and order" as its troops move against pro-Russia separatists in the country's eastern region.
"These provocations in eastern Ukraine are creating a situation in which the government has to respond," White House spokesman Jay Carney said at a briefing.
The US is "seriously considering" new sanctions against Russia, but is not considering providing lethal aid to Ukraine, he added.
Advertisement
A man who pleaded guilty to firing an assault rifle at the White House in 2011 has been sentenced to 25 years in prison.
Prosecutors said Oscar Ramiro Ortega-Hernandez hit the White House about eight times and did nearly $100,000 (£60,000) worth of damage, although no one was injured.
Ortega-Hernandez's lawyers argued he was suffering from extreme depression and mental stress at the time of the shooting, and was under the misguided belief that Armageddon was coming.
Prosecutors initially charged him with attempting to assassinate President Barack Obama, but agreed to drop the charge as part of a plea deal last year.
The White House is on lockdown after a man attempted to jump the surrounding fence carrying two "suspicious" bags, NBC News reports.
A Secret Service official has stressed to NBC that there is nothing that suggests the bags are dangerous, but they are following protocol and have called the local police explosive experts.
The man has been taken into custody.
The 2016 race for the White House has collected a likely candidate in Chris Christie, who appears primed to run for the US Presidency after his triumphant re-election as New Jersey Governor.
Gov. Christie said he is happy to "stubbornly" refuse to discuss his future ambitions, but few doubt he plans to sell his moderate Republicanism to a national audience.
But will he be a match for an experienced campaigner like Hillary Clinton, who remains hotly tipped to run again for the Democrats?
Hundreds of US military veterans gathered outside the White House demanding that the country's war memorials be reopened after their temporary closure due to the government shutdown.
Load more updates