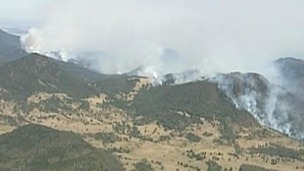 A huge wildfire has swept through the Warrumbungle National Park in Australia's New South Wales.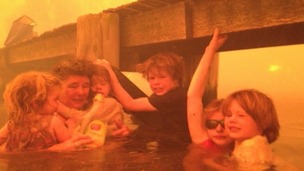 An Australian family made a dramatic escape from the wildfires by jumping into the sea and clinging onto a jetty for three hours.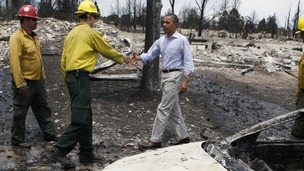 Barack Obama has toured areas ravaged by wildfires in Colorado and described the devastation as "heartbreaking".
Live updates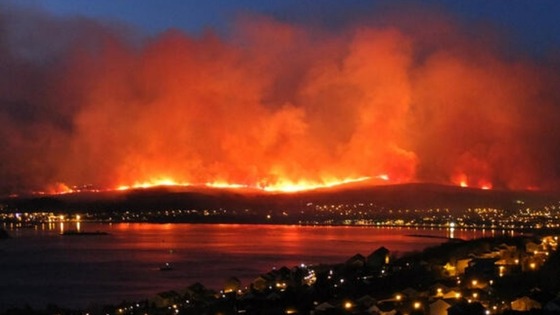 A massive blaze that spread across miles of grassland in Banavie in the Scottish Highlands has been brought under control by firefighters.
The uncontrolled blaze was one of the worst of almost 100 wildfires reported to Scottish Fire and Rescue Service yesterday, stretching around three miles across the area north of Fort William.
Lib Dem MP for Ross, Skye and Lochaber, Charles Kennedy said: "I have never witnessed anything quite on the scale of yesterday's massive hill fire above Banavie and Corpach. If the initial reports are confirmed, then it is miraculous that there was no significant loss of property, far less worse.
"The spate of such fires recently across the Highlands acts as a timely warning to us all. But most of all it makes us all profoundly grateful for the professional expertise and courage of our firefighters and the other emergency services. We are indebted to them all."
A blaze stretching three miles has engulfed the Scottish Highlands, according to the fire service.
Approximately 45 firefighters and officers along with eight appliances have been called to tackle a wild fire north of Fort William in the Highlands.
The fire is on grassland and heath north of the B8004 road and while wind is blowing smoke in the direction of residential properties no buildings are on fire or have been evacuated.
The fire service are working in partnership with the police should any evacuations need to take place.
Advertisement
Man dies in Australia wildfires
Wildfires continue to rage across southern Australia, killing one man as soaring temperatures make the situation increasingly difficult for firefighters.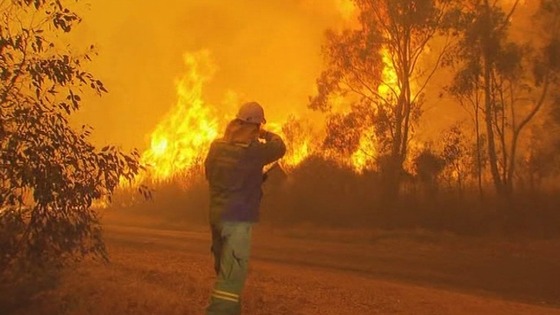 The man, who has not been identified, was discovered in a burned out car near Seaton in Victoria, around 120 miles east of Melbourne, Victoria Police said.
He is believed to be the first victim of the wildfires that have plagued Australia since the beginning of the summer.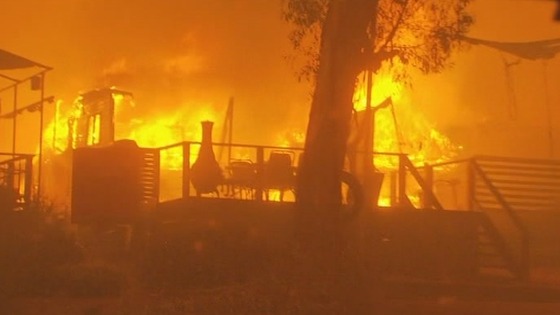 "It's a very dangerous environment we're experiencing today," Victoria Country Fire Authority operations manager Bill Johnstone said. "Given the conditions, it's probably as bad as it can get".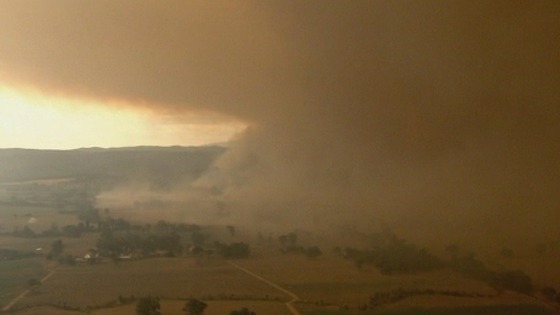 Record-high temperatures and dry conditions in many areas have added to the ferocity of some fires.
In New South Wales, a heatwave is also underway, with temperatures soaring past 40C earlier today. Central Sydney hit a record high of 45.8C, while some areas nearby hit 46C.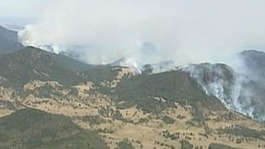 A huge wildfire has swept through the Warrumbungle National Park in Australia's New South Wales.
Read the full story
Man dies in Australia wildfires
Drug police in Australia have arrested a father and son who they suspect of starting a bushfire in a remote area of a national park, ABC reports.
They suspect the pair started the fire to destroy evidence of their drugs laboratories, which were hidden in a remote region of Blue Mountains National Park just east of Sydney. The bushfire destroyed 55 hectares of the park.
The charred remains of the laboratories were cordoned off today as detectives searched for evidence.
Police believe the men, who they accuse of making millions of dollars from the production of a drug known as ice, became aware that they were under police surveillance and decided to torch the labs.
Man dies in Australia wildfires
Advertisement
Man dies in Australia wildfires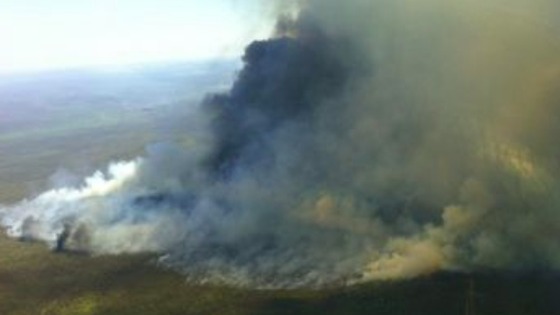 This image from the New South Wales Rural Fire Service was taken by one of the aircraft working on the Redbank North Fire NE of Coonabarabran.
The fire service reported that 28 homes have been confirmed as lost in the Wambelong Fire near Coonabarabran.
Man dies in Australia wildfires
Australia's largest research observatory, which houses top telescopes from around the world, is surrounded by a "large and dangerous" bush fire.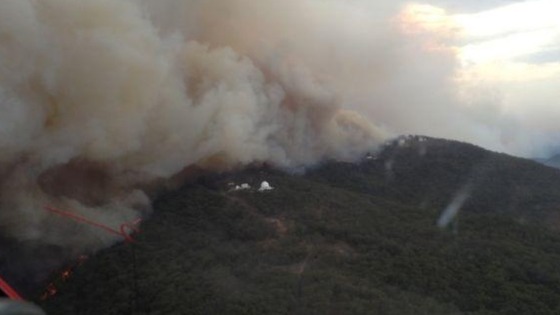 New South Wales Rural Fire Service posted aerial images on Twitter showing the Siding Spring Observatory under threat from the uncontrolled bushfire on Sunday, as hundreds of firefighters battled blazes across the state.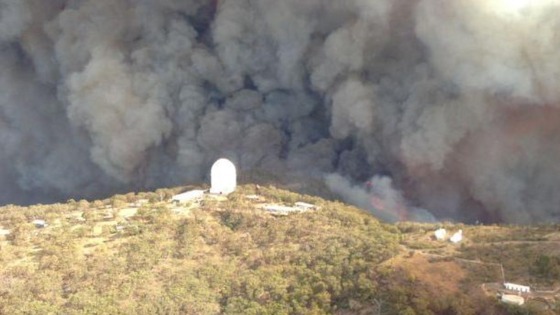 Man dies in Australia wildfires
Bushfires are continuing to rage in the south east region of Australia as emergency crews battle to control the fires.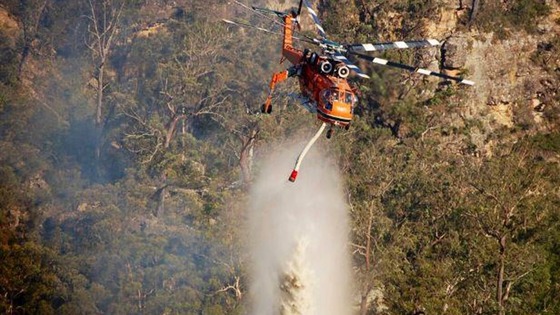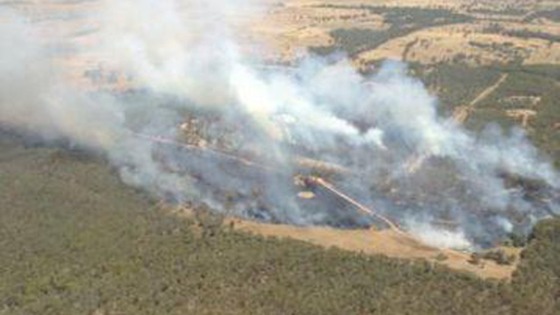 Man dies in Australia wildfires
Over 100 bushfires continuing to burn across south-east Australia after an extreme heatwave.
This image taken from Nasa's Aqua satellite captures the fires from space.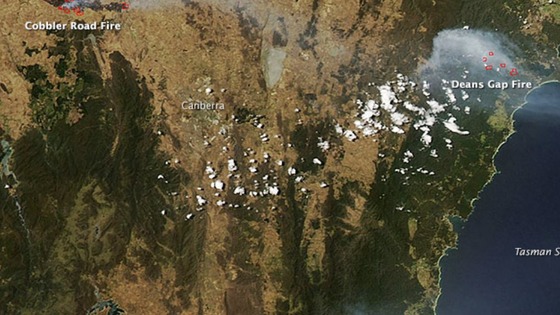 Load more updates
Back to top