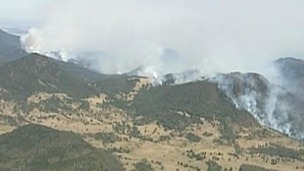 A huge wildfire has swept through the Warrumbungle National Park in Australia's New South Wales.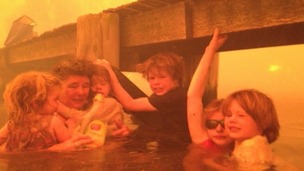 An Australian family made a dramatic escape from the wildfires by jumping into the sea and clinging onto a jetty for three hours.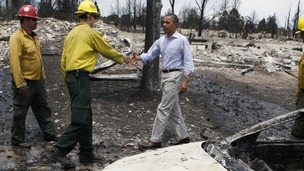 Barack Obama has toured areas ravaged by wildfires in Colorado and described the devastation as "heartbreaking".
Live updates
Man dies in Australia wildfires
Australian fire crews battled wildfires for the sixth day as the blaze continued to cause chaos and devastation in the country.
More than 140 fires are burning across New South Wales, which is in the south-east of the country, according to Australia's Nine Network.
Man dies in Australia wildfires
Weather presenter Magdalena Rose spoke to ITV Daybreak live from Sydney about the wildfires currently burning through Australia.
She called it one of the most 'widespread and persistent heatwaves in history' with the highest temperature reaching 43 degrees celsius.
She added that some fires have even been started deliberately, with three teens in New South Wales being charged over allegedly starting fires.
Advertisement
Man dies in Australia wildfires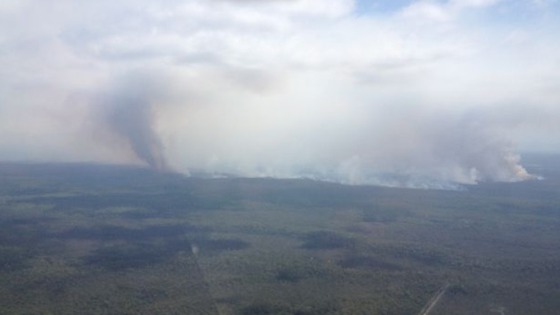 The New South Wales Rural Fire Service has tweeted this image of an aerial photo of the Deans Gap Fire, near Sussex Inlet in New South Wales, Australia.
The fire has a 44 kilometre perimeter and has burnt out over 9,300 acres of land.
Man dies in Australia wildfires
ABC News reports that the state of New South Wales should see a brief respite from the heat today but temperatures are due to climb again at the weekend.
Record breaking daily temperatures across parts of Australia have caused severe wildfires.
Meteorologists have had to redraw temperature scales and introduce new colours to weather forecasting maps.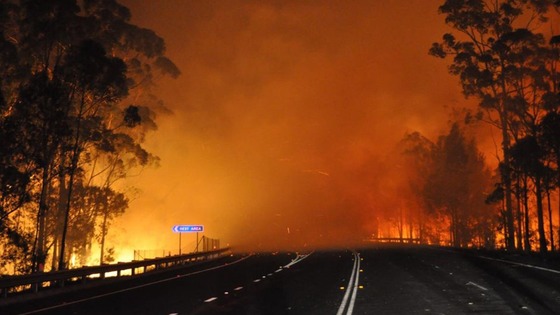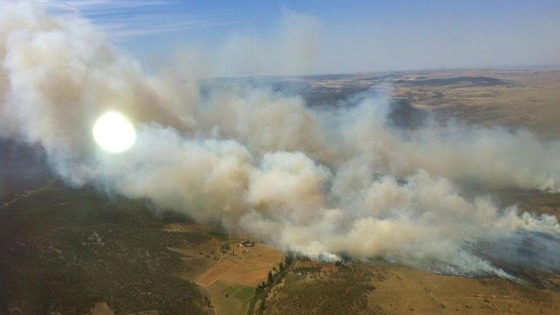 Man dies in Australia wildfires
Statewide Stats @ 12 noon: 134 Incidents (31 uncontained), 414 trucks, 2000 Fire Fighters (thousands on standby), 342,964ha burnt
Man dies in Australia wildfires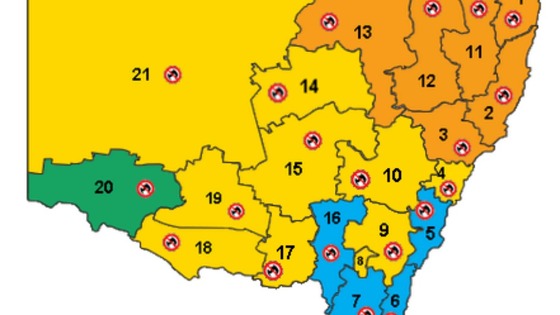 A total fire ban has been put in place today in the state of New South Wales in Australia.
The New South Wales Rural Fire Service issued the ban, Fire Service Commissioner Shane Fitzsimmons said the state is at a 'catastrophic level.'
Wildfires caused by extreme temperatures have burned through more than 64,000 acres of land.
Advertisement
Man dies in Australia wildfires
A "catastrophic" warning level has been called in south eastern Australia as forest fires continue to rage in blistering temperatures.
The flames are spreading in the region and reportedly hitting speeds of up to 60mph.
ITV News' Paul Davies reports:
Man dies in Australia wildfires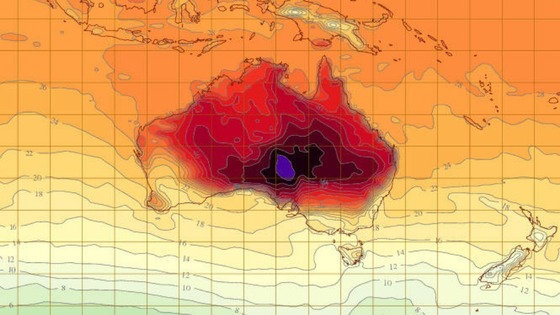 Australia's Bureau of Meteorology has added a new colour to its interactive weather forecasting chart, to extend the previous temperature range past 50 degrees. The colour purple now denotes temperatures above this range.
David Jones, head of the bureau's climate monitoring unit told Australian newspaper The Age:
"The scale has just been increased today and I would anticipate it is because the forecast coming from the bureau's model is showing temperatures in excess of 50 degrees."
"The air mass over the inland is still heating up - it hasn't peaked."
Temperatures are likely to hit 50 degrees or more next Monday, according to latest forecasts.
Man dies in Australia wildfires
This image taken from a New South Wales Fire Service aircraft fitted with infra-red scanner shows how a bushfire had spread into the Conjola National Park.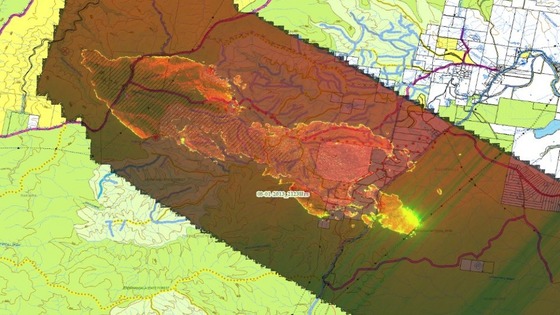 Man dies in Australia wildfires
There are multiple emergency warning in place in New South Wales, southern Australia, as more than 130 wildfires are continue to burn.
Extreme hot weather of up to 40 degrees and strong winds of up to 62 miles per hour has hampered efforts to get some of the fires under control.
Earlier, New South Wales State Rural Fire Service Commissioner, Shane Fitzsimmonds said:
"The weather conditions are such that we can't do any active firefighting at the moment. The wind is too strong, it's just too hot and the fire danger rating is far too high
"We're not out of the woods yet, communities right across the state have still got to deal with some very, very difficult conditions."
Load more updates
Back to top