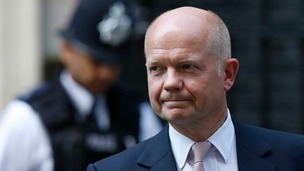 William Hague has stepped down as Foreign Secretary. ITV News understands he is likely to be replaced by Philip Hammond.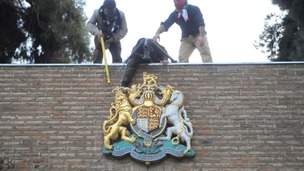 The reopening of the British embassy in Tehran is a startling development which represents a potential turnaround in our history with Iran.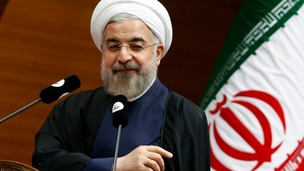 The Foreign Secretary is today expected to announce plans to strengthen diplomatic ties with Iran.
Live updates
Hague and Jolie attend sexual violence in war summit
A Ugandan victim of rape has spoken about her experience of sexual violence as a weapon of war, ahead of an international conference in London tomorrow.
Polline's voice at the conference, which is chaired by William Hague and Angelina Jolie, will help to strengthen the prosecutions of those who commit sexual violence in war.
Relatives arrested after woman stoned to death in Pakistan
The Government has condemned the killing of a pregnant woman by her own family in Pakistan.
Foreign Secretary William Hague said he was "shocked and appalled" at the stoning to death of Farzana Parveen, whose family were in opposition to her choice of husband.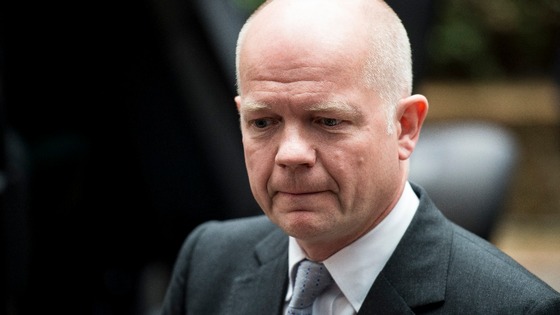 Police said nearly 20 members of her family attacked her in broad daylight before a crowd of onlookers, in front of the high court of Lahore.
Mr Hague said there is "absolutely no honour in honour killings" and called on the Pakistani authorities to "investigate this atrocious murder fully and bring those responsible to justice".
Advertisement
Jewish Museum suspect 'admits to killings'
David Cameron and Foreign Secretary William Hague have sent messages of support to the Belgian government following an armed attack at Brussels' Jewish Museum.
The Prime Minister's Office wrote on Twitter:
Read: Man detained after Jewish Museum shootings in Brussels
Nigeria: Captured girls 'face rape danger'
Foreign Secretary William Hague has tweeted:
We have offered #Nigeria surveillance aircraft, a military team and experts in analysis to help with recovery of the missing girls
Cameron offers more Typhoons for Nato air mission
Foreign Secretary William Hague is holding talks with Ukrainian leaders amid international fears the country is sliding into war.
Mr Hague praised Ukraine's "admirable" approach to democratic reform in the face of "huge Russian pressure" as talks with leaders got under way last night.
Discussed serious situation #Ukraine faces with PM Yatsenyuk. Admirable commitment to democratic reform in face of huge Russian pressure
Germany's Foreign Minister Frank-Walter Steinmeier has warned Kiev it is "a few steps away" from full blown military conflict as the death toll continues to grow from bloody clashes in the east of the country.
Cameron offers more Typhoons for Nato air mission
The Foreign Secretary has attempted to reassure Ukraine that Britain is offering "practical help" to deal with the raging crisis as he begins a tour of former Soviet states.William Hague has arrived in Moldova for the first leg of the "show of support" trip that takes in Georgia as well as Ukraine.
The tour comes after days of intense violence, with dozens killed in the southern port city of Odessa and gun battles in the eastern flashpoint of Slaviansk that have killed four soldiers.
Advertisement
Russian govt: We will respond to attack on our interests
Foreign Secretary William Hague warned Russia it has made a "grave miscalculation" if it believes it can permanently destabilise Ukraine "without serious long-term consequences."
"Russia needs to choice whether it is open to diplomacy and to de-escalation, and if it decides otherwise we must be ready for a different state of relations with Russia in the next 10 years than we have enjoyed in the last 20 years," he said at the Lord Mayor's Easter Banquet.
"We believe Ukraine can be a bridge between East and West and be able to have good relations with Russia, but that does not entitle Russia to send in armed groups thinly disguised to spearhead the occupation of buildings in multiple Ukrainian cities," Mr Hague added.
Russian govt: We will respond to attack on our interests
The Foreign Secretary will warn Russia that it is in danger of making a "grave miscalculation" if it continues its destabilisation campaign against Ukraine.
William Hague will say in a keynote speech tonight that Moscow's actions over the coming days could determine the pattern of its relations with the West for the next decade.
Speaking at The Lord Mayor's Easter Banquet tonight on #Ukraine, stark choices facing Russia and the response of western nations
"In recent days Russia has deliberately pushed Ukraine to the brink, and created a still greater risk of violent confrontation," Mr Hague will say.
"We call on Russia to stop these actions and to condemn the lawless acts in eastern Ukraine."
Russian govt: We will respond to attack on our interests
Foreign Secretary William Hague has stated that there is very little doubt that the issues in eastern Ukraine had been "planned by Russia" and that a third tier of far reaching economic measures are to be discussed.
Hague said the separatists were similar to those seen in the Crimea with those involved being "well armed, well trained, well equipped and well coordinated".
"It has all the appearances of a further gross, deliberate and premeditated violation of the independence and sovereignty of Ukraine. There has to be a clear international response."
Read more: Ukraine's deadline passes for separatists to disarm
Lavrov calls for 'de-escalation of rhetoric' over Ukraine
Foreign Secretary William Hague has said that Nato has "not seen the evidence" of Russian forces pulling back from the Eastern border of Ukraine.
Nato foreign ministers have met in Brussels to discuss the Alliance's response to Russia's seizure of Crimea.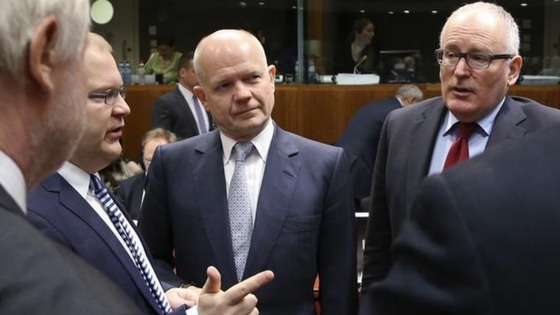 Hague also stated that Nato needed to give "reassurance and confidence to Eastern allies," with the UK already promising "fighter planes to the Baltic", among other measures.
Read more: Nato foreign ministers to discuss Ukraine response
Load more updates
Back to top