David Cameron said sexual violence has "no place as a weapon of war in this world" as a global summit on the issue opened its doors.
The Prime Minister said: "This Government will always seek to protect the most vulnerable in society, both at home and abroad.
"Both in the Modern Slavery Bill and in our campaign against sexual violence in conflict we are protecting victims and punishing perpetrators - with tougher sentences for traffickers and ending impunity for soldiers who commit rape."
"Britain should not and will not tolerate trafficking," he added.
Foreign Secretary William Hague, who is co-chairing the largest summit on sexual violence in conflict with Angelina Jolie, wrote on Twitter:
Inspiring to see so many organisations, activists and young people at the fringe. Summit is off to an amazing start @end_svc #TimeToAct
Advertisement
Angelina Jolie has said a summit on sexual violence in conflict must send a message around the world that there is "no disgrace" in being a survivor and that "the shame is on the aggressor".
The Oscar-winning actress dedicated the four-day London event to an unnamed and "abandoned" victim of rape in Bosnia.
Foreign Secretary William Hague has announced the UK will pledge a further £6 million to support survivors of sexual violence in conflict.
Hague made the announcement as he opened the Time To Act summit with his co-chair Angelina Jolie.
Angelina Jolie has opened the largest summit on sexual violence in conflict, saying, "It is a myth that rape is an inevitable part of conflict."
"There is nothing inevitable about it. It is a weapon of war aimed at civilian," Jolie said as she stood next to the event's co-chair William Hague.
"It has nothing to do with sex - everything to do with power. It is done to torture and humiliate innocent people and often very young children," the actress added.
Angelina Jolie and William Hague have arrived to co-chair the largest ever summit on sexual violence in conflict.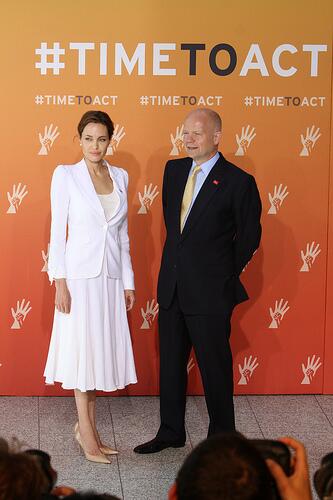 Jolie said she was "so, so happy to be here" as she entered London's ExCel conference centre with the Foreign Secretary.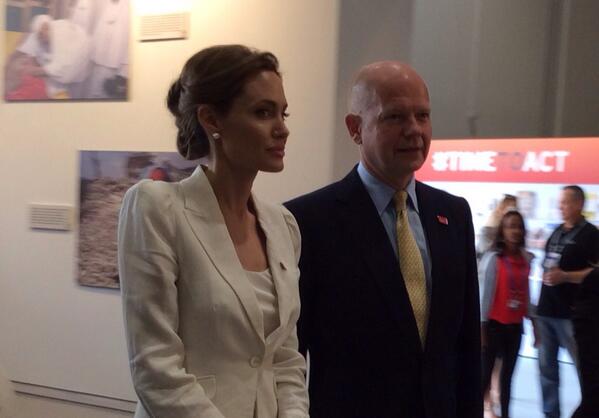 Advertisement
Pope Francis has taken to Twitter ahead of a summit on sexual violence in conflict urging:
Let us pray for all victims of sexual violence in conflict, and those working to end this crime. #TimeToAct
William Hague told ITV News he has joined Angelina Jolie in tackling sexual violence in conflict because "it is one of the great crimes committed in the modern world."
Speaking ahead of today's Time To Act summit, the Foreign Secretary said: "I think it is getting worse and that it will get even worse over the coming years if we don't now make a stand against this.
Angelina Jolie has told Good Morning Britain she hopes the sexual violence in war summit she is attending today will help give survivors "the respect they deserve".
Speaking about the Time To Act event, Jolie said: "There is a focus on simply people in communities and children knowing and understanding their rights and how to relate to each other.
"We're trying this holistic approach to sexual violence in conflict and make sure that we really address it."
Load more updates