Maria Sharapova has announced she will not seek a wild card into Wimbledon's main draw and will instead play the qualifying rounds.
Read the full story ›
Police are investigating allegations that a tennis player was deliberately poisoned while playing at Wimbledon.
Read the full story ›
Advertisement
Andy Murray's mother Judy has celebrated his second Wimbledon title.
She posted a picture of herself and Andy with his trophy to Twitter with the caption: "That's my boy #Wimbledon."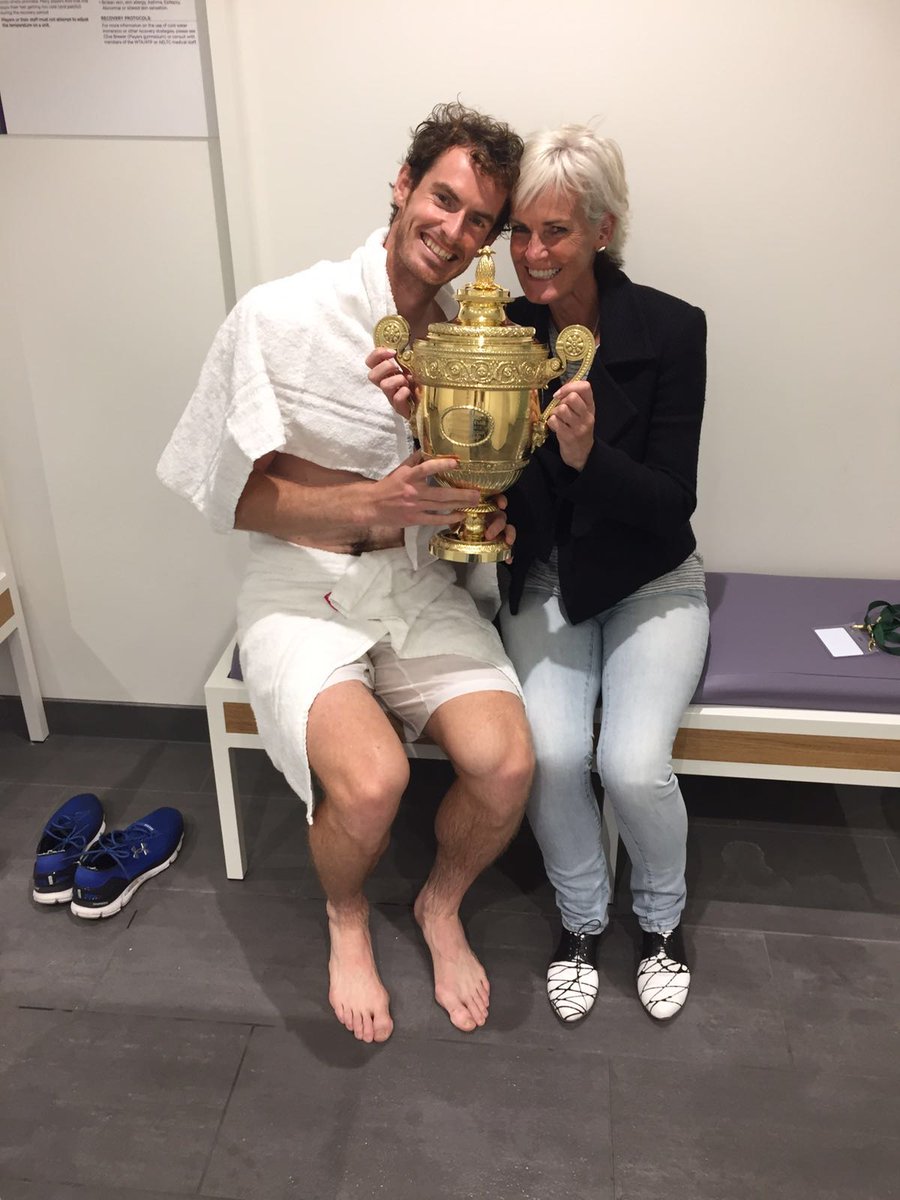 Andy Murray has the royal seal of approval on his Wimbledon victory after he was congratulated by the Duke and Duchess of Cambridge.
Kate, who had been watching from the royal box, told him: "Many congratulations, it was a great game."
William said: "So pleased for you, well done," and Kate added: "You can relax with your family now."
Murray also spoke to actor Benedict Cumberbatch and his wife Sophie Hunter.
He then went out on to the club balcony, where a cheering crowd of waiting tennis fans saw the triumphant Scot hold the trophy aloft for them.
Andy Murray said he was "proud" to get his hands on the Wimbledon trophy once again - and vowed to make the most of celebrations this time around.
He commended Raonic and his team on a well-fought campaign and apologised to them for his victory, saying: "Sorry about today, great job".
The Scot said that there had been "so much stress and pressure" when he won his first title in 2013 that he had not made the most of his victory.
I will make sure I enjoy this one tonight, for sure.
– Andy Murray
There were boos when Murray mentioned Prime Minister David Cameron, who was watching with his mother Mary.
But he defended Mr Cameron, saying: "I think playing a Wimbledon final's tough, I certainly wouldn't like being Prime Minister, it's an impossible job."
Advertisement
The Scot broke down in tears of joy after becoming Wimbledon champion for a second time
Read the full story ›
Andy Murray is just one set away from winning his second Wimbledon title after taking the second set on a tiebreak.
Andy Murray closed in on a second Wimbledon title as he took the opening set of the final 6-4 against Milos Raonic.
For the third time in his career, Murray walked out to a wall of Centre Court noise on finals day. For his opponent, of course, this was all new.
In this era where longevity among the top players is the norm, Raonic still counts as the new generation at 25 years old, and he has never been afraid of stating his belief that he could challenge for the sport's greatest honours.
With the help of John McEnroe, hired to help him during the grass-court season, Raonic has come out of his shell and his five-set win over Roger Federer in the semi-finals felt like a watershed moment.
The key question was how he would handle the occasion and Murray kept him waiting as he prepared to serve first, but there were no signs of nerves as Raonic hit 139 miles per hour with his big weapon.
The problem for the sixth seed was that his strength played to Murray's, and the Scot was dialled in straight away on the return. That earned him a break point in the third game but Raonic fought off the danger.
The Canadian won the first set against Murray this year in both the Australian Open semi-finals and Queen's Club final but could not get across the line in either.
It was surely crucial for his chances that he did the same here but he found himself under huge pressure again in the seventh game and this time Murray capitalised. Raonic for once was tentative on his approach shot and netted a forehand volley.
The Canadian's net play has been a revelation this tournament but Murray has so much more in his arsenal and there were no real alarms as he clinched the opening set with a simple volley after 40 minutes.
Great Britain's Gordon Reid landed his second Wimbledon title of the weekend with victory in the tournament's first wheelchair singles event.
The 24-year-old from Glasgow beat Sweden's Stefan Olsson 6-1 6-4 to the delight of a large crowd on Court 17.
Reid and Alfie Hewett took the men's wheelchair doubles title on Saturday, with Sunday shaping up to be an even bigger day for British tennis with Andy Murray, Heather Watson and women's wheelchair doubles star Jordanne Whiley also contesting finals.
Reid said: "It's incredible. To have the opportunity to play singles here, it's something I've dreamed of for a long time, and to come here and win it in front of all the people that I love, and all my friends and family and my coaching team, and so much support, it's unbelievable and I'm never going to forget this moment."
Load more updates