Andy Murray has revealed he has been taking advice from Sir Alex Ferguson to help him defend his Wimbledon title.
Read the full story ›
Andy Murray has said the Wimbledon crowds 'give him a big lift' as he secured his place in this year's quarter finals.
Speaking after he sailed through three straight sets to beat South African Kevin Anderson he said: "I always try to concentrate when I'm on court. I don't worry about what's going on around me.
He added: "I just try to play tennis but when you're playing in front of a big crowd like that it gives you a big lift, it raises your intensity and makes it harder for your opponents as well in tight situations, so the crowd always help."
Advertisement
Andy Murray is well on his way to defending his Wimbledon title after sailing through to the quarter-finals by winning three straight sets against South African Kevin Anderson.
Heavy rain didn't stop Andy Murray fans flocking to watch his game against Kevin Anderson from Murray Mound.
Many huddled under umbrellas or donned ponchos to keep dry as Murray played his third set.
But at least these ladies managed to nab themselves a seat instead of sitting on the soggy grass.
Heavy rain has halted play at Wimbledon with only the Murray match against Anderson continuing with the roof closed on Centre Court.
There will be no play on the outdoor courts before 18:30 BST #Wimbledon
Andy Murray smashes his way through the second set at Wimbledon against South African Kevin Anderson winning 6-3.
Advertisement
The rain shows no sign of slowing down at Wimbledon but spirits were not dampened as the Murray game continues into the second set.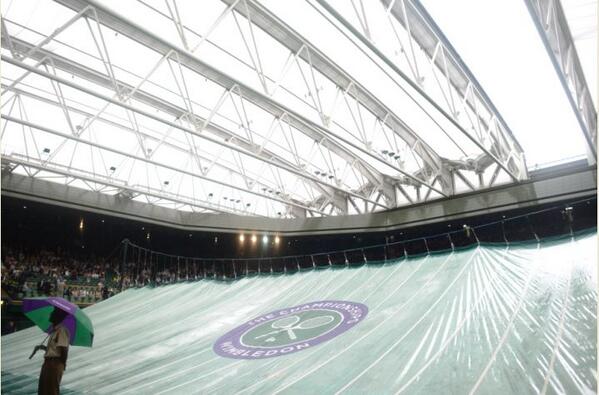 The match between Andy Murray and Kevin Anderson has resumed at Wimbledon after the roof at Centre Court had to be closed due to rain.
The roof on Centre Court had to be closed after rain halted Murray's match against Anderson during the second set.
Play is expected to resume shortly.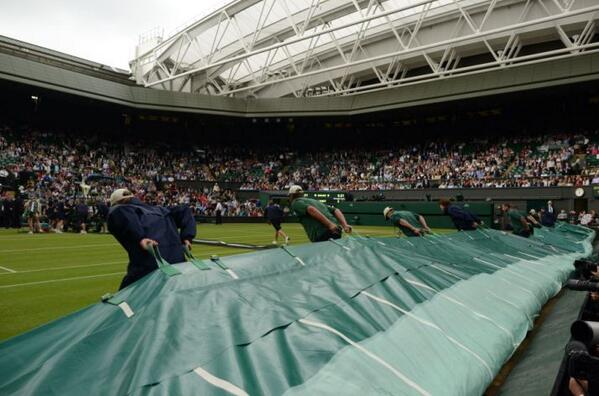 The match between Andy Murray and Kevin Anderson has been halted during the second set due to rain.
Load more updates