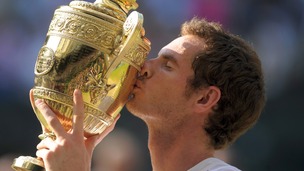 Items used by Andy Murray on the road to his Wimbledon victory have raised £80,000 for charity.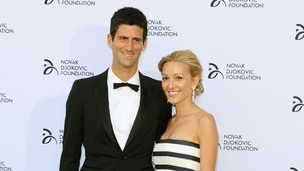 Just a day after Wimbledon, Novak Djokovic has raised £1.2 million for the foundation in his name with a gala dinner in London.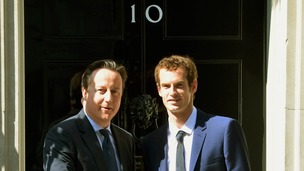 Despite his historic win, Andy Murray remains modest, telling ITV News he doesn't feel he deserves it for winning a sports event.
Live updates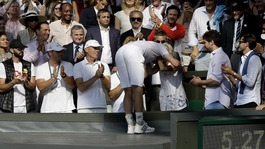 Andy Murray yesterday ended the 77-year wait for a British man to win Wimbledon but who are the team behind the Scot's success?
Read the full story
Murray downplays knighthood
Wimbledon Champion Andy Murray has been answering questions from fans on his Twitter feed, less than 24 hours after his victorious match against Novak Novak Djokovic. Read more of his responses here.
Advertisement
Murray downplays knighthood
Andy Murray was coy on whether he would propose to long term-girlfriend Kim Sears saying "you never know".
When pressed on whether he has plans to propose to his girlfriend of eight years, Murray said: "I haven't planned it. But you never know."
Murray said he was "relieved" to win to put the pain of last year's defeat which left him "sobbing into (his) pillow for two or three days" behind him.
The British number one said he hoped more kids would start playing tennis as a result of his victory, but insisted there needed to be greater access to the right facilities for that to happen.
Murray downplays knighthood
David Cameron told children at a north London school that he took his mother to yesterday's Wimbledon final where Andy Murray beat Novak Djokovic in three sets.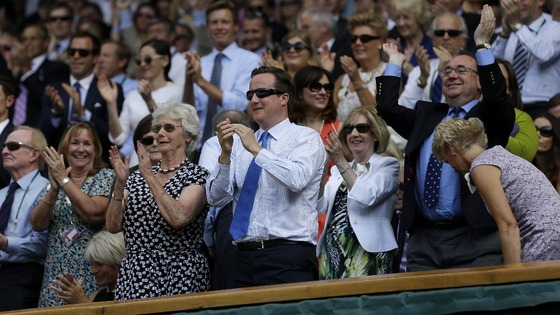 He said: "I wanted to be there to support Andy Murray. I'm a keen tennis fan, it's my favourite sport, I try to play maybe once a fortnight. I very much wanted to be there to cheer him on.
"As Prime Minister you are very lucky to get the chance to go to things like that. It's something I particularly wanted to go to."
He added that he took his mother Mary, who sat next to Wayne Rooney, to the game to thank her for all she had done for him: "They asked, I said I would really like to go so they put me in the Royal Box.
"They decide where they put you. I took my mum, I was given two tickets and my mum is a real tennis fan."
"What the Andy Murray story shows is that if you are really dedicated and if you work really hard and if you set yourself a goal, you can achieve it. That's what Andy Murray did and it was a dream come true for him yesterday," Mr Cameron said.
Murray downplays knighthood
Andy Murray's Wimbledon victory was watched by a peak of 17.3 million viewers, the BBC said.
The 26-year-old World Number Two beat Serbian world number one Novak Djokovic in straight sets to become the first British man to lift the coveted trophy for 77 years.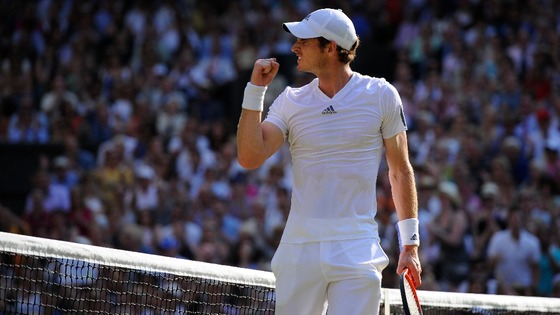 The BBC said that Sunday's Men's Final, broadcast on BBC1, attracted a five-minute peak of 17.3 million.
It said that the figure was up on last year's final, which was watched by a peak of 17 million when Murray lost to Roger Federer.
Murray downplays knighthood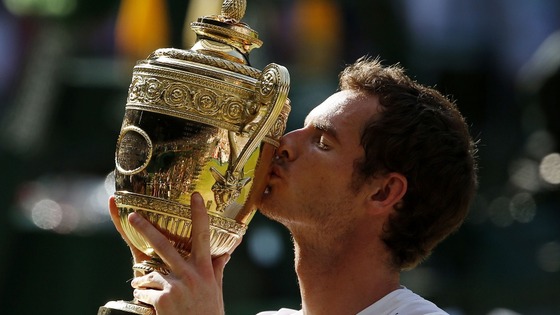 David Cameron has fuelled speculation that Wimbledon champion Andy Murray will be awarded a knighthood, saying: "I can't think of anyone who deserves one more."
Advertisement
Murray downplays knighthood
Former British number one Greg Rusedski has said Andy Murray played the "match of his life" to finally end 77 years of hurt for British tennis fans and win Wimbledon.
Rusedski said: "He got off to an absolute perfect start and found a way to get it done. We never thought he would get it done in three sets. It was just magical. Murray played the match of his life."
The former player said Murray was in a "daze" and "could not take it in" when he visited him straight after the match in the locker room.
Rusedski also boldly predicted that Murray would become the world number one and the favourite to defend his title next year.
Murray downplays knighthood
Andy Murray is "emerging as a multiple major champion" after his Wimbledon victory, according to former champion Boris Becker.
Writing for the Daily Telegraph, the German said: "Murray is no 'one-slam wonder'. I see this as a sign that he is emerging as a multiple major champion. The fact that he has reached so many grand slam finals just goes to show how fine a player he has grown into.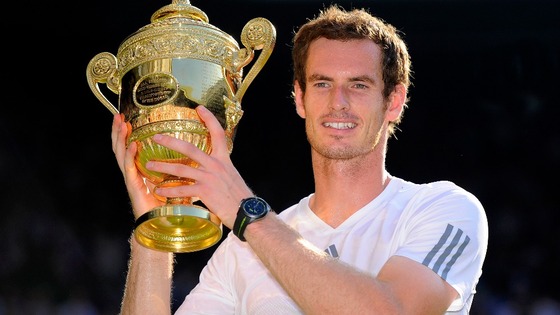 "I do not see any reason why he is not going to collect several more of these titles, most likely having to face his great rival Djokovic on the other side.
"You simply could not write a better story than this. All the effort that has gone into his improvement, all the significance of tennis in his family with his mother Judy and brother Jamie, has been brilliantly rewarded."
Murray downplays knighthood
Andy Murray's uncle told Daybreak it was "a bit surreal" following the British No. 1's Wimbledon win.
Niall Erskine, whose sister Judy is Murray's mother, said the tennis ace was "absolutely exhausted" afterwards.
"He was shattered, and of course everybody wanted to offer their congratulations to him and have a word with him, and you could see he was running out of energy quickly!"
Murray downplays knighthood
Andy Murray's grandparents said they were "surprisingly calm" as they watched his nail-biting Wimbledon final.
Roy and Shirley Erskine told Daybreak that because Murray was playing so well and was in control during the match "it was different".
His granddad added, "That was the calmest I've ever been watching Andy Murray play".
Load more updates
Back to top