A 49-year-old man has been arrested after police discovered 'chemicals and ammunition' during an ongoing investigation in Walwyn Road, Colwall near Malvern.
A small number of residents were evacuated immediately from their homes and a cordon was put in place while officers carried out further work at the property.
A full investigation is now under way following the man's arrest and inquiries are being made to establish the exact nature of the chemicals.
The police have stressed that there is nothing to suggest that this is in any way linked to any terrorist activity.
We are receiving assistance from the Army and Hereford and Worcester Fire and Rescue to make sure all the items are removed and made safe.

We would like to reassure members of the public that the incident has been contained and that no-one has been injured.
– Superintendent Sue Thomas
Villagers have been evacuated from their homes and others told to stay indoors due to an ongoing police incident.
Residents in Colwall, near Malvern, Worcestershire, reported seeing a bomb disposal team in the area.
It follows three days of police activity surrounding a house in the village.
West Mercia Police said it was "necessary to evacuate residents from a small number of properties" following "an ongoing investigation into an incident at a property".
One resident, Tim Dixon, said part of "sleepy Colwall" had become a hub of police activity.
Advertisement
A 13 year-old boy has been arrested on suspicion of wounding and carrying a bladed weapon after an incident at a school.
West Mercia Police said the boy had been arrested following an incident at The Chase Technology College in Malvern, Worcestershire.
The boy, who has not been named by police, remains in custody at Worcester Police Station and is being supported by specially trained officers.
A school where a pupil attacked a teacher and a 13-year-old female student with a knife will open as normal tomorrow.
In a statement on its website, The Chase Technology College in Malvern, Worcestershire, confirmed the pair had received minor injuries in the incident involving a bladed object this morning but had not required medical treatment.
It added that the school would be open on Tuesday and would continue to operate normally.
Worried parents are gathering at the gates of The Chase Technology College to collect their children.
Read the full story ›
A school has released a statement on its website after a 13-year-old pupil attacked a teacher and a pupil with a knife.
The statement said: "There has been an incident at the school, which has now been dealt with.
"Everyone is safe and there is no cause for concern.
"Parents should not be alarmed by the presence of police at the site. This is a precaution and the situation is fully under control."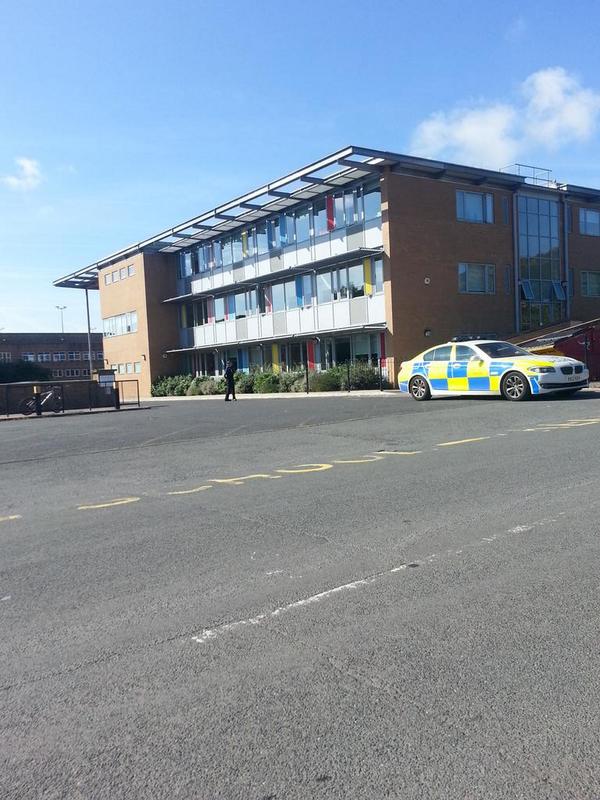 In a further statement on their website, the college said:
"We are continuing to work with local police who remain at school as a safety measure. Parents can be reassured that pupils are not being allowed to leave school during lunch break. The school day is continuing as normal and will close at 3pm.
"The school will continue to update this website as information is made available."
Advertisement
West Mercia Police have warned members of the public not to approach the teenage suspect and to call 999 it they see him.
The 13-year-old is described as being white, 5ft 3in tall, with short, spiked hair and wearing glasses.
He was last seen wearing dark grey trousers, a grey hooded jumper and may have a dark-coloured scarf covering his face. He was also carrying a dark rucksack, police said.
Police investigate assault at school in Malvern, we're searching for a suspect please see attached link for more info http://t.co/FjVhXLZaDM
Police believe a 13-year-old student at a Malvern school attacked a fellow pupil and a teacher with a blade today.
Emergency services were called to The Chase Technology College at 8.45am this morning.
Officers are searching for the suspect, who is believed to also be a student at the school. He inflicted minor injuries on the male teacher and the 13-year-old female student.
The suspect is white, about 5ft 3inches tall, with short spiky hair and glasses. He was last seen wearing dark grey trousers, grey hooded jumper and may have a dark scarf covering his face. He was also carrying a dark rucksack.
Police are warning the public not to approach the suspect, but to call 999 instead.
A murder investigation is under way after a 21-year-old woman died in hospital after being stabbed.
West Mercia Police said officers had launched an inquiry after the woman was assaulted at an address in Redditch, Worcestershire, yesterday morning.
A force spokesman said: "Detectives from West Mercia Police confirm the investigation into the stabbing of a 21-year-old female in Evesham Road, Redditch, yesterday is now a murder inquiry following the death of the victim this morning."
Police said a 29-year-old man who was arrested at the scene remains in custody.
Police have launched an investigation into the deaths of a number of patients who were under the care of a consultant surgeon while he was working in Worcestershire in 2012.
Worcestershire Acute Hospitals NHS Trust has released the following statement:
Worcestershire Acute Hospitals NHS Trust is co-operating fully with the police on their investigation into one of its colorectal surgeons, Mr Sudip Sarker.

The Trust would like to reassure patients and their relatives that as soon as it became aware there was a potential problem the Trust acted swiftly and responsibly to protect its patients.

It alerted the Royal College of Surgeons in July 2012 and asked them to review his clinical practice. While the review was on-going the Trust put restrictions on the surgeon's practice. He was excluded from the Trust in October 2012.
An expert multidisciplinary team has reviewed the medical records of all his patients who had undergone a major operation (eg for bowel cancer). Patients we were concerned about were recalled for further assessment and appropriate investigations.

A separate review of all patients who had any contact with Mr Sarker (outpatient appointments or minor procedures) is being performed by a team of specialist external surgeons. Patients in this group who require further assessment/ investigation are also being invited back to the hospital.
– Worcestershire Acute Hospitals NHS Trust
Load more updates