Worried parents are gathering at the gates of The Chase Technology College to collect their children.
Read the full story ›
A school has released a statement on its website after a 13-year-old pupil attacked a teacher and a pupil with a knife.
The statement said: "There has been an incident at the school, which has now been dealt with.
"Everyone is safe and there is no cause for concern.
"Parents should not be alarmed by the presence of police at the site. This is a precaution and the situation is fully under control."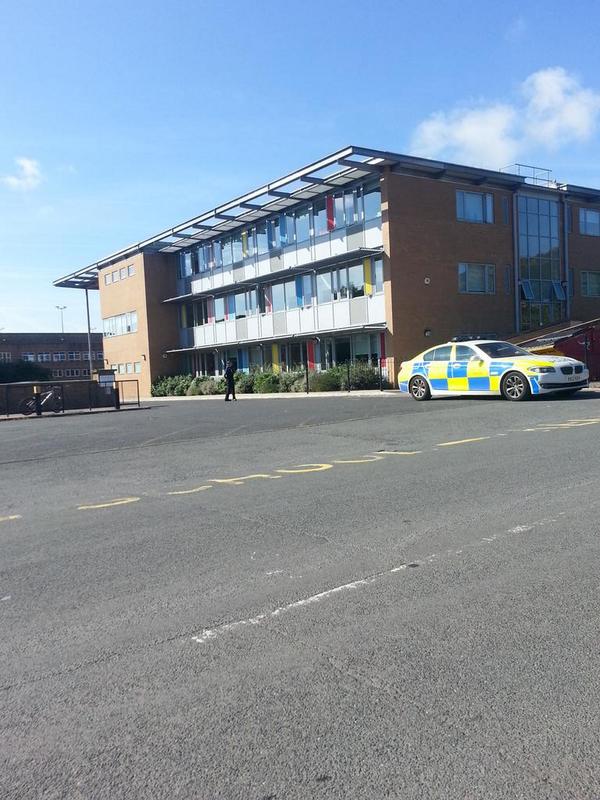 In a further statement on their website, the college said:
"We are continuing to work with local police who remain at school as a safety measure. Parents can be reassured that pupils are not being allowed to leave school during lunch break. The school day is continuing as normal and will close at 3pm.
"The school will continue to update this website as information is made available."
Advertisement
West Mercia Police have warned members of the public not to approach the teenage suspect and to call 999 it they see him.
The 13-year-old is described as being white, 5ft 3in tall, with short, spiked hair and wearing glasses.
He was last seen wearing dark grey trousers, a grey hooded jumper and may have a dark-coloured scarf covering his face. He was also carrying a dark rucksack, police said.
Police investigate assault at school in Malvern, we're searching for a suspect please see attached link for more info http://t.co/FjVhXLZaDM
Police believe a 13-year-old student at a Malvern school attacked a fellow pupil and a teacher with a blade today.
Emergency services were called to The Chase Technology College at 8.45am this morning.
Officers are searching for the suspect, who is believed to also be a student at the school. He inflicted minor injuries on the male teacher and the 13-year-old female student.
The suspect is white, about 5ft 3inches tall, with short spiky hair and glasses. He was last seen wearing dark grey trousers, grey hooded jumper and may have a dark scarf covering his face. He was also carrying a dark rucksack.
Police are warning the public not to approach the suspect, but to call 999 instead.
A murder investigation is under way after a 21-year-old woman died in hospital after being stabbed.
West Mercia Police said officers had launched an inquiry after the woman was assaulted at an address in Redditch, Worcestershire, yesterday morning.
A force spokesman said: "Detectives from West Mercia Police confirm the investigation into the stabbing of a 21-year-old female in Evesham Road, Redditch, yesterday is now a murder inquiry following the death of the victim this morning."
Police said a 29-year-old man who was arrested at the scene remains in custody.
Police have launched an investigation into the deaths of a number of patients who were under the care of a consultant surgeon while he was working in Worcestershire in 2012.
Worcestershire Acute Hospitals NHS Trust has released the following statement:
Worcestershire Acute Hospitals NHS Trust is co-operating fully with the police on their investigation into one of its colorectal surgeons, Mr Sudip Sarker.

The Trust would like to reassure patients and their relatives that as soon as it became aware there was a potential problem the Trust acted swiftly and responsibly to protect its patients.

It alerted the Royal College of Surgeons in July 2012 and asked them to review his clinical practice. While the review was on-going the Trust put restrictions on the surgeon's practice. He was excluded from the Trust in October 2012.
An expert multidisciplinary team has reviewed the medical records of all his patients who had undergone a major operation (eg for bowel cancer). Patients we were concerned about were recalled for further assessment and appropriate investigations.

A separate review of all patients who had any contact with Mr Sarker (outpatient appointments or minor procedures) is being performed by a team of specialist external surgeons. Patients in this group who require further assessment/ investigation are also being invited back to the hospital.
– Worcestershire Acute Hospitals NHS Trust
Advertisement
Police have confirmed they have launched an investigation into the deaths of a number of patients cared for by consultant surgeon Sudip Sarker, while he was working in Worcestershire.
Mr Sarker was employed by the Worcestershire Acute Hospitals NHS Trust.
North Worcestershire Superintendent Kevin Purcell said the investigation began after officers received a letter in December last year.
He said: "We were made aware that there were a number of concerns in relation to the deaths of patients in 2012 who had been under Mr Sarker's care.
"We are in the early stages of obtaining the relevant information from hospitals and other health organisations in order to conduct our investigation.
"We cannot be specific about numbers at this time but can confirm that the deaths of three patients whose joint inquest was adjourned in December (2013) form part of this inquiry.
"The families of those people have been informed and updated on the situation."
A prisoner who absconded from HMP Hewell near Redditch last month has been found by police in Alcester, ten days after he went missing.
Alan Giles, 56, was arrested after a call from a member of the public who believed they had spotted him just after 6 o clock this evening. Giles has been taken into custody in Redditch.
"We are very pleased to have tracked down Mr Giles as the search for him has taken up an enormous amount of our time and resources over the past ten days.

"As we always suspected a tip off from a member of the public was key to us bringing Mr Giles back into custody tonight and I'd like to take this opportunity to thank every single person who has come forward with information to help our investigation.

"We have been really impressed by the amount of information that has come in and how keen people have been to help us with our enquiries.
"I'd also like to thank the media for their excellent support in keeping Mr Giles' escape in the spotlight as this has been really helpful to ensure our appeals for information were seen by as wide an audience as possible.

"Clearly we have a huge amount of work to do now Mr Giles has been located and arrested and therefore we will not be making any further comment on this matter this evening."
– Detective Inspector Paul Judge, West Mercia Police
A convicted killer, who escaped from prison while serving two life sentences, has been found by police and arrested.
Alan Giles was jailed for life at Birmingham Crown Court in 1997 for the murder and kidnap of 16-year-old student Kevin Ricketts.
The 56-year-old was allowed to leave an "open" section of HMP Hewell near Redditch, Worcestershire, on Monday last week and was arrested this evening after being spotted by a member of the public.
Load more updates