Argentina's FA has been fined 30,000 Swiss francs (£19,444) by Fifa after members of the national team stood with a banner claiming the Falklands as Argentine before a World Cup warm-up match.
Several players from the team that went on to lose the tournament's final to Germany stood behind the banner reading "Las Malvinas Son Argentinas" ("The Falklands are Argentine") before a friendly win against Slovenia in Buenos Aires on June 7.
Real Madrid have announced the signing Colombian midfielder James Rodriguez in a big-money deal with French club AS Monaco.
Rodriguez not only top-scored at the World Cup in Brazil but also scored the goal of the tournament with a stunning volley against Uruguay.
Neither club have confirmed the fee for the 23-year-old, but reports suggest Madrid have paid in the region of €80m (£63m), which would make Rodriguez the fourth most expensive transfer of all time after Gareth Bale, Cristiano Ronaldo and Luis Suarez.
Advertisement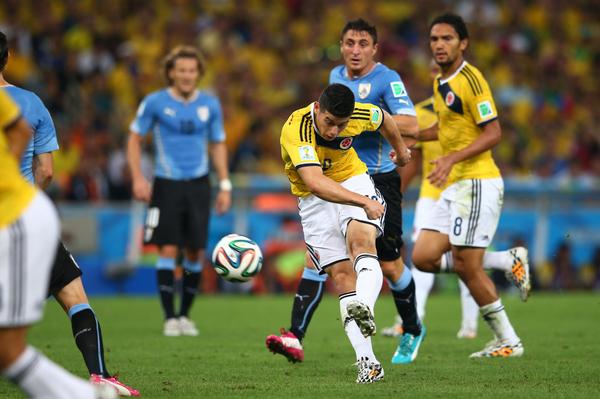 Colombian striker James Rodriguez's stunning volley against Uruguay has been voted the best goal of the World Cup, Fifa has announced.
The Monaco midfielder, who is rumoured to be on the verge of a move to Spanish giants Real Madrid, also won the Golden Boot after netting five times at the tournament in Brazil.
He beat off competition from the Netherlands' Robin van Persie, whose impressive header against Spain was voted the second best goal.
The hospitality company MATCH said that any charges brought against a British manager of the firm will be "rebutted".
Ray Whelan, the British manager of the hospitality firm is being investigated over alleged illegal World Cup ticket sales.
He handed himself in to a judge in Brazil this evening.
A statement by MATCH said: "MATCH remains absolutely confident that any charges raised against Ray will be rebutted."
MATCH admitted that offering the packages for cash was "highly unusual" but that it was "permitted under the various terms and conditions".
The company also said that Whelan was unaware that MATCH had put a block on Fofana buying any more packages or tickets.
Luiz Felipe Scolari has resigned as manager of Brazil, the national football federation announced on the Confederations website, www.cbf.com.br.
The 65-year-old stood down as the World Cup hosts could only finish fourth, having been thrashed in their semi-final 7-1 by Germany.
Coach Luiz Felipe Scolari and his fellow coaching staff surrendered their positions to the board of the Brazilian Football Confederation.

The resignation was accepted by president Marin, who was keen to thank all the coaches and players and, by extension, the Brazilian fans for their support throughout the World Cup campaign.

Scolari and his entire coaching staff deserve our respect and gratitude. They were responsible for returning to the Brazilian people your love for the team, despite not having achieved our greatest goal.
– Brazil's national football federation
The British manager of a hospitality firm being investigated over alleged illegal World Cup ticket sales has handed himself in to a judge in Brazil.
Ray Whelan who runs Match Hospitality had been sought by police investigating the illegal resale of VIP World Cup tickets at hugely inflated prices.But when they tried to arrest him four days ago he was not at his Rio de Janeiro hotel.
Match, a Fifa partner firm, had exclusive rights to sell VIP tickets for the World Cup and Whelan denies any wrongdoing.
Having turned himself in to judge Rosita Maria de Oliveira Netto he is expected to be questioned by police shortly.
Advertisement
A new German football shirt with four stars has sold out within hours of the team's fourth World Cup triumph.
Adidas' website said the shirt, costing 84.95 euros (£62), was currently not available.

The company, which is expected to get a "small extra boost" after Germany's win, later said they would be flying in new ones from China to meet the demand.
Mario Gotze's extra-time volley helped Germany beat Argentina 1-0 to win their fourth World Cup and first since 1990.
Sepp Blatter admitted he was "surprised" to see Lionel Messi voted the World Cup's best player.
The 27-year-old scored four goals in the tournament, but failed to add to his tally in the knockout phase and was unable to influence the game against Germany.
"I was a little bit surprised to see Messi coming up as the best player in the competition," the Fifa president told a press conference.
Argentine Diego Maradona earlier said his compatriot did not deserve to win the accolade, claiming the decision was influenced by "marketing" decisions.
David Cameron congratulated German chancellor Angela Merkel by text message over her country's World Cup win.
Despite being unable to watch the first 90 minutes of the final, Mr Cameron managed to tune in to see Mario Gotze's extra-time strike which helped Germany beat Argentina and claim their fourth World Cup title.
The Prime Minister's official spokesman confirmed that Mr Cameron had sent a congratulatory text to Merkel, but declined to reveal the wording of the message.
Ms Merkel travelled to Rio de Janeiro to witness her country's victory, and congratulated the German players as they went up to be presented with the famous trophy.
Astronaut Alexander Gerst tweeted a celebratory picture from space last night after his native Germany beat Argentina in the World Cup final.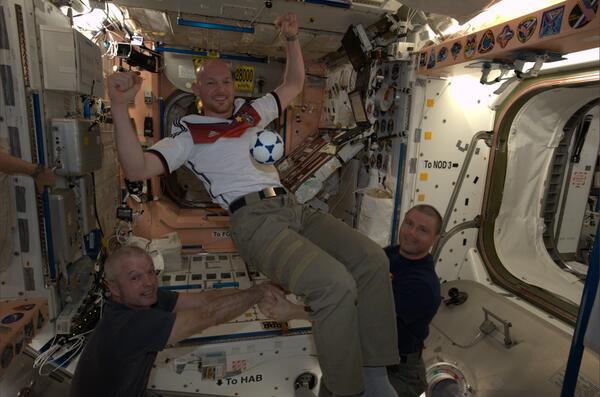 The astronaut is currently onboard the International Space Station where he tweeted "congratulations" to the World Cup winners.
Load more updates